Tweak the user experience of your enterprise eCommerce website as per your business requirements
All that you can customize on Yo!Kart
Payment Module
Yo!Kart offers a wide array of payment gateways, which can be picked as per your preference. In addition to the payment gateways provided in Yo!Kart, custom payment gateways can be added without any hassle. There are also a host of payment methods available including e-wallet, credit cards, bank transfers, and cash of delivery.
User Interface
Yo!Kart is a highly customizable eCommerce platform, allowing each and every elements of its user interface to be tweaked. Want navigation menu to be placed in the sidebar! No worries, Yo!Kart can be fully customised to ensure that your eCommerce website is unique as possible.To save time, we have also got beautiful readymade themes to suit different business needs.
New Feature Development
Yo!Kart has been designed as a global eCommerce platform, where you can sell everything. however if there is any new feature you require, then it can be easily added to Yo!Kart, due to its flexible architecture. Additionally, as technology moves ahead and new features come in play, merging those features into Yo!Kart is highly seamless.
API Addition
Yo!Kart is a one-sized platform that can fit requirements for anyone. It also allows you to add custom API for better integration of third party tools. So if you want to incorporate some third party tool or service in your eCommerce marketplace, you can easily do it with Yo!Kart without any hassle. This is helpful in increasing the functionality of your eCommerce website.
Advantages for Large Enterprise eCommerce Stores
Take a look at what type of support and services you will get from our team
Post Launch Marketing Services *
Initial keyword Research
10-15 category page optimization
Google Analytics Setup
Social Media Profiles Setup
Google My Business Setup
* For GoCustom Packages Only
Flexible Payment System
40% Upfront prior to starting work
30% on completion of designing phase prior to start of development phase
30% on completion of the project, prior to moving files to your server
Free Domain Name & Installation
One year free standard .store domain
Free installation and proper support guide for every package
12 months free post-sales support
In startup plan we provide hosting our self
In other plans, you host the marketplace on your servers
What is the difference between GoQuick
and GoCustom Packages?
Robust Reporting & Analytics Features for Large Enterprise eCommerce Marketplaces
Conversion
Statistics
Traffic
Analysis
Smart
Recommendations
Shipping
Management
Visitor
Statistics
Sales
Report
30% Entrepreneurs find it a hassle to keep their multivendor eCommerce website up to date with the latest technologies
Yo!Kart has all the modern day advanced features
Responsive and mobile friendly design
Cross Browser compatibility
Mobile app support
Advanced reporting and analytics
Social media Integration
Share your Requirements
35% mobile shoppers abandon the transaction if the experience is not optimized for mobiles
Yo!Kart has been designed and developed keeping this stat in mind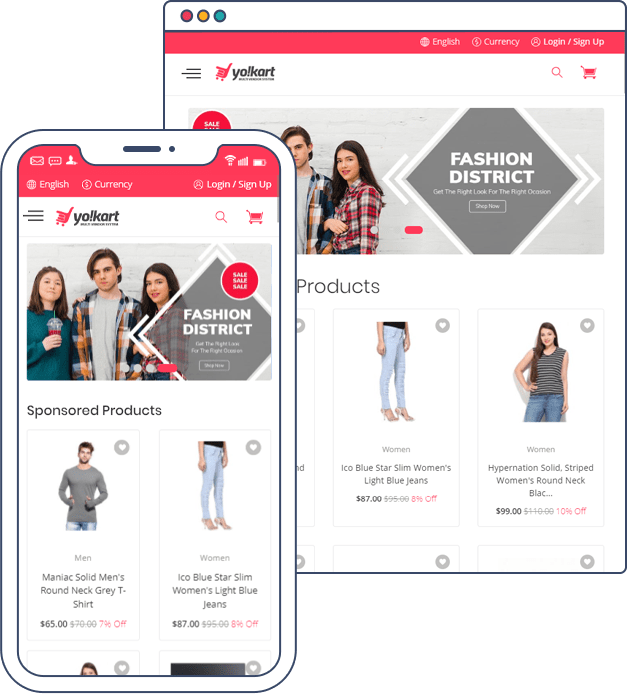 Deliver a richer mobile shopping experience to your customers with Yo!Kart Android app
Contact Us Now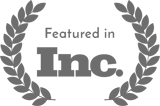 Our Client Reviews
I am very impressed and grateful to work with Yo!Kart. All of my demands have been met and have exceeded expectations. We have developed a very good professional relationship throughout my time working with team Yo!Kart. Everyone I've worked with has been pleasant and professional. There is a lot of attention to detail when it comes to the work they do.
Alexander Zebnitski (Co-Owner) - USA Based Supplements Marketplace
Yo!Kart - the best decision we made for our business. Yo!Kart allowed us to create the multi-vendor marketplace we needed for our company. Yo!Kart was the only solution with all the features we needed for our multi-vendor marketplace. Alternatives Considered - Dokan, CS-Cart Multi-Vendor Marketplace Platform, CedCommerce Magento 2 Apps and WordPress. It has very important features no one else has. these features will allow us and our sellers to generate more revenue.
Ran Kravitz (CEO - Chief Executive Officer) - Shagadoo
The system is very versatile and enables you to customize your settings to your required needs. They offer extensive assistance and support. We have launched a fully functional online marketplace for our country and community enabling them to buy and sell online with ease. This is an excellent stride for a small country like Namibia.
Jean N (Digital Specialist) - DotDune
Created a brand new racing memorabilia marketplace and we were up and running quickly. Overall working with Parul and the team has been wonderful. Reasons for Choosing Yo!Kart: Quick implementation, lower costs, ability to customize product to meet our requirements! Absolutely great team to work with.
Patrick P. (Founder) - Racer Collect
Within one week of launching the website, the company onboarded two restaurants. The team efficiently managed the workflow and communicated in Google Chat. Above all, they impressively fulfilled each requested feature, which enabled the company to save time and effort.
Mohammad Atteya | Samer (Managing Director) - Seplai
The amount of features especially for a B2B Marketplace. We found no marketplace framework or software which offers more features for this price than yokart - and it was very easy to install. The service team is great and helps a lot!
Tobias B. (CEO and Founder) - tryfl.de
Very responsive support during website setup and excellent after-sales service. The platform was everything I expected and the setup itself was quite easy. Everything they said they would do they did and delivered on time. I can relax knowing that my startup is setting off on a good solid foundation.
Chinasa U (CEO and Founder) - Safaripedia
Overall, I have been very impressed with Yo!Kart. Upfront, the cost seems more than their competitors, but it's a one time cost, as opposed to a subscription model, so after about 2 years with the subscription of their competitors, it will be cheaper, and over the next 20 years, it's a fraction of the cost of their competitors. The possibility to customize, and even hire them to do the customizations, has been the biggest selling point for me.
Alex P. (CEO and Founder) - Blenderender
The system brings in everything we have been looking for an Online Marketplace, both on the front end & back end. A great all-round system.
Aled R. (CEO and Founder) - Crefftus
The software offers nearly everything to start a successful marketplace. Support by the FATbit team is very good and they react really quick. Lovely design in the standard. Easy to understand backend for admin, sellers and customers. Customizations, translations and more can be done by the admin himself.
Lucas B. (CEO and Founder) - Wajemo
It was fun working with Yo!Kart team. They are very supportive and I received quality work from them. Whenever I needed some support, the team was always there to assist. Will definitely work with them for my future projects.
Vishal Anand (Founder) - MyCart Mauritius
I would highly recommend Yo!Kart for your project's needs. They focus on building excellent products that leave a lasting impression. I cannot thank Yo!Kart enough for all the help and support.
Carlos Vernier (CEO and Founder) - Oil & Gas Inventories
2 months of research, trial, and error tested Magento, OpenCart, Woocommerce and different platforms, then we found Yo!Kart, and for sure we weren't wrong. Everything you need to operate a multivendor multilingual multicurrency eCommerce marketplace is there.
Odeh N (Founder and CEO) - Mostawda
Flexibility of product to customize according to business requirements. Good support team. Excellent understanding of technical requirements of clients.
Beerala Vasu Deva Reddy (CEO and Founder) - eWheelers
I love the platform , I like the customer service and they always help in any question that I have.
Cristina Villar Nova (Founder) - Servimerx
Yo!Kart/FATbit provided me a ready made platform that suited my needs as having a little knowledge in the IT background. If anybody have business idea but no knowledge of IT then the platform is perfect for those people would like to invest and develop their business.
Tejkumar Sunuwar (Founder) - Mastang
The team has been very efficient in their support. Their expertise is outstanding. 1-year technical support was one of the factors and design of the GoQuick package. In our opinion, the GoQuick package is more user-friendly than the competitors even if it did take some time to get used to. I appreciate that I was able to make changes to suit my requirements while giving me the option to include all of the functions at a later stage. Also, I am very happy with the marketing work that has been done.
Prabashnee Naidoo (Managing Director) - Samsyn
Launch your own enterprise eCommerce website today with Yo!Kart
Buy Now
Additional Support and Services that Our Team can offer you to make your enterprise eCommerce store a big hit
Search Engine
Optimization
Online Reputation
Management
Content & Social
Media Marketing
Conversion Rate
Optimization
Data
Publishing
Minimizing Cart
Abandonment
Yo!Kart
Upgrades
Website Content
& Graphic
Other Marketing Features to make your eCommerce Store more Successful.
View More