Expand Your Business Reach By Launching An eCommerce Marketplace With Mobile App At A Competitive Price.
Learn More
The Largest Enterprise eCommerce Marketplaces Generate

34%

of The Total Online Revenue

Your business can grow more with Yo!Kart

Ask Experts How?
Tweak the user experience of your enterprise eCommerce website as per your business requirements
All that you can customize on Yo!Kart
Payment Module
Yo!Kart offers a wide array of payment gateways, which can be picked as per your preference. In addition to the payment gateways provided in Yo!Kart, custom payment gateways can be added without any hassle. There are also a host of payment methods available including e-wallet, credit cards, bank transfers, and cash of delivery.
User Interface
Yo!Kart is a highly customizable eCommerce platform, allowing each and every elements of its user interface to be tweaked. Want navigation menu to be placed in the sidebar! No worries, Yo!Kart can be fully customised to ensure that your eCommerce website is unique as possible.To save time, we have also got beautiful readymade themes to suit different business needs.
New Feature Development
Yo!Kart has been designed as a global eCommerce platform, where you can sell everything. however if there is any new feature you require, then it can be easily added to Yo!Kart, due to its flexible architecture. Additionally, as technology moves ahead and new features come in play, merging those features into Yo!Kart is highly seamless.
API Addition
Yo!Kart is a one-sized platform that can fit requirements for anyone. It also allows you to add custom API for better integration of third party tools. So if you want to incorporate some third party tool or service in your eCommerce marketplace, you can easily do it with Yo!Kart without any hassle. This is helpful in increasing the functionality of your eCommerce website.
Featured In:
Advantages for Large Enterprise eCommerce Stores
Take a look at what type of support and services you will get from our team
Post Launch Marketing Services *
Initial keyword Research
10-15 category page optimization
Google Analytics Setup
Social Media Profiles Setup
Google My Business Setup
* For GoCustom Packages Only
Flexible Payment System
40% Upfront prior to starting work
30% on completion of designing phase prior to start of development phase
30% on completion of the project, prior to moving files to your server
Free Domain Name & Installation
One year free standard .store domain
Free installation and proper support guide for every package
12 months free post-sales support
In startup plan we provide hosting our self
In other plans, you host the marketplace on your servers
Robust Reporting & Analytics Features for Large Enterprise eCommerce Marketplaces
Conversion
Statistics
Traffic
Analysis
Smart
Recommendations
Shipping
Management
Visitor
Statistics
Sales
Report
30% Entrepreneurs find it a hassle to keep their multivendor eCommerce website up to date with the latest technologies
Yo!Kart has all the modern day advanced features
Responsive and mobile friendly design
Cross Browser compatibility
Mobile app support
Advanced reporting and analytics
Social media Integration
Share your Requirements
35% mobile shoppers abandon the transaction if the experience is not optimized for mobiles
Yo!Kart has been designed and developed keeping this stat in mind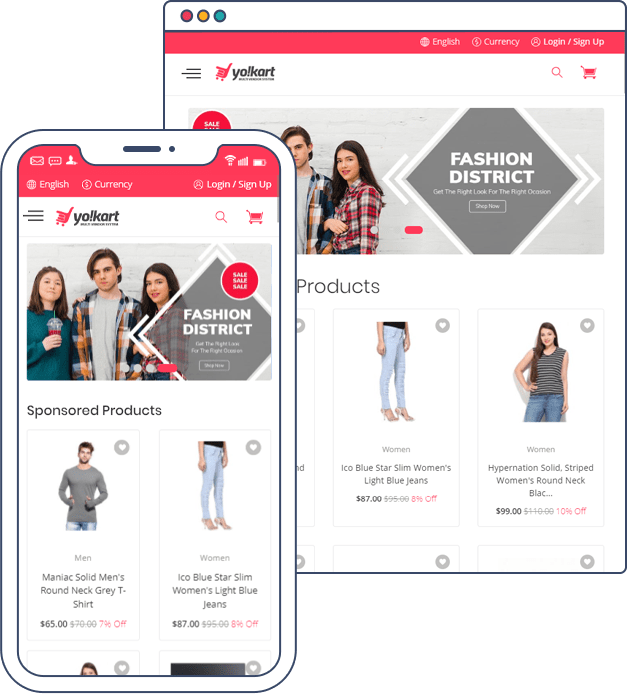 Deliver a richer mobile shopping experience to your customers with Yo!Kart Android app
Contact Us Now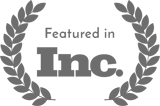 I came across Yo!Kart through numerous positive reviews. We engaged the team to customize the platform for our own start-up and were so pleased by both the end-result and the entire working process itself.
Noorindah Iskandar
Founder, Modenseek.com
It was fun working with Yo!Kart team. They are very supportive and I received quality work from them. Whenever I needed some support, the team was always there to assist. Will definitely work with them for my future projects.
Vishal Anand
Founder & CEO , MyCart Mauritius
2 months of research, trial, and error tested Magento, OpenCart, Woocommerce and different platforms, then we found Yo!Kart, and for sure we weren't wrong. Everything you need to operate a multivendor multilingual multicurrency eCommerce marketplace is there.
Odeh N
CEO and Founder, Mostawda
I would like to thank Yo!Kart team for the excellent product. I bought the system 6 months ago. The system works superbly and technical support is very great. I encourage people to do business with this company!
Jean-Nicolas Guay
President, Ketshops
Yo!Kart turned out to be just the right product we needed for developing our website. The team behind Yo!Kart was also very professional and supportive and assisted us greatly in customizing the website as per our requirements.
Onika Griffith-Elliott
Founder, Different of Cause
Flexibility of product to customize according to business requirements. Good support team. Excellent understanding of technical requirements of clients.
Beerala Vasu Deva Reddy
CEO and Founder, ewheelers
The Yo!Kart Team & the Project Coordinator Jaspreet Bajwa is amazing. This is the reason why I purchased the Yo!Kart Markeplace Platform. Great UX design, Smooth Admin Back-end, Amazing team, Very responsive and fast - just a little too costly when I need to adjust things in the code.
Demba Lehrer
CEO and Founder, Farmed Today B.V. Marketplace
We really enjoy working with Yo!Kart Team, and think they have done a fantastic job so far.
Greg Klupar
Co-Founder & CTO, Voyij
Launch your own enterprise eCommerce website today with Yo!Kart
Buy Now
Additional Support and Services that Our Team can offer you to make your enterprise eCommerce store a big hit
Search Engine
Optimization
Online Reputation
Management
Content & Social
Media Marketing
Conversion Rate
Optimization
Data
Publishing
Minimizing Cart
Abandonment
Yo!Kart
Upgrades
Website Content
& Graphic
Other Marketing Features to make your eCommerce Store more Successful.
View More