Share and Earn
When people talk about the products listed on your ecommerce marketplace, they not only help your website but also reap benefits for themselves.
The share and earn is a marketing feature that helps influencers, blog owners, and even contributors with a great following to garner a revenue stream by promoting products and shops on your ecommerce marketplace.
With added social media integration, it becomes easy for users to share items on their social media profiles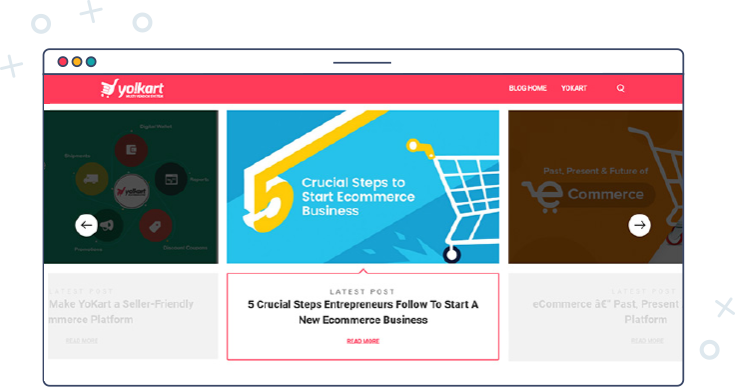 Blog Integration
Yo!Kart has a dedicated blog integrated into its core architecture which helps you engage with your audience and generate more leads. Spread the word about different products on your marketplace by offering information about them on the blog. You can share news about your multivendor website and publish on the blog, which would also help in making your customers aware of company news.
Affiliate Module
More the number of people talking about your marketplace better the sales & earning prospects. Yo!Kart offers affiliate module that lets website members (customers and merchants) invite people to register on the marketplace, thus helping website owner in increasing user base. The affiliate module not only helps you to increase sales but also improves the brand image.
PPC Module
Pay-per-click (PPC) module is one of the 3 revenue streams for the marketplace owner. The PPC advertisement module enables the seller promote products and seller page on the homepage. Furthermore, the seller can also advertise on the banner of the homepage. This will allow sellers increase their reach and the marketplace owner can earn money on every click.
Launch your online multivendor marketplace with Yo!Kart
let's Discuss
Mobile Commerce Ready
Consumers are embracing the mobile commerce as it enables them to place orders on-the-go. An ecommerce mobile app is an essential part of the marketing strategy as it helps the marketplace owner engage with a wider audience. Yo!Kart multivendor offers an ecommerce mobile app for buyers which comes with important features such as:
Push Notifications

Firebase Analytics

Multilingual and RTL

Buyer-Seller Messaging
I would highly recommend Yo!Kart for your project's needs. They focus on building excellent products that leave a lasting impression. I cannot thank Yo!Kart enough for all the help and support.
Carlos Vernier
CEO and Founder, Oil & Gas Inventories
Yo!Kart has been featured in:
Launch your online multivendor marketplace with Yo!Kart
Consult Us