UNI Diamonds
Automatically generate and alert customers (Phone, text message or email) of their order information once the planning is complete.
Ability to look at diamonds from different angles with 360-degree advanced diamond display functionality.
Graphical display for average price trends for a particular segment.
Ability to place a memo order to rent the diamond. Features to handle memo notifications and manage orders.
UNI Retailer
Information regarding stone location and delivery time estimates.
Compare diamonds across trusted vendors (Retail chain, independent seller).
Search and filter stones with the help of over 50 plus filters.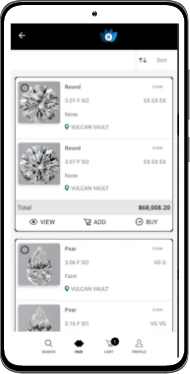 UNI Diamonds Calculator
Launched a diamond price calculator app that uses an advanced machine learning algorithm to provide the most accurate diamond prices. This calculator uses wholesale diamond prices, sales data and stone's 4C's (Carat, Cut, Colour and Clarity) to precisely calculate the prices.