Table of Contents
Introduction
While the furniture marketplace has largely been an offline commodity with very few buyers opting for eCommerce stores over physical retail stores, the dynamics are changing rapidly. In the early days of eCommerce, only those products that were easy to pack and ship (like books) were sold online. Nobody would've considered online furniture shopping as a feasible option but here we are. With the advancements in logistics and reduced shipping costs (for larger items) buying furniture online is a fairly common thing today.
New generation buyers no longer feel the urge to experience (touch and feel) furniture in real life. They are more interested in gathering information and price comparison before purchasing it online. The potential cost-saving options and the added choice of ordering online have significantly boosted sales of furniture marketplace as below statistics confirm.
Chart: Online Furniture Sales Are Booming
China with an estimated $79.2 billion and the US with $44.5 billion eCommerce sales of furniture in 2019 showcase an increasing trend among buyers of furniture, homewares, and home decor online. These figures estimate that worldwide online furniture sales will reach $290 billion by 2023.
eCommerce Furniture Marketplace Giants
Albeit a slightly new commodity in eCommerce, the online furniture marketplace is dominated by two key players online. Both eCommerce Giants Wayfair and Amazon hold a significant share in the furniture marketplace over their competitors. Let's highlight some of the key stats to reflect their dominance.
With a market share of 33.4% in online furniture sales, WayFair emerged as the leader and fastest grower in the eCommerce furniture marketplace according to 1010data.
Amazon, a global eCommerce giant came a close second finishing with a 29.7% market share. This was a slight reverse from 2018 when Amazon finished as the leader with a 31% market share followed by WayFair with 28.2%.
Together, the two web-only giants hold a mammoth 63% of the total online furniture marketplace sales in 2019.

Matt Pace -
Senior Director, Insights and Customer Success Leader at 1010data says:
What Amazon.com and Wayfair.com have offered from the start - a large selection that would be impossible to replicate in stores - is fueling eCommerce growth in this category.

Source: digitalcommerce360.

In contrast, third in the list is Walmart.com with a mere 4.7% online market share followed by Macys.com, Potterybarn.com, and other retailers as shown in the chart.
Since it's impractical to try and display furniture of different styles, varieties, and colors in-store; brick-and-mortar stores are shifting their focus to eCommerce, driving customers online.
Business Model
The online furniture marketplace offers substantial growth for brands with an option of pre-sale listing of furniture and delivery. For buyers, online furniture shopping is the same as eCommerce shopping for any other item. Just log in -> find the furniture they want -> place an order -> make a payment -> receive the product after a few business days.
For admin and marketplace vendor the working of the entire eCommerce furniture marketplace is a little more complicated.
The seller will signup to the marketplace and create a merchant account.
Next, the vendor adds furniture under various categories and provide descriptions. This information is then sent to the admin for approval.
After approval, the furniture gets listed on site.
A customer adds listed furniture to the cart and makes payment through the preferred payment gateway.
Once the vendor receives an order, the shipment process is initiated.
Admin receives payment from the order and transfers it to the vendor's wallet after deducting commission per sale.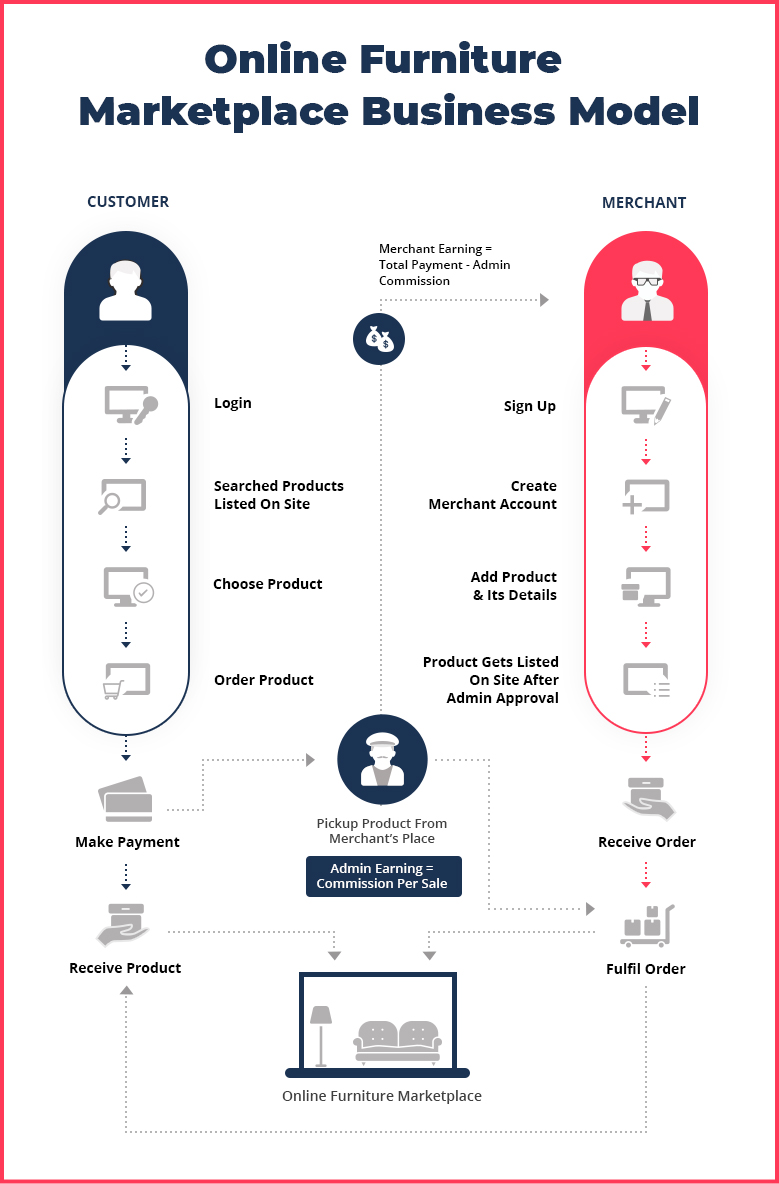 Marketplace Delivery Model
Inventory kept at Sellers warehouse: A seller managing inventory in his/her warehouse is responsible for all the quality checks and packaging of the furniture. So, when a customer places an order, the delivery is fulfilled by the seller.
eCommerce retailer's warehouse: In a shared warehouse, all the quality checks, packaging, and shipment are carried out by the retailer. So, when the order is placed it is the retailer's responsibility to initiate and deliver a product to the customer. He/she may charge extra for rental space to the seller.
White-Glove Delivery - Preferred Delivery Service
Shipments like furniture and homewares are prone to damage and require special attention from the carriers. This is why Furniture marketplace giants like WayFair.com have adopted white-glove delivery services to deliver furniture to the customers. In white-glove deliveries, the shipments are packaged professionally and strapped inside the truck to minimize damage. These shipments are then delivered inside the customer's residence and even installed in some cases.
Revenue Channels
Since a business cannot survive without revenue channels so here we'll discuss the most lucrative sources of revenue for eCommerce furniture marketplace:
Product Sale: The first and foremost revenue channel for the eCommerce marketplace is the sale of its products. When a customer places an order and makes payment online, the transaction money minus the admin commission goes to the marketplace vendor.
On-page advertisement: Advertisement is a major revenue source especially on-page advertisement. By implementing effective digital marketing strategies partnered businesses get more exposure that may result in improved sales figures. With on-page advertisement, the eCommerce marketplace enjoys higher traffic generating more revenue for admin and sellers.
Commission fee: A commission fee is a direct revenue source for admin that is deducted from every purchase. When the buyer makes payment the transaction money passes to the admin who then transfers it to the vendor's wallet after deducting the commission fee. This commission per sale is different for every marketplace and is decided by the admin beforehand.
Subscription membership: Premium memberships are a valuable source for marketplace owners to earn steady revenue. In an eCommerce business, subscription memberships can offer several benefits like free delivery, one (or two) day shipping, zero transaction fees and more. These benefits will entice users and build repeat customers.
Trends and Challenges in the Industry
Trends
Sheets, bed frames and generous return policies:eCommerce retailers like Casper and Leesa are luring customers with a confined list of products, a clear pricing structure, and a smart selection of mattresses. These things have clearly worked in favor of these brands as Casper plans to expand its market into other countries. Amazon too prospered with its mattresses sale as it entered home furnishings category.
New Technologies:Retailers are experimenting with new technologies to lure customers online. Wayfair, for instance, has implemented the Augmented Reality (AR) feature in the mobile app to offer 3-D images of furniture. This allows buyers to imagine how furniture will look and fit into their space. The company is also investing in Magic Leap - an AR device they believe will be the future of online furniture marketplace. Facebook too with its recent acquisition GrokStyle and Ikea with its Ikea Place App are a few among the many firms helping buyers visualize furniture placement into their homes. Tech is surely helping these firms sell furniture online.
Challenges and Solutions
Free shipping:In the age of Amazon Prime when free shipping and overnight delivery has become the new norm for almost every item, buyers no longer understand the lengthy delivery processes. With challenges like high shipping cost for heavy/oversized items affecting the eCommerce furniture marketplace, the use of real-time shipping calculator may help businesses win consumers' trust.
Customer returns:When a consumer receives the ordered furniture and feels there's an issue with the product, he/she would wish to return (or exchange) it. In such scenarios, significant challenges would emerge like:
How would the product be returned?
What if during the transportation, the furniture gets broken?
These scenarios can be minimized through a comprehensive return and refund policy along with quality control inspection services.
Last mile issues: The toughest part in the supply chain of furniture marketplace is the home delivery of items where multiple stops cause inefficiency. To overcome last mile delivery challenge it is recommended to:
Increase the distribution centers in the region
Provide streamlined and timely deliveries
Optimize route efficiency
Empower the role of Artificial Intelligence (AI)
White glove delivery services have become a standard in the online furniture industry gaining popularity.
For more detailed solutions to challenges in the eCommerce furniture marketplace click here.
Opportunities In-Hand
According to Statista, the market share of furniture and homewares industry in the US is estimated at $88.56 million by 2022 up from $57.74 million in 2018. And, the sales in the eCommerce furniture marketplace are expected to rise by around 10.38% in 2022. The estimated increase in sales is due to arising opportunities from:
New generation buyers: Millennials forming the majority of the US consumer population have influenced furniture retail sales considerably. This new generation of buyers no longer feel the urge to experience furniture in real life and rely upon internet for information, price comparison, and shopping. And, by implementing technologies like AI and AR, companies like Wayfair and Ikea are smartly capitalizing on opportunities to sell furniture to millennials.
Advanced eCommerce options: From controlling the look, feel and functionality of your web store to displaying products and variations online, eCommerce stores no longer have limitations. This has created new opportunities for businesses in the supply chain (adapting to the idea of an online marketplace) to target new consumers. Also, with an option for buyers to narrow down their search, the online furniture marketplace is truly convenient and easy to shop.
Must-Have Functions and Features for The Marketplace
To make your online furniture store a success, there are a few must-have features:
Interactive UI: A superior user interface (UI) is a must for an eCommerce furniture marketplace. For an interactive UI following elements must be added:
Drop-down under each category on the navigation bar featuring a vast collection of products.
Comprehensive homepage section with powerful search tool, trending products section, and a slideshow (with high-quality images).
Spacious footer area with links to internal pages and more
These features enhance the user experience (UX) and increase sales although it takes a lot of effort to implement this feature. Check out the website Furniturespot (designed and developed by Yo!Kart) for clarity.
Real-time order tracking: As the trend for online furniture shopping grows, marketplace owners can win consumers' trust with user-friendly refund/return policies, FAQ section, and instant order tracking feature. Real-time order tracking of the items (using phone number or order number) has proven to be an effective way to keep buyers happy and maintain transparency on the status of their ordered furniture.
Multiple payment gateway integrations: For an eCommerce furniture marketplace (or any online store) payment gateway integrations are essential. From credit cards, debit cards to even Paypal there are multiple integrations available for secure and hassle-free payments. Implementing such integrations will reduce cart abandonment and allow buyers to place an order through their favorite (or available) payment method.
Multi-linguistic functionality: More than half of all Google searches are in local (regional) languages other than English. So, in order to escalate business ability to reach a wider audience globally, multilinguistic functionality is crucial. It ensures business scalability increasing the website traffic significantly.
Shipping API options: Setup an easy-to-manage shipping cart and minimize cart abandonment rates by integrating preferred shipping APIs into your marketplace. It is a must-have feature for the online furniture marketplace. Yo!Kart offers better shipping options to make your consumers happy.
Abandoned Cart & Recovery:The Abandoned cart feature allows admin to view reports for:
In-cart items abandoned by users
Items deleted from the cart by users
The generated reports allow the admin to take action and recover sales for instance, by sharing discount coupons for abandoned items. It is a must-have feature for eCommerce marketplace owners.
Features Specific To a Vendor/Seller on a Furniture eCommerce Marketplace
Banner Advertisement: Display advertisements on the marketplace banner enable sellers to promote their product/shop.
Powerful Vendor Dashboard : Can quickly analyze sales report and product performance report
Multi-Store Functionality: A vendor can have multiple stores with personalized logo, banners, and navigational tabs
Import/export feature: Allows vendors to easily import/ export product files that contain the product information.
Tax Management: Manage and customize tax categories rates for the products. Sellers need to add the tax percentage; the product rate is adjusted accordingly.
Inventory Management: Ease of managing inventory via the seller's console. Get prompt notifications and emails whenever a product is out of stock, the product is shipped, etc.
Top Features for Admin to Operate The Marketplace with Ease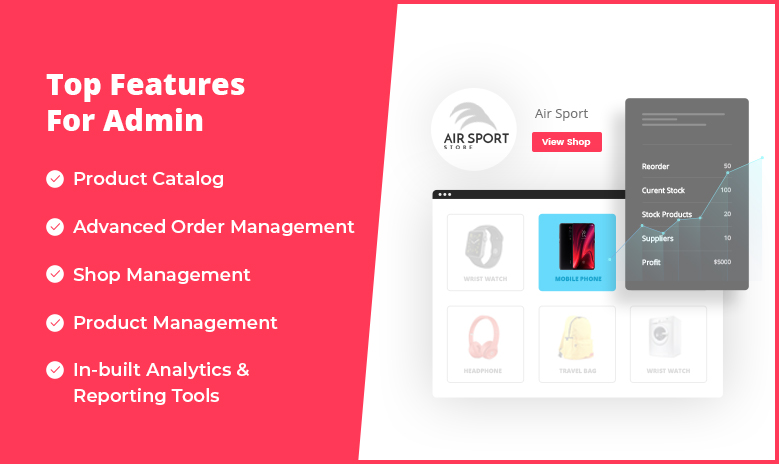 Product Catalog: For better product and performance management. Adding products to the catalog is restricted to the admin. The seller can request to add any product to the catalog, but it is at the discretion of the admin to approve or reject the request.
In-built Analytics & Reporting Tools: Helps admin to review the performance of the marketplace and take future decisions based on the facts and figures
Advanced Order Management: Helps the admin and the vendors to streamline & manage the order receiving to delivery. This feature displays everything from vendor order to return request.
Shop Management: Since there are multiple numbers of vendors on an eCommerce marketplace, this feature allows the admin to directly view the number of products in a shop, customer reviews, reports, etc.
Product Management: It helps the admins to maintain the credibility of the products listed on the marketplace. With this feature, admin can enable/disable, edit, or delete any product.