The unique selling propositions (USPs) of Yo!Kart multi-vendor are appreciated by billion-dollar organizations as well. Important USPs such as scalability make Yo!Kart a suitable choice for both B2C and B2B enterprises that want to invest in a reliable digital commerce solution and customize it according to their business requirements.
In our mission to enable eCommerce entrepreneurs, we channelized our efforts in specific areas to add value for startups, SMBs, and large enterprises. To share more on how Yo!Kart multi-vendor can benefit entrepreneurs, we would like to share 50 reasons to choose Yo!Kart.
1. Inherently Multi-vendor
The multi-vendor solution makes no use of plugins to maintain integrity which makes it appropriate for enterprise use as well. To further extend the capabilities of Yo!Kart, you don't have to worry about it's dependency on 3rd party applications. The freedom to customize Yo!Kart strictly as per your business requirement makes the multi-vendor platform significantly different from other SaaS-based eCommerce solutions.
2. Perfect for Different Sizes of Businesses
Yo!Kart can satisfy the business requirements of startups, SMBs, and large enterprises. The online marketplace solution offers many important features at competitive pricing which makes it popular among startups. We invest a lot of time to make Yo!Kart reliable and suitable to meet the growing demands of large enterprises as well. As of 2019, multiple billion-dollar enterprises have selected Yo!Kart for reliability and customized it to suit their business requirements.
3. Trusted by Many Ecommerce Entrepreneurs
Yo!Kart has been in the market for the past many years. Since the launch of Yo!Kart in 2015, the multi-vendor marketplace solution has earned the trust of more than 1000 entrepreneurs and billion-dollar organizations alike. Here are a few examples: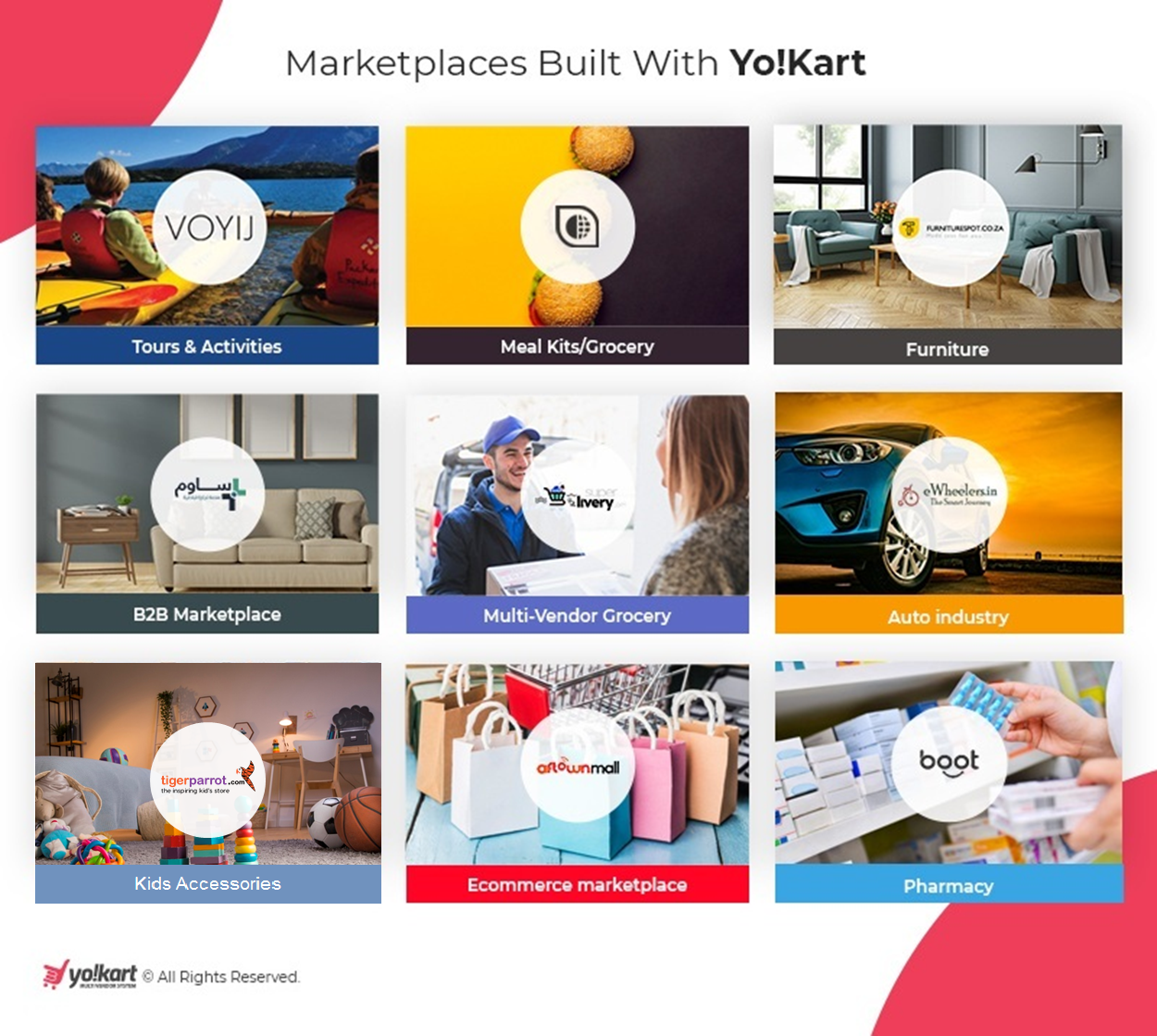 4. Self-Hosted Solution
Yo!Kart is a self-hosted solution which means you get the added benefits such as complete control over different aspects of infrastructure, better security, flexibility to improve the up-time, and more.
5. Open-Source Technology Stack
Our products are developed on Linux, Apache, MySQL, and PHP (LAMP) stack. As each component within the LAMP stack is open source, developers from all around the world contribute towards making the LAMP stack as one of the most secure, stable, and affordable.
6. Get Full Source Code
The startup ecosystem is dynamic and to survive in the eCommerce sphere, consistent changes in your multivendor eCommerce website are inevitable. To reduce your dependability on the solution provider, we offer you full source code to extend Yo!Kart as per your requirements. We also provide technical documentation to help you or your team understand different functions and classes used in Yo!Kart.
7. Fully Customizable
As the multi-vendor platform is scalable through customization, different 3rd-party applications can also be integrated to add features. The framework documentation can help you extend the online marketplace with ease and save time in the process. We advise that client's development team members should have at least three years of web development experience working on MVC architecture.
8. Hire Yo!Kart Product Team
Yo!Kart is developed using a custom framework. If the need to extend Yo!Kart ever arises, we give you complete framework documentation. If you don't have an in-house web development team, you can hire our experienced team members for design and development.
9. One Time Payment
Unlike other eCommerce marketplace solutions, Yo!Kart does not charge you any recurring fees be it monthly or commission behind each article you sell. The cost of the selected package is to be paid once and the license lasts a lifetime.
10. One-on-One Online Demo
Our sales representative provides a one-on-one online demo to help you explore the comprehensive platform and showcase the end-to-end user journey. They also answer questions shared by you to help you make an informed decision.
11. On-Site Demo
Our representative can visit your office location to provide a better understanding of our product's features & functionalities. For more information, visit on-site demo.
12. Reliable Performance
The usual success rate or pass percentage for such eCommerce software is below 98%. As more lines of code are added, the rate drops even further to about 95%. Whereas Yo!Kart has a 100% success rate. 1000+ tests conducted in an automated environment for 1 million products and 250 concurrent users to achieve the success rate. Our quality assurance team members had a zeal to achieve nothing but the best.
13. Intuitive User Interface
The user interface has been designed keeping in mind different users and their requirements. For admin to get more work done in less time and to manage the revenue and sales, Yo!Kart offers an informative eCommerce dashboard to provide insights on important key performance indicators (KPIs). For sellers, the most important aspect is to manage product orders and delivery. Information on these two KPIs can be easily accessed through the vendor dashboard.
14. Progressive Web Apps
A progressive web app combines the features provided by most modern web browsers with an exceptional mobile app experience. A PWA runs on a browser but gives the experience of a native mobile app. No installation, better performance, seamless offline usage and enhanced conversions are some of the key benefits of progressive web apps. Considering the importance of PWAs, Yokart has become PWA compliant providing us with a competitive edge over other eCommerce platform solutions.
15. User-Friendly Android and iOS Buyer Apps
It has become important for an eCommerce business to have a mobile app to satisfy the growing demands of millennials and Gen Z. Yo!Kart has separate Android and iOS apps for buyers. The apps are designed for maximum conversion and profitability.
16. Sell Digital Products with Yo!Kart
Entrepreneurs can expand their business by enabling the vendors to sell digital products such as ebooks, videos, and more on their multivendor website.
17. Multilingual
With Yo!Kart, you can launch your online marketplace in the area of your preference. The multilingual and multi-currency capability enables eCommerce entrepreneurs to provide a localized viewing experience.
To increase the global reach of any eCommerce multi-vendor business, Yo!Kart has been integrated with MSN Azure Language translation API supporting 60+ languages to solidify the multilingual functionality. Additionally, Yo!Kart supports the right-to-left design flip which is essential for Arab countries.
18. Multi-Currency
An eCommerce multi-vendor website should be configured to bill customers in the currency of their choice.
In YoKart multi-vendor, the prices can be displayed in different currencies. With the help of the Currency Converter API, real-time currency conversion values are fetched from live API's. The marketplace owner can accept payments in any regional currency selected in the payment gateway
19. Elastic Search
It is imperative to design the search functionality of an eCommerce website in order to correctly retrieve an item the user is looking for. Yokart is configured for the elastic search to improve conversion and retention by providing the highest level of relevancy and flexibility.
20. Product Catalog System
Yo!Kart has a catalog system in place which brings ease in product management for website admin and vendor. Other benefits include standardization of content, no duplicate product information, and better admin control over the platform.
21. Ease in Vendor Management
The marketplace owner can easily manage what vendors can change through manageable settings. In Yo!Kart, the admin can enable or disable certain features or options for the vendor.
22. Search Engine Friendly
Throughout Yo!Kart, there are fields at relevant places that make it easier for the website admin to optimize content for search engines. Other features that help in improving SEO friendliness are URL rewriting, meta tags management, manageable robots.txt, Google Tag Manager integration, sitemap (HTML and XML), and more.
23. 3rd Party Integrations
QuickBooks, MailChimp, Google Maps, AWeber, Google Analytics, Engagespot desktop push notifications, and ShipStation are some of many third-party integrations that are included in Yo!Kart.


24. Paypal Payouts
Paypal Payout integration makes you accept any payments instantly. With this integration the sellers can request payouts via it and thereof, admins can approve the requests to pay via PayPal. The integration provides the quickest and effortless way for payment transactions from anywhere around the globe.
25. 15 Pre-Integrated Payment Gateways
To enable an entrepreneur to sell across all continents, Yo!Kart comes integrated with payment gateways supported in areas such as Australia, Austria, Belgium, Canada, Denmark, Finland, France, Germany, Hong Kong, Ireland, Italy, Japan, Luxembourg, Netherlands, New Zealand, Norway, Portugal, Singapore, Spain, Sweden, Switzerland, United Kingdom, United States, United Arab Emirates, Egypt, Saudi Arabia, Jordan, Lebanon, Qatar and, and more.
Yo!Kart offers 15 payment gateways such as Authorize.Net, PayPal, PayU Money, CCAvenue, Omise, Citrus, Khipu, PayTM, Razorpay, Amazon, Stripe, 2Checkout, PayFort, PayU Biz, and Braintree. Furthermore, the multi-vendor platform offers cash on delivery (COD) and bank transfer payment option.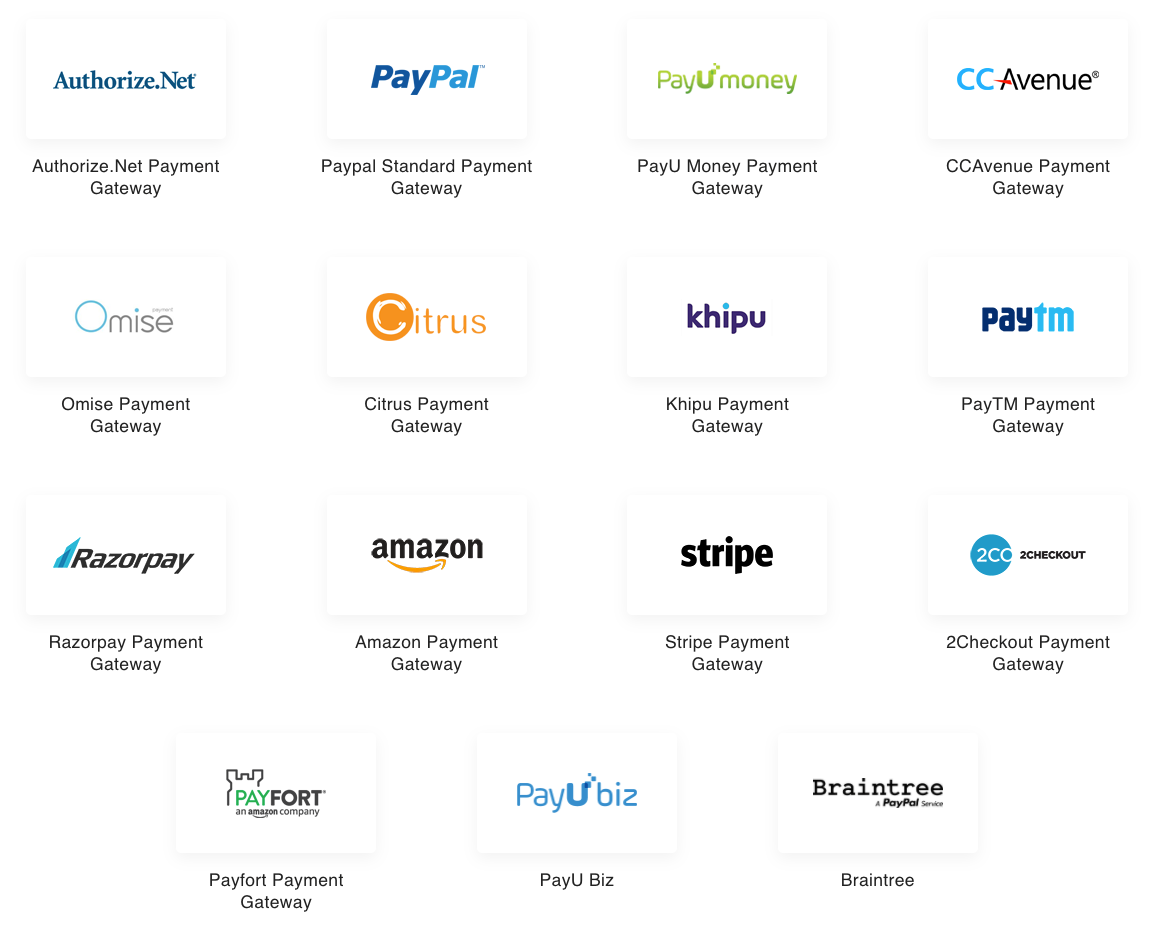 Note: Any payment gateway of your choice can be easily integrated with Yo!Kart under customization.
26. Virtual Wallet
Virtual wallets are a convenient option to pay instantaneously. It also helps in simplifying the process for cashback and discount points. Using this feature, buyers can earn reward points on events such as birthdays and purchases.
27. Affiliate Module
Through the affiliate module, the eCommerce marketplace owner can increase the user base with the help of affiliates. Yo!Kart offers flexibility to the owner by giving an option to set commission based on different product categories.
28. With Yo!Kart, you don't need Addons
Staying true to our values, we offer a solution that is tuned for startups and SMBs. In each package, we offer a complete set of features such as multiple payment gateways, blog management, PPC module, catalog management, and more.
29. Inbuilt Analytics features
Yo!Kart offers a robust reporting feature that provides relevant and accurate information. Furthermore, Google Analytics is also integrated into Yo!Kart can fetch data to give you an eCommerce dashboard with important insights.
30. Facebook Pixel
To target your customers more accurately and efficiently, Yo!Kart is integrated with the facebook pixel. The integration allows you to understand how customers behave on your website, ability to build custom audiences for relevant engagement on the website and target high value customers. Configure and trace the events like AddtoCart/Wishlist, Contact Us, IntiateCheckout etc.
31. Abandoned Cart Management
In order to minimize the cart abandonment rate and improve the conversions, this feature in Yo!Kart allows the admins to view details in the admin console. To recover these, the admins can generate discount coupons and the admins can also view the items that have been deleted from the cart by the users.
32. Tax Management
A big challenge for the eCommerce business owner is managing tax. Understanding the aspects of the sales tax can be a daunting and time consuming task. Yokart allows the sellers to enter the tax category information and the cost is adjusted accordingly. For advanced tax management, the admins can use Intuit's QuickBooks.
33. Multiple Streams to Generate Revenue
Yo!Kart multi-vendor offers you an ample number of revenue generation streams for a better return on investment. The number of revenue streams available with Yo!Kart multivendor are – commissions, subscriptions, advertisements, featured listings, and affiliate partnership.
34. Monetization Options
Yo!Kart offers multiple options to monetize your online marketplace. Depending on your monetization strategy, you can set order commissions, allow the seller to register at no additional cost or subscribe to a package to list products, and earn through PPC with banner advertisements.
35. A Range of Ecommerce Services
To enable an eCommerce entrepreneur to add value, we offer a range of services such as design, development, migration, payment gateway integration, online marketing, catalog management, and more. To learn more, visit our eCommerce services webpage.
36. Free Digital Marketing Services
After an online marketplace is launched, reaching the target audience is the most challenging part. When you buy Yo!Kart Multivendor, to start your marketplace, we provide free digital marketing services worth $500 for free. The digital marketing service includes setting up Google Console, Google Analytics, Google My Business, business profiles on top 10 citations or listing websites, content marketing, social media marketing plan, and many more.
37. Migrate to Yo!Kart
Using the bulk import and export feature, entrepreneurs can move their data to Yo!Kart from most ecommerce platforms. Furthermore, the import or export feature works for all languages.
Migrate Your Multivendor eCommerce Marketplace to Yo!Kart
38. Free Technical Support
The first few months are crucial for the growth of your online marketplace. Yo!Kart has been tested with a 100% success rate which is essential for stability. To stay true to our commitment to enabling startups, we provide an additional one-year free technical support if any glitches are found.
39. Multiple Support Channels
While our project management software, Bizixx, is the primary mode of communication, we have a presence on different channels like skype, email, social media, phone, and more.
40. Flexible Payment Plans
With Yo!Kart multi-vendor, you do not have to pay the entire amount upfront. Yo!Kart offers flexibility to make payment in milestones for our GoCustom packages. Just need to pay a nominal upfront amount and the rest in parts, Learn more.
41. Free Installation
We do not charge anything extra from our clients to install Yo!Kart on their server hosting space.
42. Post-Launch Support
We invest significant time to understand your requirements and enable you to make an informed decision. After the delivery of the project, we provide you post-sales support which is free up to a certain number of hours.
43. Post-Sales Transparency
Yo!Kart team strives to provide transparency at every stage. Not only a dedicated project manager is assigned to you, but we also report each detail on our project management system (PMS). Using our PMS, you can easily check the current status and due date of the project.
44. Free .store Domain Name
A free ".store" domain name is beneficial for an eCommerce website. There are comparatively fewer eCommerce marketplaces operating with a ".store" domain name which improves the chances of you getting the desired name.
45. Client-Centered Agreements
To add value for our clients, we are open to a non-disclosure agreement (NDA) as well as the non-competition clause in the NDA.
46. Social Proofing
Yo!Kart has been in the industry for many years and has been recognized by many authoritative online publications. We have been featured in many prominent websites like Telegraph UK, Forbes, Inc., Entrepreneur, and more.
Features that make Yo!Kart an Award Winning Multi-vendor Platform
47. Transparent Refund Policy
Yo!Kart provides 30 days money-back guarantee. We only deduct 4% payment gateway transaction fee and effort exhausted (number of hours x 15 USD) in the process.
48. Educational Content
We have YouTube screencasts, informative blogs, online demo, and more which will give you a fair idea of the working of the system. While we are constantly adding more, the available educational content can help you make an informed decision.
49. Referral Commission to Partners
It is a great time to be a part of the eCommerce ecosystem when specialized marketplaces are in great demand. We welcome partners, who support the startup ecosystem, by giving a certain percentage of the commission behind each sale of Yo!Kart system. The following chart elaborates the commission percentage:
PACKAGE

COMMISSION %age

GoQuick Packages

Above $999 USD

20%

Less than $999 USD

10%
For Custom Requirements

If the total value of orders in a year exceeds $10,000 USD

5%
If the total value of orders in a year exceeds $20,000 USD
7.5%
If the total value of orders in a year exceeds $30,000 USD
10%
If the total value of orders in a year exceeds $50,000 USD
12.5%
50. Release Cycle
To keep up with changing times, we release timely updates in Yo!Kart. We introduce new features, enhance existing features, and optimize the performance of the system with each release.
As the eCommerce ecosystem continues to evolve, the Yo!Kart team updates the system after every few months. We continue to invest our time to improve the reliability and scalability of Yo!Kart while maintaining our fundamental belief in serving with a smile
Want An Expert to give you a Virtual Tour of Yo!Kart