Introduction
COVID-19 pandemic has been severe on most businesses forcing millions of people to stay at home to stop the spread of the virus. Once crowded streets and stores are now deserted as governments fight to curb the spread. This has caused consumers worldwide to procure everyday items like groceries online. Between January and March 2020, retail platforms recorded a 6% increase in global traffic. And, in March 2020, the eCommerce industry witnessed 14.34 billion visits globally, up from 12.81 billion in January 2020 according to Statista.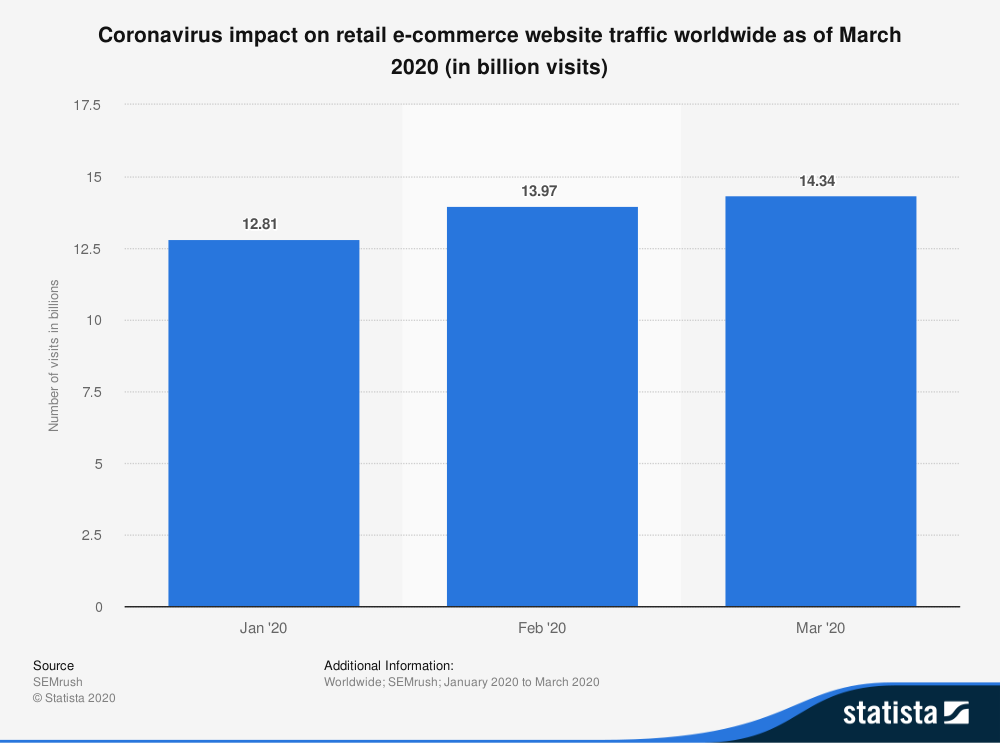 Credits: Statista
Rise in online shopping has urged entrepreneurs and brick-and-mortar retailers to invest in an eCommerce platform. While many people are out-of-work or with reduced payscales, consumers are still spending online. As the numbers escalate on eCommerce stores, online shopping is booming amid the pandemic. Amazon – the retail giant announced revenue of $75.4 billion in the first quarter i.e. $33 million/hour in sales. Stating its dominance in the eCommerce industry, Amazon is likely to grow even more during the pandemic.
Benefits Of An eCommerce Multi-Vendor Marketplace Over Online Shops
While setting up an online store is the only viable solution for retailers, investors, and entrepreneurs to survive and stay competitive. It is advisable to launch a multi-vendor eCommerce marketplace that offers distinct benefits over a regular web store. For instance, Amazon, Etsy, and Alibaba – some of the biggest eCommerce brands have evolved from a multi-vendor eCommerce model.
To illustrate our point, let's take a look at some of the key reasons fueling the demand for eCommerce marketplace software like Yo!Kart:
From logistics, inventory management to product additions, sellers with their individual storefront handles these complications, taking half the headache away from the marketplace owner.

With a larger selection of products listed from several vendors, a multi-vendor eCommerce marketplace is bound to generate traffic and increase sales.

More focus on scaling and marketing the platform and less on managing individual shops in a marketplace.
Moreover, in an established eCommerce marketplace retailers require minimal setup cost, offer flexible eCommerce solutions, and tremendous sales opportunities. This is why it is favored by merchants and businesses alike. For an in-depth analysis on the benefits of a multi-vendor store over eCommerce shops, click here.
Focus On Great eCommerce Marketplace Business Ideas
While being surrounded by successful eCommerce marketplaces like Airbnb or BlaBlaCar, we all are fascinated with an idea to build a successful marketplace with thousands of users. Perhaps some of us are currently exploring different business ideas. Whatever be the case, when focusing on building a great marketplace there are four key factors for success:
1. Defining Value Proposition To Users
For a marketplace entrepreneur, it is important to communicate the core value proposition to your users and catch their responses. Most people use marketplaces to attain product/service at a cheaper price, of better quality, and easily accessible. And, if something they need is expensive, of bad quality, or isn't easily accessible then it becomes a problem. Understanding your targeted audience is the first step towards building a successful marketplace.
You are catering to two audiences – consumers and providers for the same product/service. So, finding the right communication strategy and defining value propositions to users is crucial for a successful business idea. Marketplaces like Airbnb or BlaBlaCar, for instance, have solved the real problem with their accommodation and ride-sharing service, respectively.
2. Aggregating Products/Services For A Marketplace
Instead of big, centralized providers, most marketplaces thrive in areas with several small players offering their key services. From Upwork catering freelancers (for digital services) to Thumbtack catering local professionals (like plumbers or teachers), numerous platforms are aggregating products/services making them accessible and searchable by consumers.
As the marketplace brings more clients to a provider and the customers find all the service providers (for the same service) in one place, it's a win-win situation for everyone.
3. Adding Trust Between Providers
From renting a shared apartment to finding a job, classified marketplace sites like craigslist were the popular option for years. While the website had potentially everything, it lacked a solid reputation system. For instance, finding a suitable room through craigslist required a lot of filtering and potential apartment visits. And, it wasn't until Airbnb came along that people realized how easy it is to find an affordable apartment.
With Airbnb, you get verified owners, apartment reviews, and even your mutual Facebook friends. Other great examples would be Etsy in hand-made products, BlaBlaCar in ridesharing services, and more. These marketplaces have improved an existing solution by adding a layer of trust that was missing before.
And, if you're looking for a great marketplace business idea, then study the craigslist categories to find the section with minimal trust between providers. This might be your potential opportunity.
4. Research For Similar Marketplaces
"Great ideas usually occur to multiple people at once" – This is a powerful quote that best describes how your unique business idea is already someone else too. Be on the lookout for what others are doing and never get discouraged. Research for competitors on Google, learn about their history, get details on their funding situation, and make searches in marketplace directories. In the end, it's the execution of a business idea that matters the most.
Check out the unique features and functionalities of our robust multi-vendor marketplace.
Top Online Multi-Vendor Marketplace Ideas
1. Handcrafted Items Marketplace
Handmade goods, vintage items, and craft supplies – there's an endless list of handcrafted items that badly needed a marketplace to thrive. With Etsy, however, the market for custom-made items is flourishing. Learn how to launch an Etsy-like marketplace and thrive amid the global pandemic & beyond.
2. Grocery Marketplace
In spite of facing tough challenges like delivery, storage, or operational cost, online grocery shopping is a thriving business idea with a steep demand, especially during the pandemic. And, while Amazon with a market share of around 32.7% dominated the e-grocery marketplace in 2019, other prominent players like Walmart and Target are also ramping up sales with their physical retail stores and click-and-collect capabilities.
As the majority of retailers and entrepreneurs are looking to set up their online individual storefront, the e-grocery marketplace is a perfect platform to invest and cash-in. Read this guide, to understand different challenges, solutions, and opportunities in-store for an eCommerce grocery marketplace.
3. Organic Products
Amounting to $95 billion in 2018, up from nearly $18 billion, the worldwide sales of organic products have grown substantially in the last two decades. And, the US occupies a greater share of organic food sales. It is one of the most profitable business ideas for startups as well as enterprises. From Walmart's organic offerings to Kroger's in-house organic brand Simple Truth, there are several big players increasingly offering their organic products online. To launch your customizable e-grocery marketplace for organic food products, click here.
4. Fashion Marketplace
From lower digital barriers to the emerging worldwide population, several factors are fueling growth and futuristic opportunity in the fashion marketplace. The online fashion industry is among the largest and most popular marketplaces worldwide with an estimated market size of around $992 billion by 2024. Top marketplaces like Lyst and Amazon Fashion are already fueling growth attracting millions of shoppers worldwide with their apparel, footwear, and other accessories line-up.
As niche fashion communities continue to build fast and sell well, learn how to build an online fashion marketplace with Yo!Kart.
5. B2B Marketplace
A popular eCommerce market with a high barrier to entry, the B2B eCommerce marketplace allows brands to sell well and at scale. Here, enterprises with greater purchasing power and bulk purchasing thrive. Amazon Business – the largest B2B marketplace allows wholesalers, vendors, and manufacturers to sell Industrial b2b products with ease.
As B2B marketplaces flourish online, learn how Yo!Kart will help you to launch a customized B2B multi-vendor eCommerce marketplace successfully.
6. Digital Products Marketplace
E-books, online courses, games, or other downloadable items, the marketplace for digital products generate enormous amounts of revenue worldwide. For instance, online courses alone are expected to surpass $240 billion in revenue in 2022, up from $160 billion in 2016. As the marketplace presents several growth opportunities, it is best to invest and cash-in. Amazon, Walmart, and AliExpress are among the most popular marketplaces for selling digital goods globally.
If you wish to start a similar marketplace to sell digital goods, then choose Yo!Kart. We'll help you launch a digital goods marketplace with niche-specific features.
7. Jewelry & Ornaments Marketplace
The global jewelry market valued at around $278 billion in 2018 is expected to reach $480 billion by 2025, according to Statista. With a high-profit margin and several growth opportunities, Jewelry & Ornaments marketplace is a relevant business idea for both enterprises and startups. For instance, Amazon – the retail giant claims around 50% of the online jewelry sales in the US. Another popular marketplace eBay with 180 million active buyers offers plenty of opportunities for jewelry sellers.
Yo!Kart with its ready-to-launch eCommerce solutions will help you launch a customized multi-vendor marketplace for luxury products like jewelry and ornaments with distinct niche-specific features.
8. Furniture Marketplace
With the advancement in logistics, reduced shipping cost (for larger items), and an option of pre-sale listing of furniture and delivery, the online furniture marketplace is growing rapidly. The potential cost-saving features and convenience of ordering online have boosted sales for the furniture marketplace. And, it is expected to grow at an average annual growth rate of 10% worldwide, resulting in a market volume of around $290 billion in 2023.
Wayfair and Amazon, two retail giants with a market share of 33.4% and 29.7% in online furniture sales respectively have changed the face of the furniture marketplace. Read this guide to learn more about top marketplace players and gain an insider's view of the online furniture marketplace.
9. Electronics Marketplace
Invite and manage electronic vendors to register and sell products in your marketplace. A customized multi-vendor marketplace for electronics by Yo!Kart offers several distinct features like streamlined checkout, up to 5 million product listings, and more. With a Compound annual growth rate (CAGR) of around 7.3% over the next four years, the online electronics marketplace dominated by top players like Best Buy, digitec, and GAME is expected to grow substantially.
10. Liquor Marketplace
The online alcohol industry is a lucrative niche marketplace with an untapped potential yet to be fully discovered. A statistic released by the US Department of Commerce showcases that consumers spend nearly $54 billion on the purchase of alcoholic beverages. But, the online sales for wine and liquor marketplace present just a marginal fraction of overall sales. With the emergence of Wine.com, Drizly, and more recently Amazon with its alcohol delivery, the online liquor marketplace will soon change.
As consumers buy alcohol online, learn what market opportunities are in-store for entrepreneurs looking to start their own wine and liquor marketplace.
11. Kitchen Utensils And Appliances
Instead of opting for a common marketplace to list/sell the kitchen utensils and appliances, vendors look for a niche-marketplace solely focused on their products. This is why custom marketplaces with niche-specific features sell fast and do well. HayNeedle and Cooking.com for instance, are some of the best online marketplaces for kitchen wares. With digitization and online shopping trending amid the pandemic, it is the right time to invest in a niche-specific marketplace.
Get in touch with Yo!Kart team to launch your custom eCommerce marketplace.
12. Sports Good Marketplace
A marketplace for sports and fitness enthusiasts is another popular trend with a wider audience. As game players search for coaches, sports activities, materials, and fitness centers in their area, starting a sports marketplace is a great business idea. Sportsfinda, for instance, is an eCommerce marketplace for students and colleges to sell sports goods. Niche-specific marketplaces like these are emerging and prospering worldwide.
If you are ready to invest in a sports good marketplace, then choose Yo!Kart. We offer ready-to-launch solutions to start a sports store marketplace with conversion-specific features.
13. Cosmetics Marketplace
There's a steep demand for high-end beauty products like cosmetics worldwide. As per Statista, the global cosmetics market valued at $507 billion is projected to reach $758 billion by 2025. And, the online cosmetic industry is growing rapidly as well. From Amazon to The Beauty Club – a beauty destination marketplace, sellers offering cosmetic products are increasingly considering eCommerce platforms for potential buyers.
To launch a performance-optimized online cosmetics marketplace, consult Yo!Kart experts without delay.
14. Automotive Marketplace
Sustained technology developments and the increasing millennial population have a massive impact on accelerating the growth of the online automotive marketplace. It presents several growth opportunities as highlighted by Vroom – a popular online marketplace for used cars. As the US automotive marketplace depicts a positive trend with growing advertising spend by dealers, starting an online automotive marketplace is a great business idea.
15. Hardware Marketplace
Ecommerce sales for computer hardware and communication equipment amount to nearly $26 billion in 2018, according to Statista. It is a popular eCommerce marketplace with several top players. Tindie.com, for instance, is an eCommerce marketplace for hardware products that enables buyers to purchase directly from the makers. Such marketplaces often are in great demand with an audience worldwide.
As several entrepreneurs or hardware retailers looking to grow their business, the eCommerce industry is the best bet today. Choose Yo!Kart to build a hardware multi-vendor marketplace with robust eCommerce features.
16. Botanical Products Marketplace
Estimated at $131.5 billion in 2019, the global botanical ingredients market size is expected to grow at a CAGR of 7% in the next seven years, as per Grand View Research report. But eCommerce sales still represent only a minor portion. There is a huge untapped potential for businesses to invest in such a marketplace and recently many enterprises have started investing as well. botanicalbliss.net, for instance, is one such marketplace that allows vendors to sell herbs, flowers, fruits, and other botanical products.
To start a similar eCommerce marketplace for botanical products, choose Yo!Kart. Our platform is natively designed to deliver custom marketplaces like Botanical Bliss with niche-specific features.
17. Ethical And Sustainable Products Marketplace
Recognizing the current environmental crisis, the "go green" campaign is clearly gaining momentum worldwide. According to data analysts at GlobalWebIndex, 57% of surveyed people say they would pay more for eco-friendly products while 61% say they would switch brands if the products aren't eco-friendly. Clearly, environmental concerns are impacting the consumer purchasing decision.
Conscious consumers are quickly switching to new alternatives with more environment-friendly products. Shopingreen by Yo!Kart, for instance, is one such consumer-centric marketplace that offers ethical and sustainable products targeting conscious consumers. And, seeing the current trend, marketplaces selling ethical/sustainable products are more likely to sustain growth rather than those without sustainable products.
18. Marketplace Website As A Search Engine
A multi-store product search engine is another popular online marketplace idea. And, Yahoo Shopping is a prime example. This is a unique business model where retail customers can search for products from different vendors available on another platform. The marketplace website would not be a selling platform but essentially a search engine. For instance, buyers searching for earphones on Yahoo Shopping will find all results from other platforms like Amazon, Dell, and more. And, when a buyer finds the desired product, he/she can chat with sellers to enquire about the product availability. If available, the buyers can directly visit and buy in-store.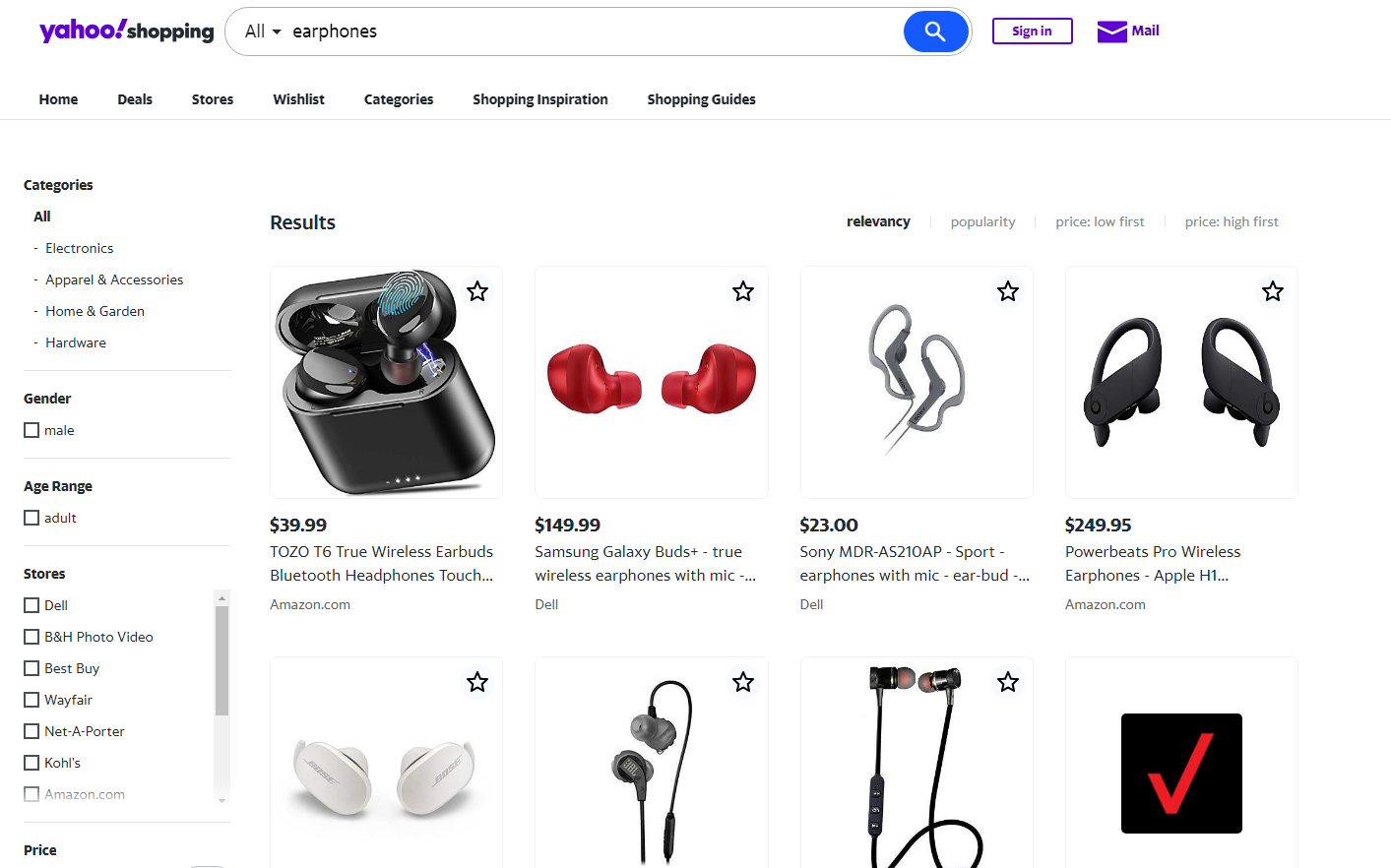 There is no buy button but a link that redirects to their respective platforms. Also, retailers must be listed on the platform for their products to appear in search results.
This is a unique marketplace idea with huge potential opportunities. If you have a similar business idea and need custom marketplace solutions, consult Yo!Kart team.
19. Farmers Marketplace
Although many marketplaces allow vendors to sell fresh food products but to support agricultural innovation, green practices and provide locally grown food to all – starting a farmers marketplace is the best idea. In such marketplaces, freshly harvested food grown locally in all categories and stored at a single warehouse is delivered to health-conscious consumers. From warehousing to logistics and in-store operations, a dedicated team is assigned to work together across the network.
For better reference, check Farmers To You – a dedicated farmers marketplace. It is an apt marketplace model that can be easily incorporated using Yo!Kart custom marketplace software.
20. Rental Marketplace
A rental marketplace is rapidly growing in trend among millennials and Generation Z mainly due to increasing product costs, rapidly changing consumer demands, and other crucial factors. From Airbnb to RVShare, some of the top emerging marketplaces have come from the rental industry. This is one of the most popular industries with many eCommerce sectors still unexplored.
For entrepreneurs, SMEs, and large enterprises looking to start an online rental marketplace trust Yo!Kart. The platform is inherently designed to deliver ready-to-launch and custom marketplace solutions like yours.
Conclusion
Every successful marketplace starts with a great business idea and a platform that helps you leverage your idea into reality. With the ready-to-launch marketplace solutions, Yo!Kart empowers startups, entrepreneurs and enterprises to launch a niche-specific customized online marketplace with ease.
Start an eCommerce multi-vendor marketplace with niche-specific features.