According to a report by SaleCycle, 75.60% of shopping carts are abandoned during online shopping. This clearly depicts that your sales could increase more than 3/4th if you strategically improve your website's user experience.
Unique customer experience is the key to earn loyal and repeat customers. Big data is one of the major components in providing unique customer experience. It also helps in devise action plan to re-engage with customers who have abandoned their cart.
It is not possible to persuade all customers to complete their checkout. But, if we used big data in the right way we can gather maximum information about the users which can be used for personalized marketing.
Due to lack of resources brands and businesses are not leveraging big data for marketing purpose. Optimal use of data will lead to providing a personalized experience and curating relevant content for abandoned cart email.
Here are some best examples of email and mobile notification for recovering abandoned shopping cart.
The Email Recovery Campaign
Example 1
Some of the negative reasons why buyers abandon cart are:
Addition of taxes during checkout

Uncertainty about the quality of the product

Shipping charges are high

UX of the website is not compliant with user expectation

Desirable payment gateway unavailable
For the few who abandoned their cart due to internet connectivity or website crash, send a reminder email.
The latter type will want to buy the product from your website. These customers just want a reminder of the product they wanted to buy. Sending them an abandoned cart email with the product detail and link to complete their transaction will enable buyers to complete their purchase journey.
Bulkbookstore, a B2B website catering to institutions and businesses which want books in bulk quantity, send a reminder abandoned cart email. With a simple content, the business is informing it's customers that they have not completed a specific order. They also provide the customer with a link to complete the order without registering or filling any forms. If you have noticed, they have also given the customers a bait which is "Price match guarantee".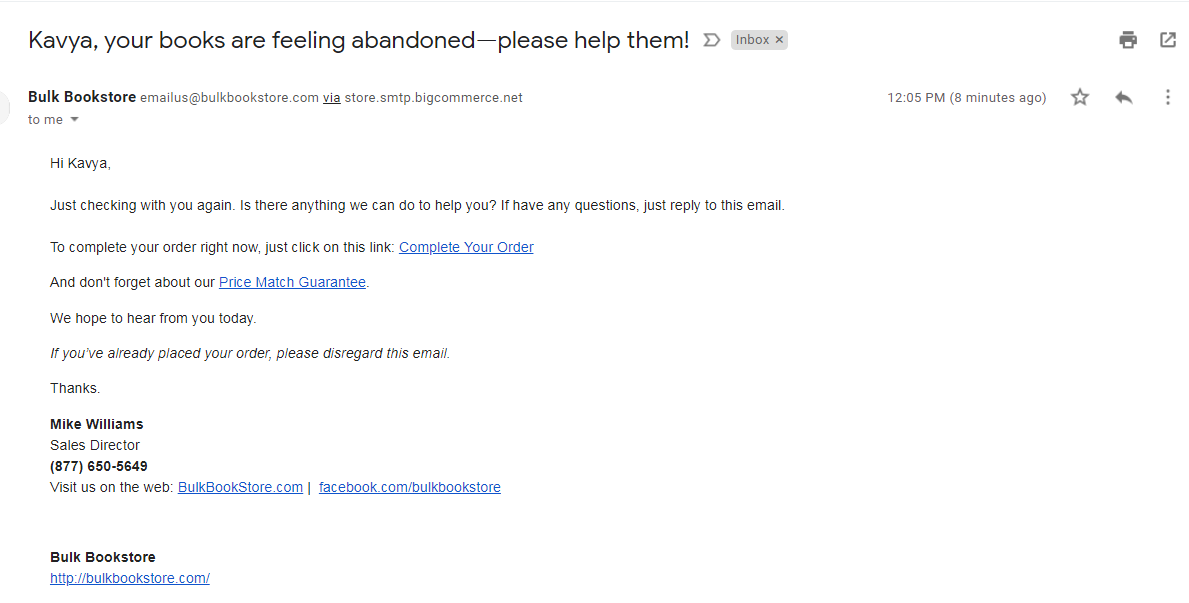 Example 2
The abandoned cart email that you send should be carefully analyzed after checking the buyer persona. Ecommerce business must apply more sophisticated algorithms to analyze the mindset of people who are visiting the website. An in-depth research to collect the data on users who abandon.
Similarly, Cratejoy a subscription-based marketplace has analyzed that their customers usually:
Do not make immediate decisions

Analyze if the need is for a longer duration
Cratejoy has written the perfect copy according to their buyer persona. A sense of urgency has also been introduced, as they have mentioned that the shopping cart will expire in a few days in the following example.
Example 3
There are some product which can trigger the emotional quotient of a person. Especially if the product is related to the health and well-being of a family member or pet. Businesses which can use the emotional aspect, must use it wisely in the email campaign. Email marketing should also be the same. Some factors that compel the users to open the email are:
Which brings us to our next example(also my favorite), Petplate, a subscription-based business model, which provides pet food on weekly basis.
The email starts with a witty line and image to catch the attention of users to the email. Moving on to put the reader on a tight spot. This email has all the elements which are required to complete the customers to make the transaction. They have mentioned the USPs of the product. Also, they have given an extra incentive to the customer by offering them a discount.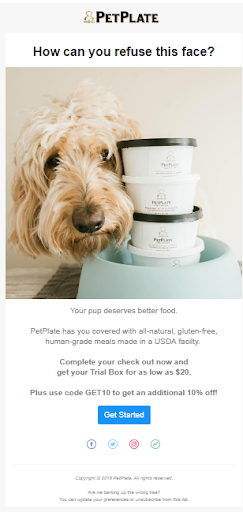 Example 4
A user can be converted into a customer if we create the FOMO effect. A lot of customers abandon their carts but when they realize the product will go out of stock, they usually want to buy the product. Just an email making your customers realize that they will miss out on the product which is in their cart.
For a similar scenario, check the example below. Fab is a design-focused company, dedicated to helping our customers discover fun and unique products. First, it is reminding the customers about the items they left in their cart. Then, Fab move on to state, that complete the transaction until the product is still available.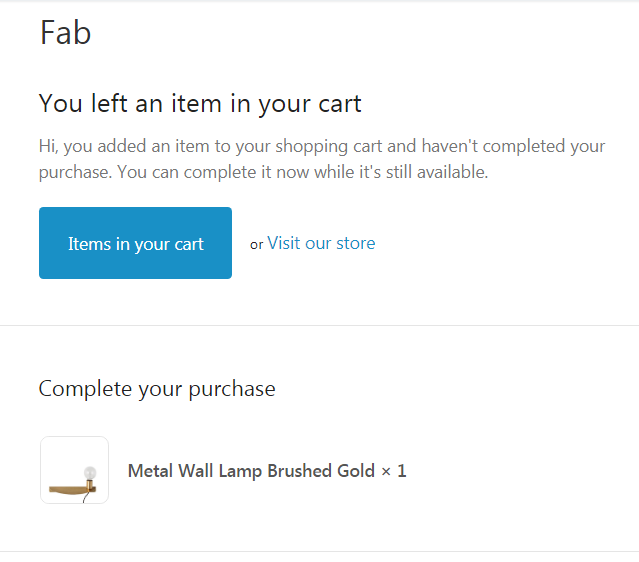 Mobile app notifications
Similar to email the basic idea remains the same but let us see how apps are retrieving customers who have abandoned their cart. As a customer has already downloaded your app, they are surely planning to buy products from you.
Example 1

Zomato, the popular food ordering, and delivery app, re-engage its customers to order the cart they have abandoned. They send a notification to remind the customer that they have abandoned cart and can directly order by tapping on the notification.
Example 2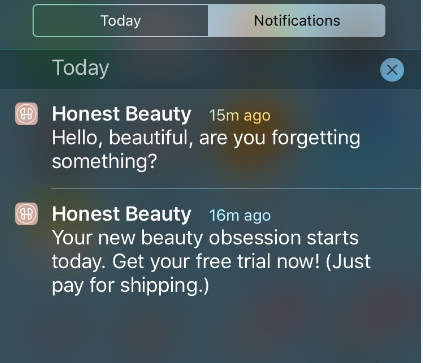 Honest Beauty is an e-commerce app/website which helps customers to purchase beauty product online. As they know their target audience is mostly female, their notifications are also targeted. Firstly, they have started by a salutation then addressed the user as "beautiful" which will engage the customer and lead them to buy the product.
Example 3

Jet is an e-commerce app/website for selling furniture and home decor products. Brands have to plan their notification perfectly as it must be limited to a few words. "Jet" has sent a perfect abandoned cart notification where mention that the product which the customer has abandoned will look better in their house. Jet is also making sure the customer reach the checkout page directly through notification.
Example 4

1800flowers is a floral and gourmet foods gift website from where customers can order bouquets for special occasions. This is one of my favorite notification as it includes all important elements for the user to convert. First, the brand is reminding the user of their abandoned cart. then they are offering a 15% discount and also included a FOMO effect as the discount is valid only "today".
Make your website generate more business
Conclusion
Looking at the high rate of shopping cart abandonment, business want to increase their revenue and conversion. Every business must have an abandoned cart email strategy in place. Learn from the examples above and create a unique strategy for recovering abandoned cart, depending on your target audience.
You may also use Yo!Kart an eCommerce marketplace platform that has an in-built Abandoned cart recovery solution to help follow up cart abandoners and motivate them to make the purchase.