"It's good to have high-quality competition; it helps drive research forward at a faster pace."
 Shuji Nakamura, Engineer and Inventor
Every player in the ecommerce world is vying for one thing – more customers. This calls for competition, which is the base for the existence of customers. Competition shouldn't make you feel scared anymore, rather happy and reassured.
Why?
Because your competition helps you formulate innovative strategies (indirectly, of course) and quickly reach an increased number of prospects.
Keeping up with competitors
No matter how different an idea inspired you to have your own ecommerce store; several companies would already be doing the same business, selling out the same products as you do. To keep up with and outdo those businesses, you need to know what gets them customers.
Once you know the strategies that they follow and the tactics they use to sell their products and services, you are prepared to use it against them for your own benefit. Focusing alone on customers is a dire mistake. While you might be avoiding stalking your competitors, they are still spying on you. Even if you choose to leave the opportunity to rout them, you cannot expect them to return the favor, at least.
Keeping an eye on your competition is your chance to fetch new ideas, learn about trending products, be familiar with important and buzzing keywords, and analyze promotions and pricing. This research helps you a great deal in mitigating your risks when introducing a new product, identifying your weaknesses and acquiring new customers.
Determining competitors' strengths and weaknesses
To determine your business rivals' fortes and failings, you must be able to answer the following questions:
What is making people buy from them?

Are they offering products at relatively lower prices or do they follow a standard, dynamic or distinguished pricing strategy?

How do they handle payments, shipping and returns?

How do they deal with their customer queries or complaints?

How frequently do they promote their products?

How often do they update their website, blog or social content?

How friendly and responsive is their website's or app's user interface?
Accumulating this valuable information, you can build a pioneering sales strategy for your online marketplace. Your analysis should be based majorly on your direct competitors. Categorizing your competitors is, therefore, an essential step.
Segregating your competitors
Depending upon their objectives and offerings, you can categorize your competitors into three groups:
Direct Competitors
Ecommerce businesses dealing in similar products and services as yours are your direct competitors. They target the same audience that you do and sell their products via the same channels. This is why you consider them as your primary competitors when analyzing your competition. Direct competition calls for efforts and strategies to reach your prospects first.
An example of direct competition is Netflix, Hulu and Amazon Prime, all of which offer video streaming service to their target audience and create their own content too.
Indirect Competitors
Your indirect or secondary competition has a different marketing focus altogether. They may target the same audience as yours, but for selling out different products and services using separate media to serve a different goal.
TV channels and cinemas are indirect or secondary competitors of video streaming companies like Netflix, Amazon, and Hulu.
Substitute/Replacement Competitors
Targeting the audience you want to reach, these competitors may offer a completely different product as a substitute for what you offer. The sad part here is you can hardly predict how they are going to replace your product or service. Besides, you can do the least to divert your audience from switching to the replacement.
For instance, people may choose to substitute their time spent on Netflix with that on social media. Because clearly, Netflix provides entertainment but doesn't let them be social. On social media, they can watch videos, play games and share their experiences with friends.
Now the question is how to go about tracking your competition. Basically, it is all about gathering different data such as their website metrics, keywords they use, social following and pricing techniques that you can analyze and use to your advantage. We've listed below the best techniques and tools that help you analyze and learn from your competition with ease.
Tactics and tools to keep an eye on your business rivals
1. Study their website
First things first. Consider painstakingly going through their website. It shouldn't simply mean noticing their latest product on sale. Rather, deep dive into the website, observing everything from the landing page to layout design and from content to product categorization, variety and pricing.
Look at their traffic sources and volumes, bounce rate, and engagement rate. What is something distinguishing on their website that possibly lures their prospects? What is it that you didn't like?
Incorporate the good while jettisoning the bad.
Case Study – Paperstone knew that lower prices against its competition were its strength. Therefore, the brand displayed their and competitors' pricing on their homepage in the form of a comparison table.
This simple move resulted in 10.67% increase in sales for Paperstone.
Case Study – ModCloth wanted to sell retro-inspired women's clothing. To attract and engage the audience, they created and launched a user-generated content platform "Style Gallery" in 2012.
The innovative strategy resulted in 2.75 million Pinterest followers along with a million Facebook followers. It brought the company over $100 million in revenue.
Preferred Tool – SimilarWeb is one of the best tools to study your competitor's website traffic and its sources.
Using the tool, you can identify where exactly your brand presence matters. Also, a paid version allows you to gain deeper insights and act upon these to enhance your results, if required.
2. Use reverse image search
Discover your competitors' latest activities using this simple hack. Save your competitor's logo from their website. Take, for instance, Adidas's logo and open Google Images.


Upload the logo using the "Upload an image" option.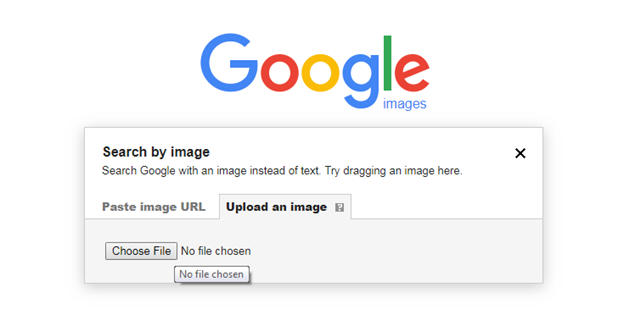 Find the logo in the search results.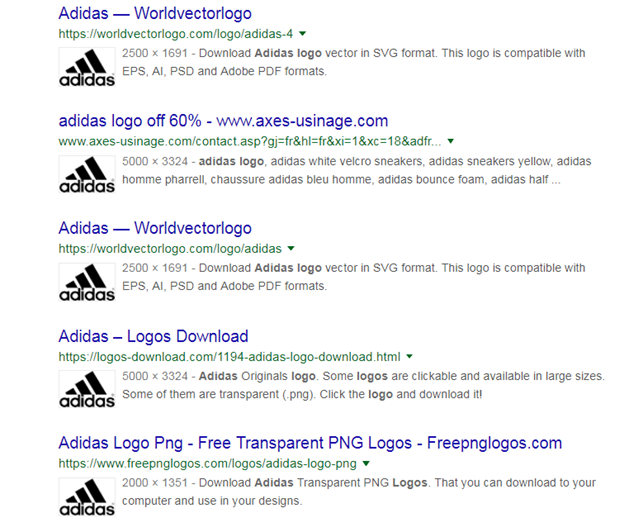 This way you can determine the review websites where the particular company is being talked about, the sites where they have their backlinks and the platforms they use.
Consequently, you can sell on or secure a link on these websites with high domain authority, if you do not already.
Note: You can also go for a popular product's image instead of the logo to find its sellers and prices.
Preferred Tool – Keeping a check on all your competitors' mentions, whether a social media or PR mention or in a blog comment, is easy with Mention.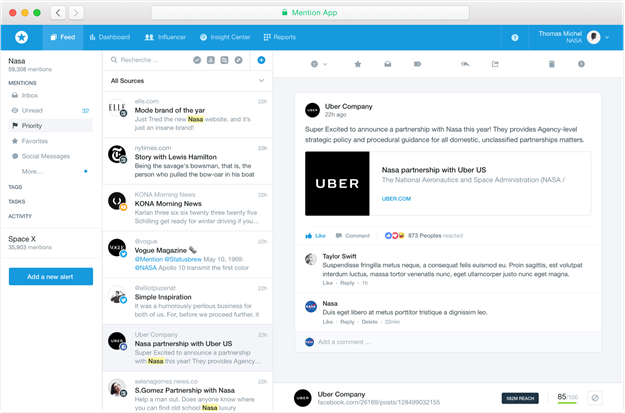 The tool alerts you every time your brand or a competitor's brand is mentioned somewhere.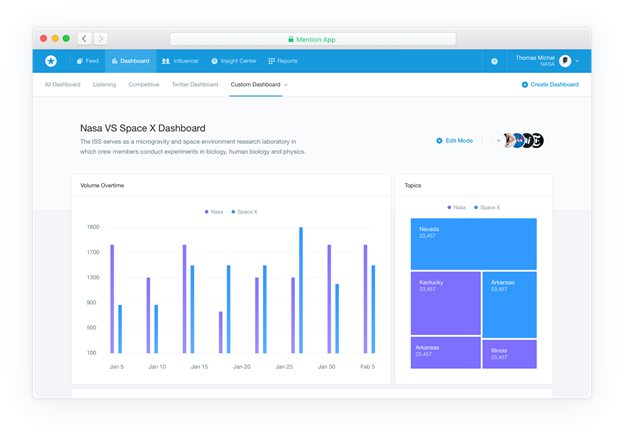 Therefore, you can monitor their engagement strategies, while also looking at their influencer partners.
To observe your ecommerce business rivals' backlinks, Ahrefs is an effective tool that lets you gather information on their domain authority, referring domains, backlinks and URL rating.

You can even keep track of new referring domains that helps you see how often your rivals are acquiring new links.
Further, use Wappalyzer or BuiltWith to learn which platforms, apps or tech tools your opponents are using, including CMSs, advertising tools, plugins, and hosting providers.  
3. Keep a note of customer's incentives
See what kinds of incentive programs your business rivals have for their customers. These programs influence a customer's behavior and buying decision. A positive reward in return for an action provides a positive customer experience.
It's a value exchange offer that keeps the customer coming back to their website. Outpacing your competition on these grounds, you can earn an increased number of customers.
What kinds of incentives can you offer?
A customer loyalty program works equally well as a discount coupon or a rebate does. Keep everything well-defined. Here is a blog post on discount coupons ideas and examples that may help you improve ROI.
Case Study – Finch Goods, which deals in men's lifestyle products, introduced a customer loyalty program "Loyalty Lion". The program rewards customers and prospects for every action from registering with the site to making an order to referring friends.
The brand personalizes the experience further with handwritten cards or small gifts with orders.
Together, it makes for a valuable and delightful customer journey that keeps them revisiting.
4. Subscribe to their newsletters/blog
Watching their content updates is of utmost importance to your online marketplace venture. You can use it to develop your own email marketing and content strategies.
Sign up to their newsletters to understand how their campaigns work and what kind of content they produce at which frequency. Observe how their promotions and CTAs work. Examine how successful their campaigns are and implement in your email marketing strategy any ideas that contribute to an improved ROI.
Create blogs to market your new products and services that further helps build a better content marketing strategy based on the engagement rate and number of subscriptions.
Case Study – Comparing competitors' products with its own products, online mattress retailer Amerisleep decided to modify its copy from something ambiguous to a clearer version.
Earlier, it said "No mattress is more carefully engineered", which could mean no one was building a better mattress, but many were engineering it as carefully as the brand itself.
They changed the copy to "Our innovative and proprietary materials let us build one of the most comfortable mattresses ever" that brought them added revenue of millions of dollars in a year.
Preferred Tool – For exploring competitors' best-performing content, BuzzSumo is a great and widely popular tool.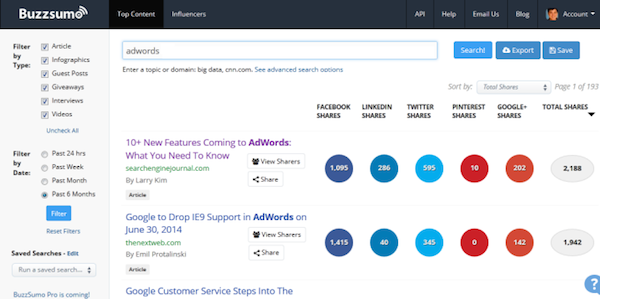 It helps you identify the articles with the most social shares. Therefore, you can create content on similar topics using the high-performing keywords to outdo your competitors.
To find out their top ranking keywords, you can use the Ahrefs tool.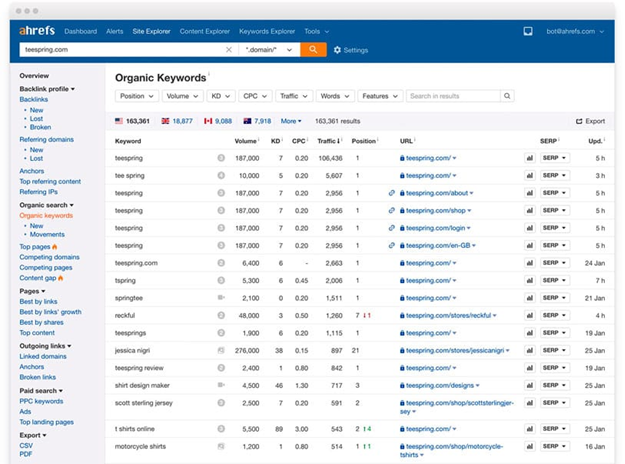 It helps analyze competitors' complete SEO metrics, including their PPC ad budget.
SEMRush is another tool that helps analyze competitors' paid traffic and top organic keywords.

You can also see which competitors' URLs appear on the search results page for a specific keyword.
5. Track shipping handling process
Shipping plays a crucial role in making a prospective customer stay or switch. Most of all, free shipping is a key sales driver.
According to Deloitte 2018 Holiday Survey, 75% of consumers prefer buying from online stores that offer free shipping.
Check if your competitors are offering free shipping to buyers. Also, check if they are pairing this option with a quick call to action—a smart move to push sales further via shipping.
Techniques for Ecommerce Stores to Attract Holiday Shoppers
Many ecommerce stores report a high conversion rate with other shipping options in place. For instance, they may deliver a small free gift with the ordered item or offer a loyalty card to their repeat customers. Also, see their shipping speed, type of packaging and shipment tracking process.
Look at the return rates of online stores offering free delivery and the return policies of your top competitors.
Are your rivals accepting returns for free or are they offering this service at all? What is the time period within which they are accepting returns?
Preferred Tool – Use Panjiva to discover global suppliers or manufacturers or both; find who your competitors' trade partners are and what are they up to.
Compare and examine multiple companies' trading partners at a time.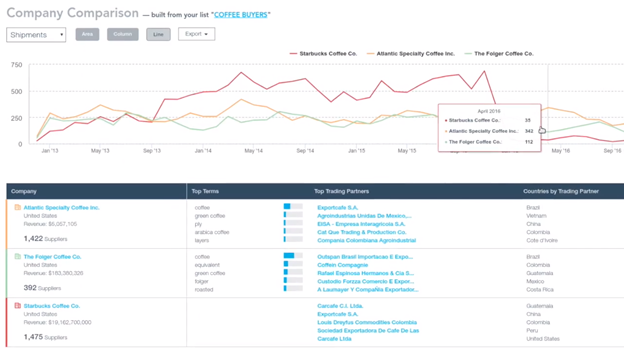 Locate new products to your stock and new locations for your target market.
Case Study – Raw, unpasteurized juice-making company, Raw Generation, was getting no traction from social media promotions. They landed a deal site, Lifebooker, from where they got conversions and took their promotions to more deal sites for increased sales.
The revenues skyrocketed for them, as a result.
6. Follow them on social media
To get an insight into your competitors' new product announcements and other news, follow them (privately) on social media.
Preferred Tool – Automate the process with Fanpage Karma. It lets you track everything from your competitor's top posts to reach per day to the number of fans in a KPI overview on a weekly basis.  

Also, check out their influencers and content posting times on Facebook, Twitter, YouTube, Instagram, LinkedIn and Pinterest.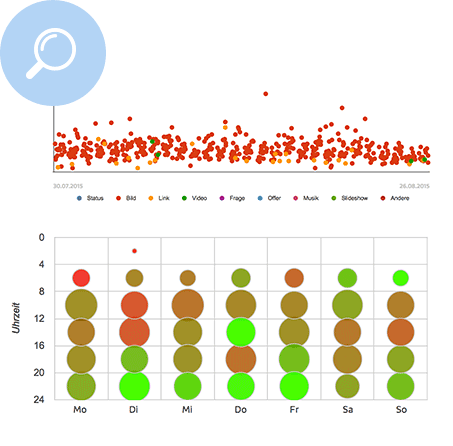 Based on your analysis, work out the best topics, times and frequency to post on.
7. Become one of their customers
Monitor how your competitors deal with customer journey and experience.  And what's a better way to do so than becoming a customer yourself? Buy a product from them and see how their checkout process works. Also, look at the kinds of emails they send to customers post sales. Notice if they send across abandoned cart emails or not.
8. Explore career opportunities
Lastly, keep a track of job openings at your competitors'. Look into the job descriptions to identify their near future plans. LinkedIn is a great tool to keep it in check. Follow the companies you would like to get notifications for and stay up-to-date.
Gain Deeper Insight with our Competitor Analysis Service
Spying on your ecommerce rivalry is not an option anymore. Neither is it an idea to emulate opponents' actions and strategies. It should rather be an informed business decision that aims at incessant business growth in a relatively unique way.
Competitor analysis makes you mindful of the latest tactics and prospective selling opportunities. Providing a holistic view of where your rivals are, it enables you to fill the market gap with innovative approaches to build, launch or market products.
Leveraging the insights gained via the tools and tactics above is the key to spearheading competition.