If you have just arrived in the business world with your new eCommerce brand, how to increase the number of customers certainly is one of the many challenges that you face. Handing out discounts to your potential customers is one of the proven ways of customer acquisition as well as retention, as a reduced price on an item creates an instant gratification for buyers, making them want to come back for more.
Of the many forms that discounts take, discount coupons are one of the most effective ways you can offer such a concession to your potential buyers on an online marketplace. However, as we know too many of the big boys of online multi-vendor marketplace already exist with plenty of very generous-looking offers. So what kind of discount coupons can you produce to turn the table your way, especially when you are in your initial phase?
We have hence compiled a list of the most common consumer behavior which you can target to develop the most powerful discount coupon campaign ideas for your eCommerce website.
A sense of urgency:
Creating a sense of urgency in your buyers for a discount is one of the most tried and tested methods, and therefore one of the best methods to sell your items, especially if you are a new brand trying to build ground. You can do it in several ways as below:
Have a limited time offer – season sale, weekend sale, a discount just for today or a fixed time period – limited time offers like these not only create an urgency in regular buyers, but also attract new customers who might want to just give your products a try; and if they stick, it's only your gain!
For example- as Logos mentions the last day on their promotion. See how they match the graphics with that sense of urgency.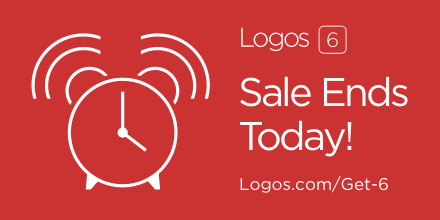 (Source – Logos)
One time offer:

A one-time offer, like this seed potato brand below provided, makes your buyers pay special attention to your brand. This creates a fear of missing out if you don't avail it within this time-frame, and so if your buyer is really into potatoes, they will not want to miss out on this chance!

   ( Source – Grand Teton Organic Seed Potatoes)
Fast fly offers:

Give a discount to the first few customers. You can also extend this idea by adding one discount for the first 25, then for the first 50, then the first 100 as

Hype

does-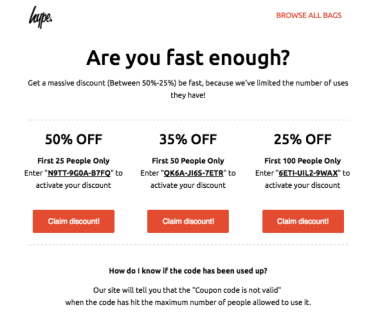 (Source – Hype)
This not only creates that pressure on your buyers as you want but at the same time rewards the customers for winning this chance of being among the first few to avail the offer, which also brings them to you readily. This brings us to the next strategy.
A reward for a hard purchase:
Everyone loves a little reward for their hard work, and if your buyers get something extra while shopping on your website, it is bound to bring traffic. Reward coupons like this have many forms-
BOGO:

"Buy-one-get-one", or "Buy-one-get-50%-off-on-your-next"- offers like these prompt the customer to purchase extra items which you can use to clear out your inventory. However, remember to use graphics on your campaign relevant to your type of brand.
For example, compare the two brands' discount campaigns-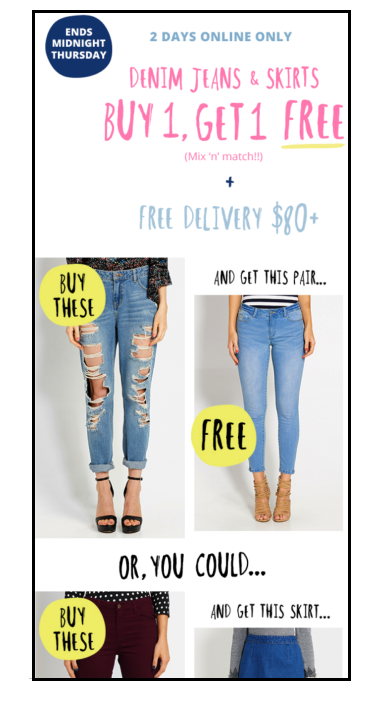 (Source – Dotti)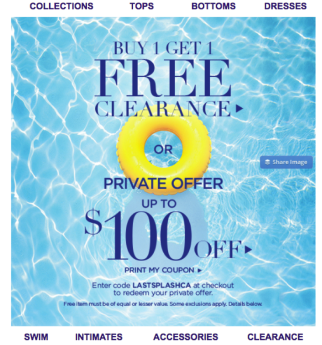 (Source – Catherines)
Notice how the looks vary between an offer for jeans (dotti) and another for swimwear (Catherines). Capturing the mind of the audience and making them think about your particular product when they look at the graphics is the trick here.
New users' discount:

This is one of the most effective ways to grab new customers, which every big brand has been using till date.
You can have a discount coupon specifically for new users-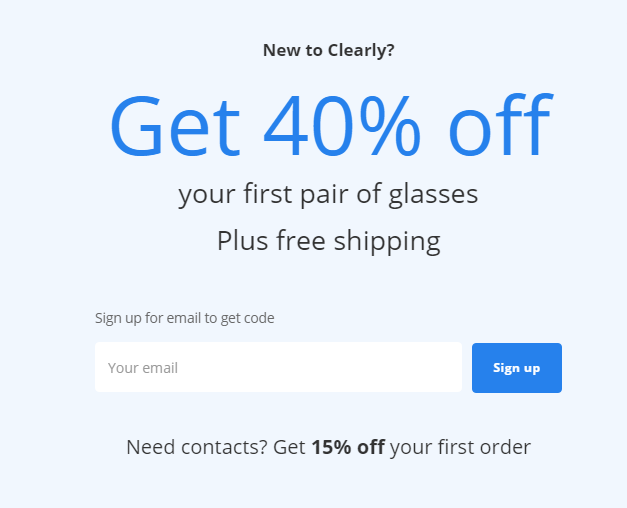 (Source – Clearly)
Rewards for shopping with you:

There can be various ways you can provide your customers with reward coupons for shopping or window-shopping on your site. Find some of them below-

Discount above a minimum shopping value:

Giving out gift coupons or cashback coupons for a certain amount of purchase is a great way of attracting buyers. At the same time, it encourages them to spend more, increasing your overall revenue.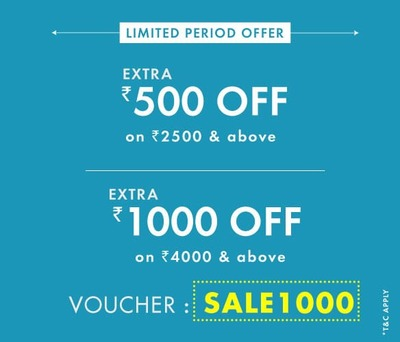 (Source – Lenskart)
Coupons for repeat shoppers:

You can also call back your customers by giving a discount for their next buy, thus advocating more shopping with you.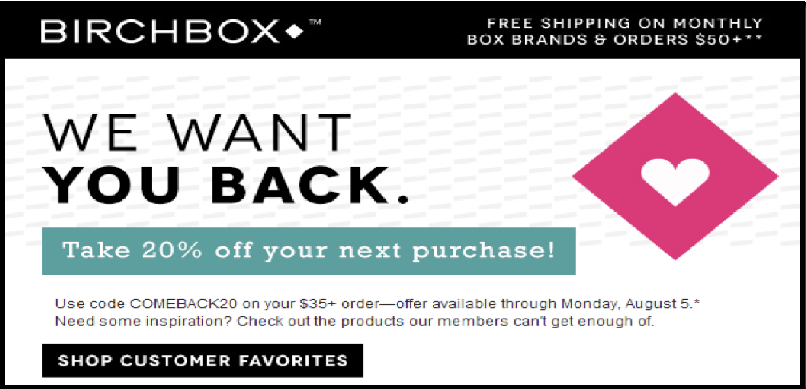 (Source –Birchbox)
Discount on banks:

If you have tie-ups with certain banks, you can offer a discount coupon for using their debit/credit card.

(Source – Amazon)
Gift voucher:

You can give out coupons for a movie, a trip etc., as a bonus for shopping with you.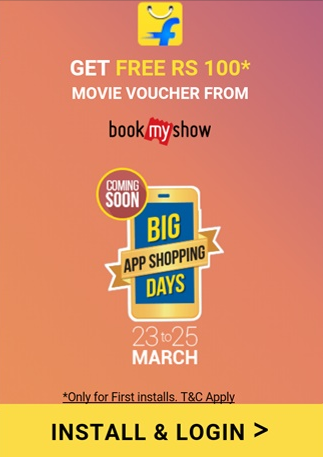 (Source – Flipkart)
Cart abandoners' promotions:

Sometimes your buyers like an item and put it in their carts, but then they either forget about it or wait for a reduced price and it is abandoned. You can give a discount on the cart as a reward for liking your product, in turn recovering a revenue for yourself which would otherwise be lost.
(Source – Vistaprint)
100 Elements of an Ecommerce Website
Creating mystery:
Curiosity is one of the most powerful emotions of human beings, hence we are naturally drawn to mysteries and secrets. The moment you present a person with a concept of "secret gift inside", it has an instant impact. See how shoes.com beautifully does it here-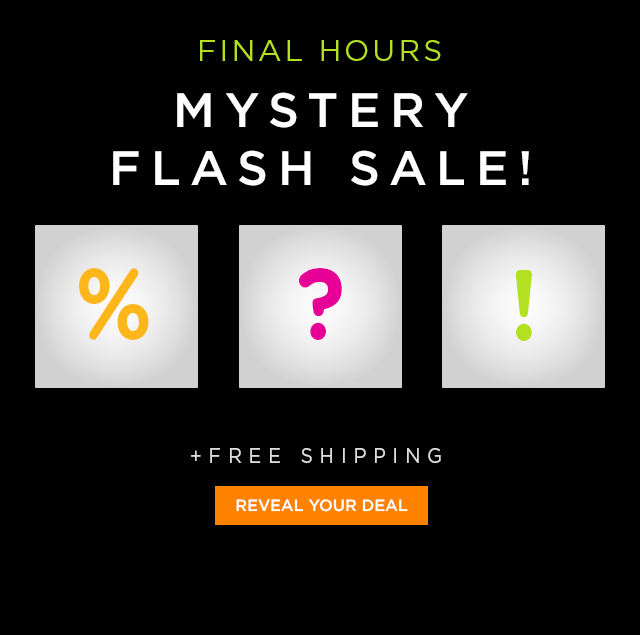 (Source – Shoes.com)
Not only they successfully raised curiosity in the minds of their buyers, but they also created a sense of urgency which will at least make you click on the gift box!
Refer a friend:
A referral program is one of the most desirable and one of the most effective strategies of marketing when used on the correct portals. Once you have started the viral loop by making at least one conversion through one reference, and the new users start referring, your user base keeps on growing even when you do nothing else to market your website. See how brands use it-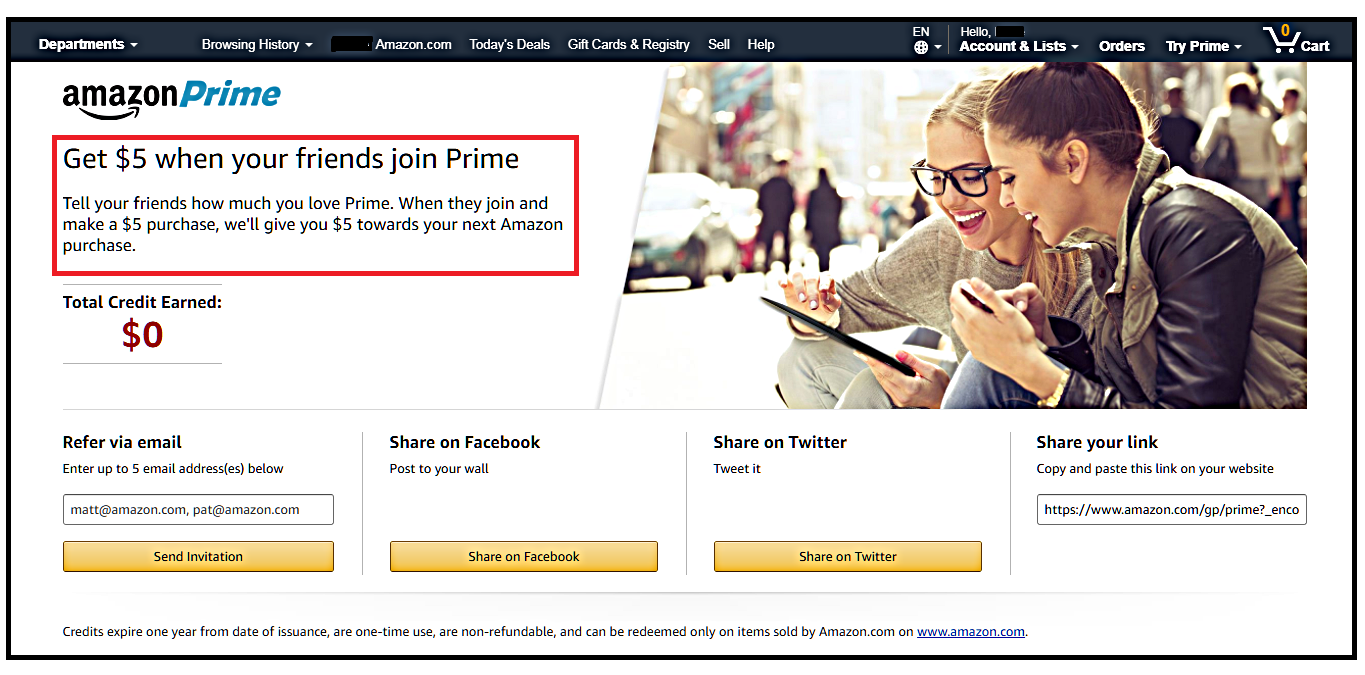 (Source – Amazon Prime)
More marketing methods:
Here are some more ways you can market your website-
The power of "free":
The word "free" always has a huge impact on any buyer. May it be a combo offer or free shipping, this offer always grabs the customers' attention.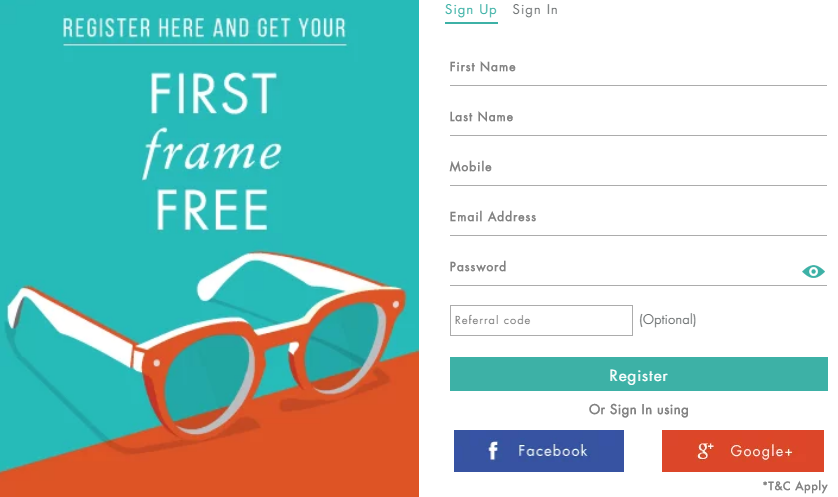 (Source – Lenskart)
Here, by saying the word "free", Lenskart's buyer is prompted to see only what brings them this free gift, and therefore, are motivated to buy lenses with them, even though those are not free.

(Source – Venus)
Here, Venus is creating urgency with the word "free" and hence propelling its customers to buy more within a day.
Value the regularity:
It is always a good idea to pamper your regular customers with something extra by giving out user-specific discount coupons. Not only does it make them visit your site more, but they also recommend their friends, possibly creating more customers for you.
Recommended strategies by YoKart experts:
Make your graphics relevant to the brand image:

Based on your brand image, choose your audience and then choose the graphic to promote your discount accordingly.

Emphasize the urgency:

If you are using a limited time discount, use graphics that create a focus on your offer. Moreover, you can add a little extra with the following methods-
Have a constant display of items left in stock, and time left for the offer to end to remarkably improve your conversions.
Version A:

Version B:

Version B readily creates a better urgency to skyrocket the conversion rate, as it has that extra ticking clock for the period of the offer as well as the stock left.
Use color to your advantage. Red is recommended to be the best for any call-to-action button, as we already associate this color with a sense of urgency.
Also, using words like "now" or "today" create a great impact on the buyer's mind, leading you towards a higher conversion rate.
If you are going for a one-time offer, or limited time offers in general, it's important that you make it really limited to that time. If similar discounts go on for the entire year, it only confuses the buyers and the sense of urgency that you were trying to create is completely lost.
Gift for purchase:

When you are rewarding your customers for a certain purchase value, you need to make sure you make a profit at the same time, obviously. So you can use this method like-
-You can calculate your average order value for the previous few months and offer a discount or free shipping on all orders a few percentages over your average order value.
-If there's a particular collection you want your customers to focus on, you can also add a minimum purchase discount.
Reduce distractions:

Be a minimalist, add only the most important information about the discount on your graphics, and add a relevant link, however, make sure you don't fill up your graphics with too many links.
8 Shopping Cart Abandonment Email Examples