The ongoing startup bubble has triggered the entrepreneurial instincts in many of us. But most get tripped taking the very first step, which is choosing the right business model. And it is apparent by the fact that less than 10% of startups last more than 2 years.
Getting along with the wrong business idea is like getting stuck in the wrong job or marriage – nothing works but somehow you have to keep dragging it. On the other hand, with right business idea (job or marriage), things seem to work on their own. All you need to do is put timely efforts into it.
When it comes to choosing the right business model, there's a copious room of doubt. And questions like 'Does Launching a business that is in trend will work?','Does offering an in-demand service will work?','Will finding angel investors/venture capitalists bring success assurance?', etc. have 'Maybe' as their most appropriate answer.
To keep out of that gray zone, here are 10 questions answering which enable entrepreneurs to evaluate their business idea on different crucial parameters. Each question will take you one step closer to choosing the right business model as per your understanding of the market, business goals,needs, and available resources.
Let's get started.
1. Who Are the People You Will Serve?
One of the first things that you should ask yourself as soon as a business idea strikes you is 'will it work in the market you are planning to serve?' Take the culture, lifestyle, & geography of your target market into account and you will get a black & white picture on whether a business can work there or not. For example, opening a gas range selling website is a potential business idea in the US, but rather a silly one in India.
If you are assured 'yes, it will', narrow down your target audience. It might require a little brainstorming but it shouldn't be too difficult a task. For example, if you are opening an online fashion store, your prime target audience will be young and middle-aged women, who are also tech-savvy. Define a customer persona to clearly outline their needs & expectations.
Once you get a clear picture of your target audience, take a moment and analyze – 'as a business, are you capable & willing to serve them?', 'do you have enough industry knowhow or access to resources to keep your target audience engaged over a long period of time?', and most importantly, 'do you have a vision?' If the answer is yes, (which it should be after that much of analysis & market segmentation) assuredly, you have a better chance at succeeding.
Suggested Read: Must have Elements on the homepage of an e-commerce website
2. How Much Do You Know about the Product?
Just because a business is in trend, doesn't mean that you can succeed at it. Your knowledge of the product at hand is what holds the key to success. Let's elaborate with an example;
Say, you are associated with textile industry. Do you have a better chance to succeed at launching an apparel ecommerce store or at offering travel booking services? Travel booking may be the ongoing big thing, but if you don't have any industry knowhow, there is a very thin chance that things will work out for you.
The importance of product knowledge becomes more apparent when it comes to enhance the customer experience. Without any product knowledge and usage experience, the best you can do is offer a me-too product, which in no way can guarantee you the success.
Preferably, you should be a consumer yourself, since only then you can come up with ways to improve the product visually, practically, & emotionally and give customers a reason why they should choose you over competitors.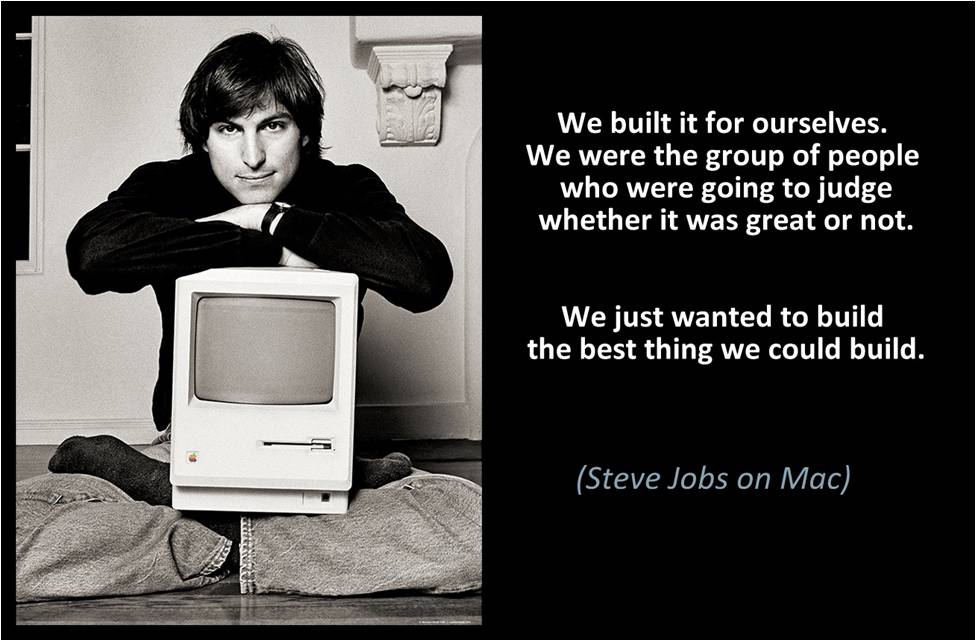 3. Does It Have the Potential to Attain Mass Adoption?
For a scalable business, this is 'one important factor' to determine. Primarily, the adoptability of your business revolves around the practical value of your product. Is it something that is in huge demand? Or does it address an existing problem that has no solution available presently?
For that, you would need public-opinion to get a clear picture on whether the market is really in need of such a product, or can the need for it be created (like Airbnb, Uber, and so many other products/services have created).
So, begin with asking people in your social circle about your product or service. Is it something that they want or are missing in their life? To get more critical & honest feedback, present it as someone else's idea. If you have a good social media following, you can ask them the same thing and make a more informed decision before taking any major action.
However, catering to customers' need is only one of the various factors that decide whether a product will be adopted by masses. Other key factors include – how accessible is the product or service, is it easy to use, and is it something your target customers can afford.
To ensure these other factors, you have to analyze your entire chain of business operations – from accumulation of resources to the means of facilitating the service (which we will discuss in point 5). Only by taking care of these concerns can you be sure that your product/service will click with your target audience.
Suggested Read: How To Sell Expensive (High Value) Products Online
4. Will Your Product/Service Last?
Besides adoption, sustainability is another crucial aspect you need to judge your business idea upon. Despite the popularity of the business, you mustn't step forward without asking whether the product or service at hand will still be in demand 2-3 years down the line, or can it become a victim of a disruptive innovation.
Groupon can serve as a good example here. During the initial years, Groupon's business model spread like a jungle fire, but over the last few years it has been constantly degrading. (The company is continuously ceasing its operations in international markets; cut down more than 1000 position from its staff in 2015, and suffered a loss of nearly $200 million in 2016 – Source: Wikipedia).
Reason for Groupon's fall is that customer loyalty cannot be built by offering something nearly free. And without taking customer relation into account, a business model cannot sustain. Merchants associated with Groupon soon realized that there is no guarantee that a past customer would ever return; so gradually they began to leave.
In Groupon's case it might have been unlikely for a common man to predict that it will fail, however, many marketing gurus had raised questions about its sustainability when it was launched. That is why it is important that you do a rigorous market research on the business idea you have in mind to be aware of such critical views and take a more informed decision whether you should go for it or not.
5. Are the Resources Required to Facilitate the Service Easily Accessible?
With constantly rising internet penetration across the world, there is no dearth of online business ideas with huge future potential. However, whether a business idea will make its mark in the market or not depends on how it is executed.
This brings up the need to consider one important factor – 'which fulfillment channel will you choose to provide your service?' For example, for an ecommerce store – Is a responsive website enough, or should you also offer a mobile app for shopping? Or, should you build up your own delivery system, or should you partner with a third party delivery service provider?
Market research & studying your intended target audience should give you some cues on which fulfillment channel should bring the maximum ROI. However, their establishment would require some capital & resources. And if you don't or can't have access to that required capital & resources, that business idea is not for you – whether or not, you have figured out how to execute it in the right manner.
Considering one of the above-mentioned choices, if partnering with the 3rd party delivery service providers is the right way to go, but if your target market has a scarcity of such delivery services, then it is better to rethink the whole thing.
Suggested Read: How to Offer Best Shopping Experience to Your Customers
6. Will It Grab Market Attention?
While gathering public opinion is crucial to ensure your business's market acceptance, for a scalable business, it is also important that it catches the eye of investors and peripheral businesses.
During the initial stage, for business expansion you would need to provide some discounts and other offers to attract & gain customers. Without any investor or capital, you cannot do that or else you will burn out of cash before you have barely even begun. Investors determine the success of your business idea based on its adoptability & sustainability (both of which we have discussed already).
One the other hand, for peripheral businesses (these are the businesses that you will link with to run your ecommerce store such as suppliers, delivery partner, etc.), your business idea should be something that brings them more and more business.
StyleSeat (for salon booking) &OpenTable (for restaurant table booking) are two good examples in this context. Both these businesses bring their associated peripheral partners more business by minimizing their ideal time. So, if your business idea is something that makes the pie bigger for your partner businesses, it should be a hit.
7. How Much Time Its Setup Will Take?
Irrespective of how good your business idea scores on all the above mentioned factors, if it isn't executed in timely manner, chances of its success are thin. For aspiring entrepreneurs, their prospective market share shrinks with every passing moment. Besides, there is always the chance of reaching market saturation, which will put you out of the picture even before you have begun.
Luckily for prospective online startups, the timing concern ispartially addressed by ecommerce solutions readily available in the market. However, it is important to note that every ecommerce platform is built to address a certain set of business goals & needs. Therefore, first it is important to determine which ecommerce platform is best for your business.
The concern is only partially addressed because your business can have some custom requirements that readymade scripts cannot address. In such a scenario, you need to make sure that the developers you partner with are proficient enough to help you setup your website in timely manner.
If it would naturally take too much time, you need to analyze how much market you might lose during the period your desired website is getting ready. If you believe the final product will be able recapture the market, then it is worth it, otherwise, you need to play smart and should enter the market with your minimum viable product.
8. How Much Cost Its Setup Will Take?
Big or small, scalable or not, money is the life force of every business. Whichever business idea you choose, do a fair analysis on how much money its establishment will take and make sure you have quick access to capital (privately held or in the form of venture capitalists) required to start that particular business.
There are pretty good chances that you will underestimate the cumulative business setup cost, as in most cases what business owners consider are only development and operational costs. Permit & licensing, registration with tax authority, brand development, marketing, hiring employees, etc. are some other mandatory expenditure that you must take into account while deciding the budget for your venture.
Apart from that, if you are aiming to expand to new geographies & verticals down the line, you should have an estimate of how much it will cost. If the cost is something that your business idea is unlikely to acquire through funding, then it is time for some reconsideration.
Of course, a minimum risk is always involved when it comes to acquire funding for business expansion. The point here is to understand the line between risky & unlikely. Since only by truly believing in your business idea can you approach investors in the right manner & make an impression to secure the deal.
9. How Much Will be the Cost per Acquisition?
Cost per Acquisition (CPA) simply means the amount of money a firm spends to acquire a new customer. There are many theories about what should be the ideal cost per acquisition. For instance, many agree that it should be 15% of a customer's lifetime value (revenue generated via a customer during a lifetime). But largely, it depends on the industry.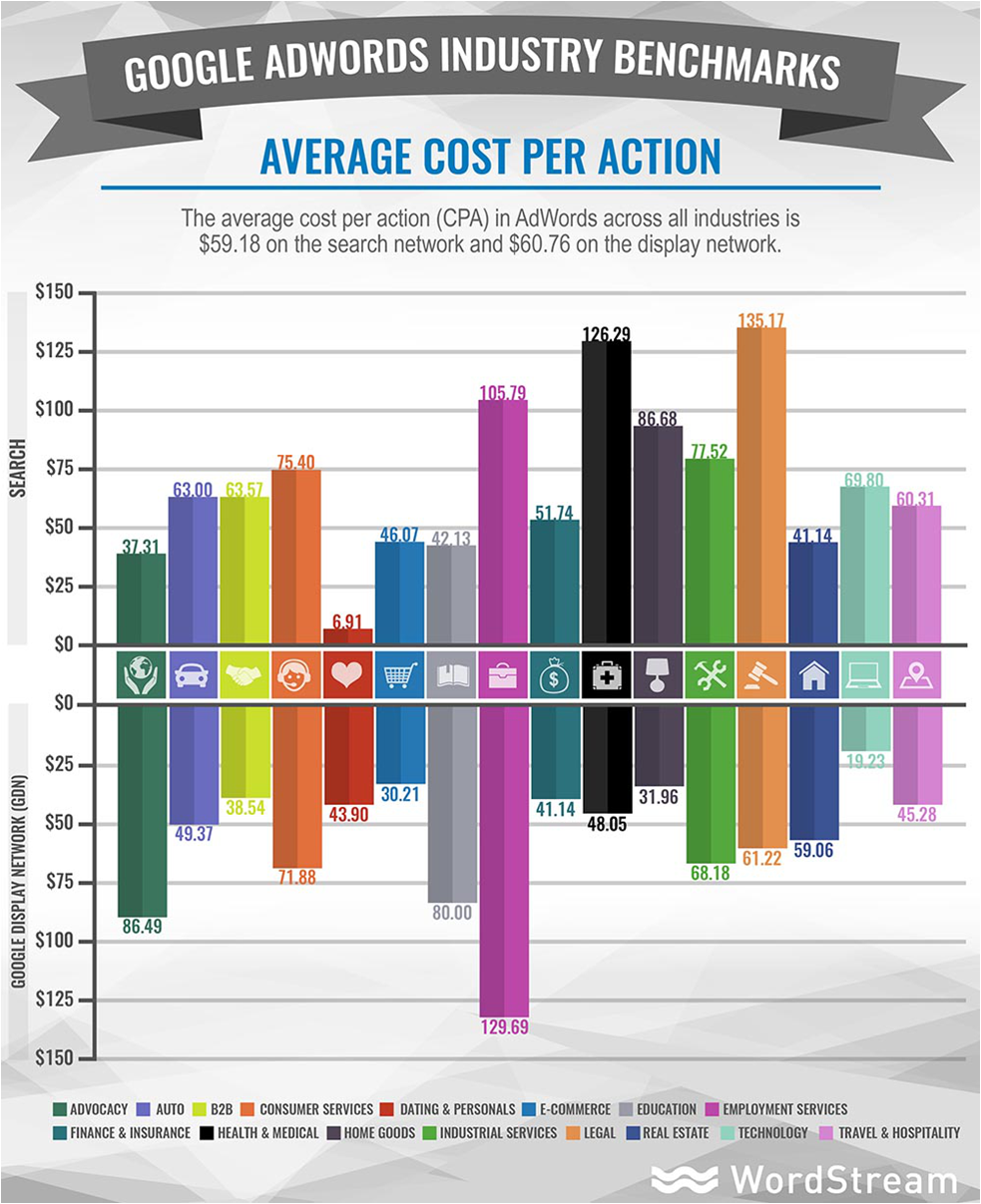 Image: The Average CPA in AdWords across all industries through search & display ad network
Here you can get a fairly good idea on how much money you need to spend to acquire a new customer for a particular type of business. Of course, during the initial stage of your business, the cost per acquisition will be way more than the corresponding average value due to extra expenditure on business setup &branding. But it would fall around the average value as your business grows with time.
Now, after consuming all these details, you need to determine – a) Are you capable of spending the amount on acquiring each customer that the business in your mind takes on average? & b) Do you have viable plans to reduce that amount down the line? Only after addressing these concerns can you say that the business idea you have in mind is the right choice.
Suggested Read: Essentials of Running a Viral Marketing Campaign for Ecommerce Businesses
10. Is It Strictly Legal?
Adoptability and scalability of your business model won't be of any use if it isn't legal. For instance, buying/selling alcohol online is legal some US states, but restrictive in others. Moreover, in India, it is simply not possible, given the current state of law.
Does the above mentioned business have the potential to go viral in Indian market? Yes
Is it scalable? Yes
Is it in demand? You bet!
But, is it feasible? Nope
Surprisingly, legality is a factor that is overlooked quite often when selecting a business model. It's a huge mistake, which can swipe-off all your efforts and investment in an instance, or at least become a long-term pain in the neck, like in the case of Uber.
Uber's business model doesn't meet the criteria for a legal business in many countries since it doesn't have its own fleet; neither has it kept drivers on company payroll. As a result, the company is currently facing numerous lawsuits. Lyft, another American transportation network company, is amidst similar lawsuits.
In most cases, you should be able to identify an illegitimate business model on your own. In case of doubt, it is better to have a legal audit of the business idea to stay on the safe side.
Conclusion
From above discussion it is clear that the feasibility of a business idea not only depends on its demand in the market, but also on your ability to execute it in the right manner. To assure that latter, you need to understand your target customers intimately, ensure that you have or will have required resources available readily, and to some extent, have a passion about the offered service/product. As without the consideration of these key factors, you would just be making a week gamble based on market demand, result of which is unlikely to go in your favor.
Build Your Ecommerce Store on a Platform That Offers Scalability & User Focused Design