Being appreciated and noted for their work is possibly the happiest moment of someone's life. We are glad to inform you that YoKart has made us proud of our work not once, but thrice.
Popular American magazine, Inc has named YoKart for the third consecutive time in their list of Top Ecommerce Platforms. The annual list prepared by the coveted magazine is a huge achievement worth mentioning. But more than that, the credit goes to our clients.
Our vision and your feedback have helped us grow with time. Be it our technical support, good price brackets, or the fact that every package offers the best functionality and features of its class, we leave no stone unturned to stay ahead of the curve.
Let's take a look at the turn of the events that made this feat possible.
2016, The First Mention with YoKart V2
When we were first featured in the list in 2016, YoKart was in its early stage, upgraded to its second version. At that time, YoKart V2 boasted of new features such as data migration, separate dashboard for buyers and sellers, localization options and new payment methods.
Apart from the above mentioned features, we also worked on the responsive design and improved the page loading speed. However, it was the android app that acted as the cherry on the cake and bagged us a place in Inc's top 5 ecommerce platforms in 2016.
Also Read: Essential Ecommerce Features of YoKart
YoKart V7, And We Did It Again
And then came 2017, the year dedicated to learning, knowledge sharing and making things better. This was also the time when YoKart, undergoing constant upgrades, reached its seventh upgrade, YoKart V7.
Carrying forward the upgrades in the second version, the journey till seventh version incorporated the following prominent editions:
New revenue streams such as commissions, affiliate program and reward system
Optimized checkout process
AWeber email marketing tool
Checkout process optimization
Added "Recently Viewed" and "Suggested Items" to the product page
Theme management
Blog integration
New payment gateway integrations
Admin dashboard Analytics
Smart personalization
Integrated ShipStation for better shipping management
Digital wallet
PPC module
Subscription module
Selling of digital products
COD module
With all these upgrades and improvements, YoKart became mightier than ever before. It packed a punch powerful enough to help entrepreneurs launch their online multivendor marketplace faster and easily than ever before. And once again, when Inc prepared a list of Best Ecommerce Platforms for 2017, YoKart marked its territory.
And Then, YoKart V8 Made The Hat Trick
Till date, we have been making every possible effort to make YoKart the best readymade online multivendor solution. Our goal is to break the quality-affordability barrier and help every aspiring entrepreneur launch their multivendor ecommerce store quickly and easily.
Keeping user feedbacks and current market standards in mind, we upgraded YoKart once again, YoKart V8 came into picture.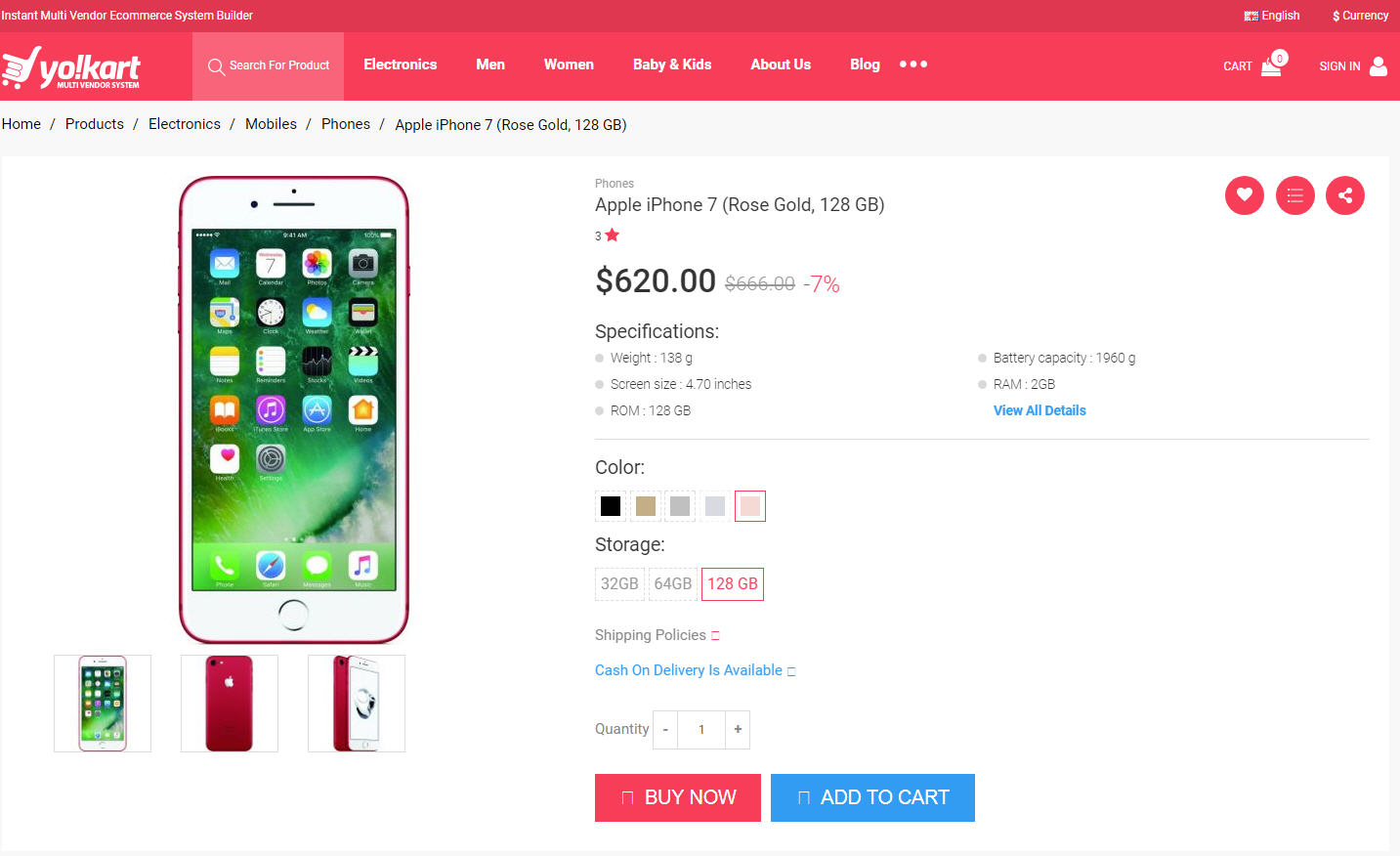 YoKart V8's design has undergone major overhauling, making it the most efficient turnkey ecommerce solution from user experience's perspective. The most prominent changes are seamless design and improved navigation. The 360 degree design change has made website usability and management a cakewalk. Apart from that, we made several upgrades as listed below:
Product catalog system
Multilingual support
Multicurrency feature
Improved product recommendations
The upgrades set a new benchmark in the turnkey ecommerce solution industry and once again, when Inc prepared another list of Top Ecommerce Platforms in 2018, YoKart got the well-deserved mention.
But we are not done yet, not anytime soon. There are many more benchmarks that we want to achieve, and there we want to set new standards in the field of turnkey multivendor ecommerce solutions.
We have been delivering unprecedented solutions, and we intend to do so. Thank you for your continued support and trust in YoKart, without you, we wouldn't have come this far.
Our Vision
Our goal is to deliver high quality platform that is technologically robust to help entrepreneurs launch their ecommerce store quickly and easily.
We want to make YoKart the first choice when it comes to readymade ecommerce solution for launching an online marketplace. We want to keep it scalable and budget friendly, so that launching your business wouldn't mean burning a hole in the pocket. Ecommerce industry has many more horizons to explore, and we are right here with you, at every step, giving you the right platform that grows with you.
Yo!Kart has all that it takes to lead the ecommerce competition