From Walmart to Target, the horizontal markets make a lot of sense in the physical world. And, the online space, too, has its own horizontal giants dominating the market. Amazon, for instance, a retail giant with its global eCommerce operations has continued to prosper and emerge as the top online marketplace almost everywhere around the world. This success is purely attributed to its customer-centric approach rather than competitor-focused as stated by its CEO.
"If you're competitor focused, you have to wait until there is a competitor doing something. Being customer-focused allows you to be more pioneering."
– Jeff Bezos, CEO Amazon
Moreover, while physical retail stores are affected due to the pandemic, eCommerce marketplaces are flourishing. Consumers confined to their homes, if anything, are shopping more online. A recent survey by Statista highlights that as of March 2020 around 1/3rd of US consumers suggested they would increase spending on online marketplaces due to the pandemic.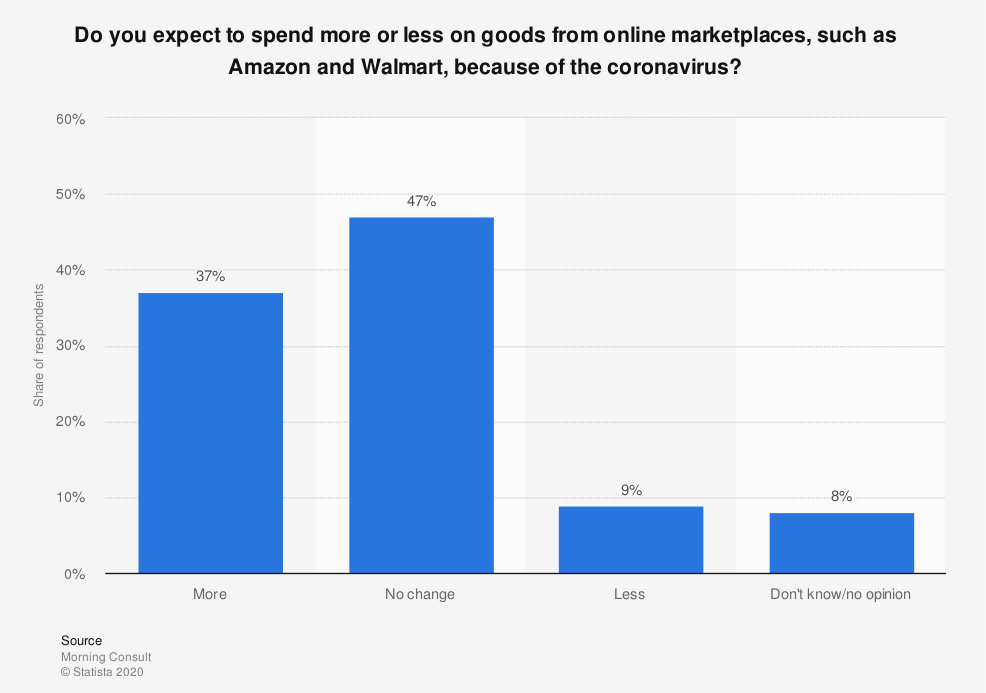 But while marketplace giants like Amazon or eBay are dominating the eCommerce space with their horizontal marketplace models, there's still room for niche-specific marketplaces to gain traction. Uber or Airbnb, for instance, once startups have now emerged as success stories for budding entrepreneurs and enterprises looking to grow their eCommerce business in a vertical market.
Horizontal vs Vertical Marketplace Models
Although the two marketplace models are entirely different, for a healthy eCommerce ecosystem, both horizontal and vertical marketplaces must co-exist. To understand better, let's define both:
The horizontal marketplace model caters to the needs of more than one industry in a diversified market. Here, businesses typically output goods or services that are widely used and in-demand to a larger market. For instance, a reseller of office furniture will target all companies that maintain offices and need office furniture. The horizontal market typically applies to the majority of businesses defined by a demographic feature. These markets are usually cooperative and extensive than the vertical markets.
On the other hand, the vertical marketplace model caters to a niche market. Here, vendors offer goods and services specific to a single market sector/category with a set targeted audience. For instance, the manufacturers of solar panel technology typically sell to solar contractors/installers (often competing against each other). Vertical marketplaces target only a specific audience in a niche demographic.
"For a healthy eCommerce ecosystem, both horizontal and vertical marketplaces must co-exist."
Vertical Marketplace Model Gaining More Popularity
While retail giants like Amazon, Alibaba, and others have dominated the online horizontal marketplace for decades, niche-specific markets were still largely unfazed until recently. Prominent vertical marketplaces have emerged and grown in the last decade or so. Airbnb, for instance, in a short span of time has changed the dynamics for the rental accommodation market or Uber with its ride-sharing services. Their focus is solely on a niche market with a set targeted audience. Unlike horizontal, niche-specific marketplaces have the luxury to centralize their efforts on a particular industry and create customer-centric solutions for a set audience.
This is why the vertical marketplace model is gaining more popularity over the horizontal marketplace model. To illustrate more, let's discuss the key reasons below:
1. Well-defined Targeted Audience
Unlike horizontal marketplaces with a huge customer base to deliver goods/services, vertical marketplaces have a well-defined targeted audience. And, for businesses offering specialized products/services to cater to a set audience, the vertical marketplace model presents an ample opportunity to grow and even dominate with time. Moreover, from a customer's perspective, a specialized niche-specific marketplace simplifies their shopping process.
ASOS, for instance, is a British online fashion and cosmetic retailer with a well-defined targeted audience. Businesses like ASOS in a niche-specific industry often have more clarity over features and functionalities crucial to their marketplace success.
2. Minimal Marketing Investment
Comparatively limited categories in a niche-specific marketplace augur well for a business to strategize and focus. Here, the business doesn't need 100s of sellers to kick-start their multi-vendor store. Initially, only a handful of registered sellers offering a variety of quality products could be enough. This reduces the initial investment in marketing and expenses to a minimum.
Moreover, a single, centralized advertising effort can be instituted across the board, making vertical marketplaces a preferred choice for planners.
3. Single/Centralized Policy For All
While horizontal marketplaces implement broader policies to cover a wide range of product categories, vertical marketplaces can implement a single/centralized policy for all selling needs. So, instead of investing more time in guiding sellers on maintaining product quality or overall selling, the admin can invest his/her time in marketplace growth and development. Here, the business can easily focus on delivering customer-centric solutions and thrive rather than compete with deep-pocketed players in a horizontal marketplace.
UNI Diamonds, for instance, is one such marketplace for diamond and trading networks developed by Yo!Kart. With a clear focused strategy on improving the customer experience, vertical marketplaces can effectively register a better retention rate.
Uni-Diamonds – A Vertical Marketplace Built with Yo!Kart.
4. Specialization
Vertical marketplaces specialize in catering to a particular industry with a specific audience. This specialization augurs well for businesses since it's easy to deliver specialized solutions, better customer support, and clear policies centered around a particular industry. Furthermore, the product/service can be easily perfected when a company is allowed to specialize. It gives them an opportunity to dominate the market.
For a horizontal marketplace, however, the policies cover a wide range of aspects and solutions. eBay, for instance, in spite of its wider marketplace reach isn't a dominant player in many key categories. This is why eBay is also considering a vertical approach.
5. Less-intensive Competition
In the world of Amazon or Alibaba, new emerging businesses look for breathing space to grow. And, vertical eCommerce marketplaces offer just that. Despite the growth of prominent marketplace giants like Uber, Airbnb, and co, there are still several niche-markets without a dominating leader. So, businesses offering solutions that address the pain points of a niche-specific marketplace can easily become a dominant force in the category. Drizzly, for instance, with its alcohol delivery operations is dominating the online liquor marketplace.
With less-intensive competition in vertical marketplaces, it is an ideal solution for several businesses and a popular marketplace model to follow.
Conclusion
While there is equal potential in both horizontal and vertical markets, clearly a niche-specific marketplace model is gaining more popularity recently. And, the primary reason behind this could be less dominance in the vertical eCommerce marketplace. It presents a good investment opportunity for businesses looking to prosper and dominate in a particular segment.
At Yo!Kart, we strive to deliver robust eCommerce multi-vendor solutions for both horizontal and vertical marketplaces. Consult the experts for advice!