From agriculture to engineering, Hybrid Theory has made it possible for us to get the best of two or more worlds. And technology lovers have left no stone unturned to leverage upon this approach by helping eCommerce store owners grow faster.
There are mobile websites, responsive websites, and native apps. All of them have their own advantage. Every website is responsive now (because that's how it should be); left with only two options. But no, technology aficionados were not done yet. They created a hybrid of mobile websites and native apps: the Progressive Web Apps.
Survey of businesses who have actively adopted PWA and how it benefited them:
Commonfloor saw a 2X increase in daily active users and a 10% increase in overall traffic.

Debenhams found that user journey from browsing to purchase was 2x to 4x on its PWA

Starbucks PWA increased its daily traffic users 2x.

Treebo launched its PWA and saw a 4x increase in conversion every year. 

Tinder cut down it's load time from 11.91 seconds to 4.69 seconds through their PWA
To have a better understanding of why I am all praise for progressive web apps, here are a couple of points that'll impress you too…
They have the best functionalities of both the worlds (website and native apps).

Fully functional online as well as offline mode.

PWAs offer better performance in comparison to native apps and websites.

You won't need the app store's approval for PWA available for your end-users.
Benefits of PWA for Businesses
They're Fast- If you compare the loading speed of responsive or "m-dot" websites with PWAs, you'll see the latter emerges a clear winner.
The faster page loading speed is because of integrating accelerated mobile pages (AMPs) with PWAs. As a result, the pages load fast and stay fast. With PWA opening in milliseconds, small page size, and user interaction happening at 60 fps, Google cache loves PWAs. 
They're Reliable- If you are like me, you'd like the Chrome Dinosaur only when you want to play the game. Otherwise, it simply means your mobile internet ain't strong. This particular situation is unfavourable for responsive websites as well as for native apps to connect and reach the end motive. 
But that's not the case with PWAs. Whether you are in an elevator, in a basement, somewhere in the middle of nowhere, PWAs make sure your end users get access to your eCommerce store and shop whenever they want to. Or, at least, see what all you've got for them. It's all about being able to engage customers whenever, wherever you can and delivering great shopping experience.
Apart from these two primary benefits, there are others such as a high conversion and a mobile-first approach. 
But, there a few challenges you got to deal with while thinking of going full power PWA oriented.
First of all, PWAs are web applications, very large web applications. You'll need application architecture for web apps. Secondly, caching is a major issue due to the need for establishing a delicate performance-freshness balance.
How Yo!Kart Empowers businesses to become Omni-Present For your Customers
Yo!Kart is PWA compliant. In the latest release of Yo!Kart, It has made development enhancements to make the system PWA optimized. Our Experts are keeping tabs on the market trends and increasing demand for mobile, therefore we are providing native-app like qualities in a web-application. 
When an entrepreneur purchases the solution from Yo!Kart it automatically comes with the compliance bringing them one step closer to providing a seamless experience to their customers.
Yo!Kart has been audited by the lighthouse tool by Google and the following is the result of the audit wrt PWA Compliant.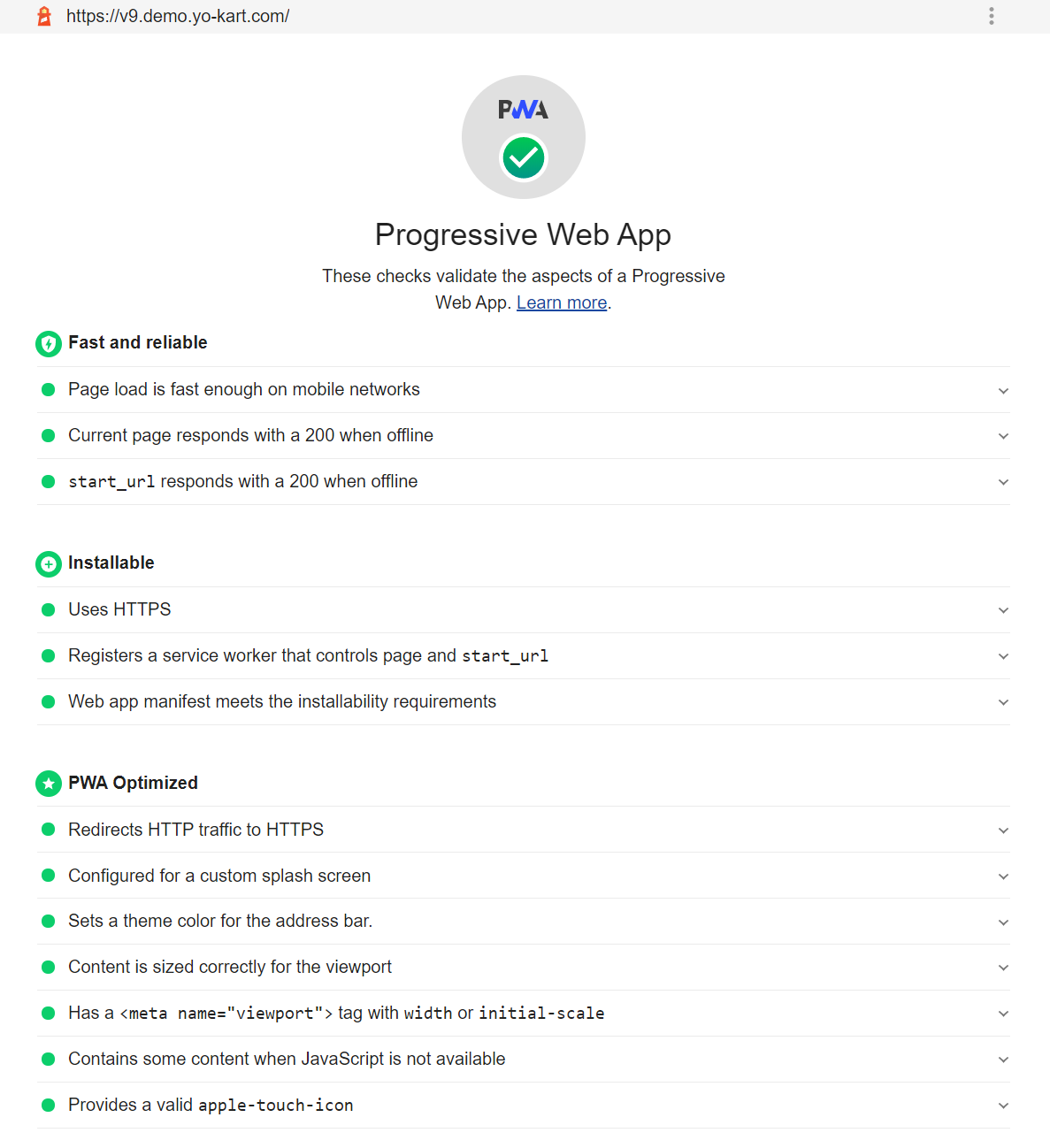 Click To Enlarge
For those Entrepreneurs who want to test how well their customers adapt to mobile commerce or for those who want to ease their customer's buyer journey, PWA is a Perfect Solution. Let us together find out if your business needs a PWA:
You are a Startup or a business who wants to reduce the time taken for a customer to convert on mobile 

Android Users are your main target audience

Your Focus is on providing Impressive m-commerce experience in less time

Your conversion rate is decreasing
PWA Features that makes it Unique
Instant Caching: It helps in showing the page content within a jiffy. No white screens and loading dials.

Web Push Notifications: It's a new channel of engaging customers even when the mobile browser is closed. Email marketing is important, but closing the browser shouldn't hamper customer engagement opportunities.

Homescreen: Once your end users are accustomed of using your PWA and like to use it frequently, you can prompt them to add a shortcut on their home screen.

Seamless User Experience: The full-screen view of PWAs make you forget it's not an actual native app. The speed and ease of use combined with the absence of URL deliver an unmatched user experience to your visitors.
Takeaway
If you think PWAs are going to replace mobile websites and native apps, you are in for a surprise. The purpose of PWAs is to bridge the gap between these two different worlds. It's about reaching out to customers with bad network conditions, and to send them push notifications without having to submit an app in the app store.
It's a much-needed addition, not a replacement. The times are calling for progressive ideas.