As lockdown restrictions ease after nearly a 3-month hiatus, local/global brands start resuming operations adhering to the health & safety guidelines. Where Uber – the global ride-hailing giant makes masks mandatory for drivers and riders resuming operations, Airbnb registers a spike in rental bookings for summer after brutal covid19 spring. Although these brands are different from one another in every context, there's one thing common i.e. they are all survivors of 2020. 
COVID-19 pandemic has been a brutal year for so many businesses (large and small). No brand is unfazed or unaffected from the dire situation around the globe. Facing potential losses, several startups, or top brands have laid off thousands of staff members, aptly highlighted in a chart by layoffs.fyi.
But, as lockdown restrictions ease and the world adapts to live with coronavirus, big brands return to normalcy. Let's take a look at the top 10 marketplaces in different sectors and how they are resuming (or planning to resume) operations amid COVID19. Their strategies to deal with the pandemic may serve as a blueprint for small/medium-sized businesses to follow:
ASOS
Amid the pandemic, ASOS – the online fashion and cosmetics retail giant recorded a 25% drop in sales. It also confirmed nine warehouse workers to be infected with COVID-19. In a bid to survive this unprecedented crisis, the retailer has adopted the following changes:
ASOS paused all deliveries and incoming shipments from suppliers as well as third-party brands to make time for adjustments and manage stock. The retailer continues to serve its customer deliveries as usual offering an additional 10% discount through its mobile app to lure customers.

The retailer ended the agreement early with all employees on fixed-term contracts citing the coronavirus crisis.

ASOS tested the augmented reality (AR) technology via its See My Fit service at the start of this year to simulate real-life model photography. The tool allowed shoppers to check how their clothing selection will look on different body types. Scaling up the AR technology,

ASOS

is now offering a simulated view of up to 500 products every week on six real-life models ensuring that the product representation remains engaging and realistic.
Following a range of initiatives designed to scale operations, ASOS is returning to normalcy as lockdown restrictions ease. 
Drizzly
Considered as the Amazon for liquor, Drizzly is an alcohol eCommerce marketplace operating in over 100 markets across the US and Canada. Hit by the pandemic and lockdown restrictions, Drizzly has partnered with retailers to promote healthy delivery practices across its network. Here is how Drizzly is lending support and keeping the community safe while ensuring smooth operations:
For legal and safety reasons, deliveries must be made in-person to a corporate/residential address. Drizzly encourages both customers and the driver to designate a delivery spot outside the house/building.

While ID scanning is still mandatory before delivery, Drizzly is encouraging drivers for contactless scanning (i.e. a customer will simply hold the ID for a driver to scan).

Working with retail partners to forego the need to sign a driver's device during delivery.
These are a few changes Drizzly is implementing to ensure safe and hassle-free alcohol deliveries amid the pandemic. While the delivery demand is accelerating with each day, Drizzly urges consumers to politely avoid direct hand contact with drivers and tip generously.
Nykaa
An omnichannel lifestyle retailer Nykaa turned eight in May amid the pandemic. While the physical stores were shut, the retailer quickly converted its website to sell only essentials and in turn recorded a turnover of around 10-15% at the start. Its operational strategy during the pandemic includes:
Amid lockdown restrictions in March, Nykaa started taking pre-paid orders only for hand sanitizers, napkins, personal hygiene products, and other essentials albeit with longer delivery timelines.

Being an inventory-led retailer Nykaa had large amounts of inventory available in the physical stores shut amid the pandemic. These stores became mini-warehouses as Nykaa smartly began operating hyperlocal deliveries for essential products ( but only from the stores). It took orders by phone as well and helped bring down the supply chain cost to a great extent.

Considering the capacity constraints in the warehouse, Nykaa wasn't accepting orders below

₹

1500 (or $19.91). This pushed the average order value up by 30-40%. 
According to the founder and CEO Falguni Nayar, being an omnichannel retailer helped Nykaa sail through the COVID-19 crisis.
Top eCommerce marketplace features are embedded into Yo!Kart
UBER
From offering healthcare workers free rides and meals to making masks mandatory for riders & drivers, the ride-hailing marketplace giant is doing everything in its power to scale operations and survive the darkest hours. These are the key things Uber has implemented to commit to safety guidelines:
Uber now uses facial recognition tech to determine if drivers are wearing masks. So, before starting a ride, uber drivers must take a selfie and submit it within the app for verification. Even for riders, the use of face-scanning technology is being considered by Uber.

Drivers must verify they are sanitizing the vehicle every day and riders

 

are prompted not to sit in the front seat of a vehicle.

Both drivers and riders

 must abide

by the new COVID-19 safety guidelines i.e. regularly wash or sanitize hands and confirm they do not have COVID-19 or any related symptoms.
While people are still adapting to social distancing, in areas where new cases of coronavirus are declining more people are booking Uber to visit a friend's house (for drinks) instead of a bar/pub on a Saturday night. 
Best Buy
Best Buy – the consumer electronics giant marketplace reopened its stores in May with in-store consultation for customers available by appointments at 200 locations. With its one-on-one service, the retail giant ensured only a limited number of customers could be inside the store at one time maintaining the social distancing measures norms. Best Buy's reopening strategy includes:
A dedicated sales associate will greet customers at the door and items/surfaces will be cleaned during the sales process.

Staff must wear gloves/masks and sanitize the store area before and after every appointment. Also, an employee app is available for self health-checks daily.

Sneeze guards at checkout stations, credit card terminals wiped before/after every transaction, and many more changes to the day-to-day approach as Best Buy reopens its stores. 
Last month, Best Buy announced no appointments mandatory for customers in a bid to invite more shoppers to the store. Although, contactless curbside pickup and in-store consultation were still available for the consumers who prefer to shop that way. With new strategies in place, Best Buy stores can now have up to 25% of capacity with floor signage to ensure customers and employees maintain 6 feet distance at all times. Its focus on safety amid the pandemic is evident from the approach.
On the fourth of July weekend sale, the online marketplace giant offered 40% off on kitchen appliances plus a $200 gift card to customers. With such lucrative deals and safety norms (at retail stores) Best Buy is doing its best to attract more consumers and return to normalcy.
Airbnb
As lockdown restrictions start to ease, holiday lovers are looking to explore the countryside or small beach towns nearby. Airbnb – the vacation rental online marketplace is gearing up to resume operations and prepare for the future of travel with enhanced cleaning initiative. It has developed the new standardized protocol for cleaning and sanitization in the home-sharing industry under the guidance of Dr. Vivek Murthy (former US Surgeon) and other experts in hospitality and medical hygiene. 
Airbnb's new cleaning guidelines state:
Learning and certification program to empower the host community. Also, specific information on COVID-19 prevention such as the use of personal protective equipment or disinfectants approved by regulatory authorities will be shared.

As hosts enroll for the program, guests can quickly identify and book accommodations accordingly.
As per the US Centers for Disease Control and Prevention (CDC) recommendation, a 24-hour waiting period is essential before entering the rental space.
Also, if hosts are unable to commit to the cleaning protocol, they can opt for a vacancy period called Booking Buffer. Here, reservations are blocked for a time frame (currently set at 72 hours).
Amid COVID-19 concerns, more people are drawn to activities that involve less crowd exposure, but more assurance of cleanliness. Airbnb with its new cleaning protocols and standardized guidelines is offering travelers more control over the surroundings and travel experience.
Netflix
With a record 16 million new paid subscribers, Netflix registered an unprecedented growth in the first quarter of 2020. Amid stay-at-home orders, binge-watching boosted Netflix profits by a significant margin. It generated a net income of around $709 million with a revenue of $5.88 billion up by nearly 28% from a year earlier.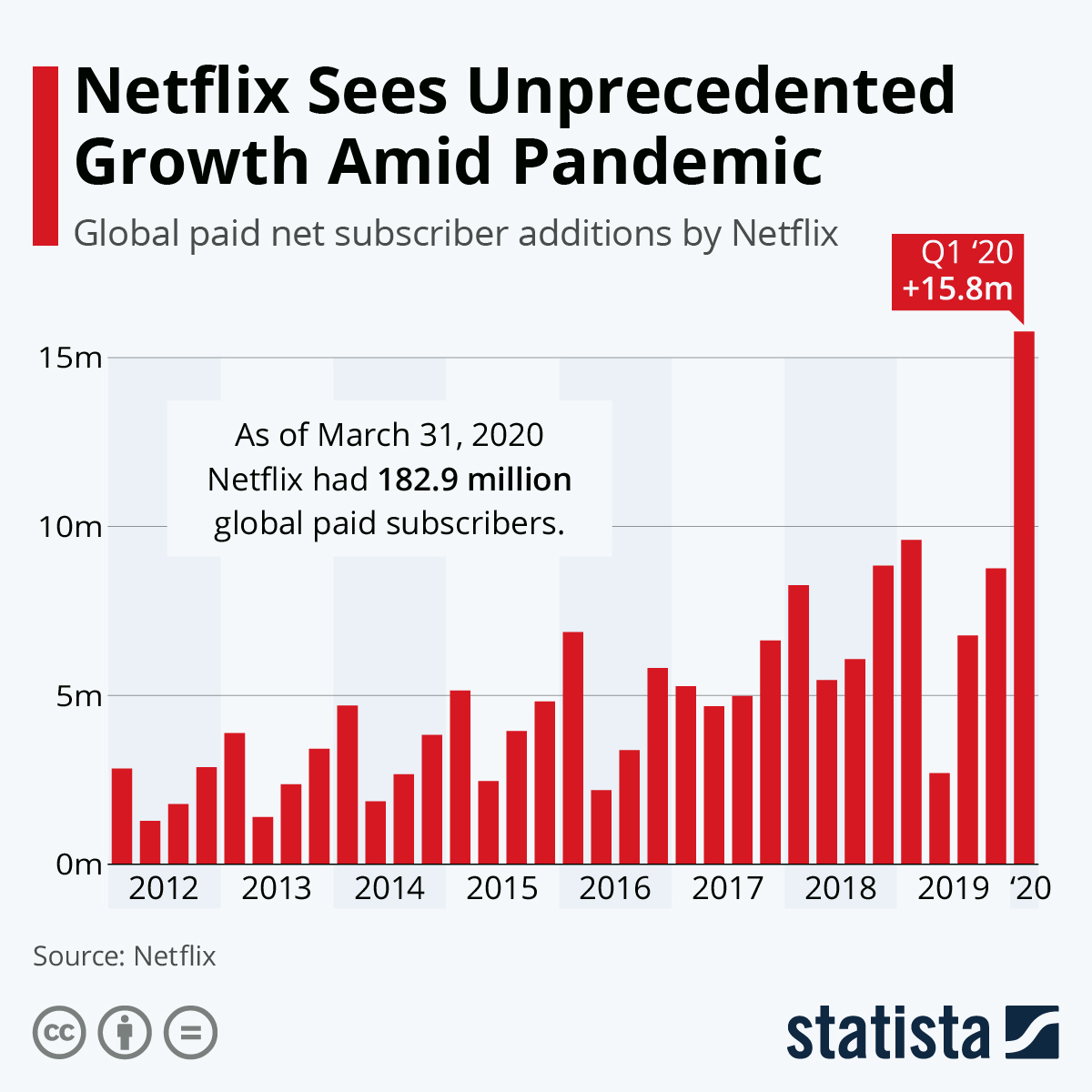 Source: Statista
Moreover, while its 2020 slated series and films have primarily been shot and are currently in post-production, Netflix is pretty deep into 2021 slate shooting some projects in Iceland and South Korea, as reported by Los Angeles Times. The only visible impact of the pandemic as quoted by Netflix is "less cash spending this year as some content projects are pushed out."
Netflix decided to cut its bit rate by 25%, streaming videos only in standard definition across Europe, as requested by the EU commissioner. This is the company's statement:
"Following the discussions between Commissioner Thierry Breton and [Netflix chief executive] Reed Hastings, and given the extraordinary challenges raised by the coronavirus, Netflix has decided to begin reducing bit rates across all our streams in Europe for 30 days," the company said.
Source: BBC

As lockdown restrictions ease and home refinement end, Netflix is slowly ending this restriction on video quality. Although, a dominant player in streaming space, Netflix expects viewing and membership growth to decelerate in the days ahead. Still, it is one of the top contributors making home confinement a little more bearable.
Upwork
The top freelancing marketplace that unites talent from over 180 countries, Upwork registered nearly 50% increase in freelancer signups since the pandemic began. With a third of all Fortune 500 companies such as Microsoft using the platform, client spending has become stable on Upwork. 
To cope with the uncertainty surrounding pandemic, Upwork is offering a variety of resources to businesses and freelancers as listed below:
A $1 million grant program to support businesses working directly towards mitigating coronavirus impact on communities and economies.

Partnered with Veem – global payments platform to enable American clients and talents to apply for the SBA paycheck protection program.
With the announcement of faster payouts, Upwork has cut the payment wait time in half for top-rated freelancers and agencies.
Specific COVID-19 jobs feed connecting companies with key projects (including critical coronavirus initiatives) to skilled remote workers.
Upwork is helping millions of freelancers across the globe connect with top enterprises and earn steady income even during the pandemic. Their support is truly helpful.
Steam
A prominent online gaming marketplace, Steam enables users to join groups, chat in-games, and do more. Initially started as a digital content distribution channel by Valve, Steam soon grew to a leading platform for thousands of creators/publishers to sell games online and establish a direct relationship with the community. Steam currently has a library of nearly 30k games with exclusive deals and automatic game updates available for users.
In response to the COVID-19 pandemic, Valve (the company behind Steam) has initiated a few changes to Steam:
With Steam setting new records for concurrent players amid lockdowns, Valve confirms only games played within the last three days will be updated immediately.

To reduce bandwidth usage, Valve encourages gamers to uncheck automatic updates for games they have in the library but no longer play. Also, they can self-throttle their connection to steam and ease the load on the network.
Amid stay-at-home orders, Steam registered a new record of nearly 22 million players logging in to play on Monday afternoon. As the coronavirus threat looms larger it wouldn't surprise us if people chose to stay at Steam for a bit longer even as lockdown restrictions ease.
Amazon
While growing at a steep rate Amazon hasn't been immune to the COVID-19 crisis. Amazon CFO Brian Olsavsky stated that India's lockdown restrictions due to coronavirus have been the biggest impact on its international business operations. 
"I think the biggest impact internationally has been in India where, of course, similar to all companies in India, we're now only fulfilling our essential goods such as grocery, so that's cut back a lot on our offering," Brian T Olsavsky, senior vice president and chief financial officer of Amazon saying during an earnings call.
Source:
FirstPost


The eCommerce marketplace giant incurred over $600 million COVID-19 related costs in the first quarter globally. This includes the procurement cost of personal protective equipment (PPE), enhanced cleaning facilities cost, and the drop in productivity due to social distancing measures implemented. Amazon expects this cost to cross $4 billion in the second quarter.
As lockdown restrictions ease and the Indian government allows non-essential items sale on eCommerce platforms, Amazon has announced several measures to empower small-medium businesses and sellers on the marketplace. It's COVID-19 response is adequate as listed below:
Amazon has waived off nearly half of the "Selling on Amazon (SoA)" fees or referral fee till June 30. Also, the storage fee for all products at its fulfillment center was suspended till April 30.

From food/groceries to healthcare items, the retail giant prioritized delivering high-priority products and canceled orders containing lower priority items. Moreover, to reduce the impact of these cancellations on seller partners, Amazon is refunding all fulfillment and referral fees.
With an operating loss of $398 million in Quarter 1 as compared to $90 million last year, the pandemic has largely affected the eCommerce giant. But, Amazon with its wider policies is expected to grow and surpass this obstacle as the world eases lockdown restrictions. 
Conclusion
COVID-19 pandemic will push the global economy into the worst recession since world war II, according to a press release by The World Bank. As brands counter the global pandemic, necessary steps taken will help them survive the crisis and return to normalcy at the earliest
Ready to kick-start your online multi-vendor marketplace