Digitization enables an entrepreneur to offer downloadable products like ebooks, movies, music, software, and more. Effectively selling a digital product depends on a number of factors. Chief among such factors is the choice of a multi-vendor marketplace solution. Ideally, the ecommerce software you select should be search engine friendly and should come with essential features for marketing.
Yo!Kart is one such ecommerce marketplace software that lets you quickly set up your online marketplace where different vendors can sell their digital products. The multi-vendor ecommerce software is integrated with essential marketing tools, payment gateways, and more that are essential to launch, maintain, and run a digital product marketplace.
Digital Products That You Can Sell Online
We have curated a list of digital products that are popular among people and you can choose any of them to sell online.
| | |
| --- | --- |
| Digital Products | Items you can Sell |
| Video | Short films, Documentaries, Tutorials, Stand-up comedy, and more. |
| Audio | Songs, Beats, Instrumental tracks, and Podcasts. |
| eBook | Magazines, Fiction and Non-Fiction Novels. |
| Graphic | Stock photos, Vector Images, and more. |
| Software | Antivirus, utility software, and more. |
How to Sell Digital Products on Marketplace Powered by YoKart?
By following the below mentioned steps, you can guide your vendors through the entire process of uploading and selling a digital product:
How can Sellers List Digital Goods on Marketplace Powered by Yokart?
Step 1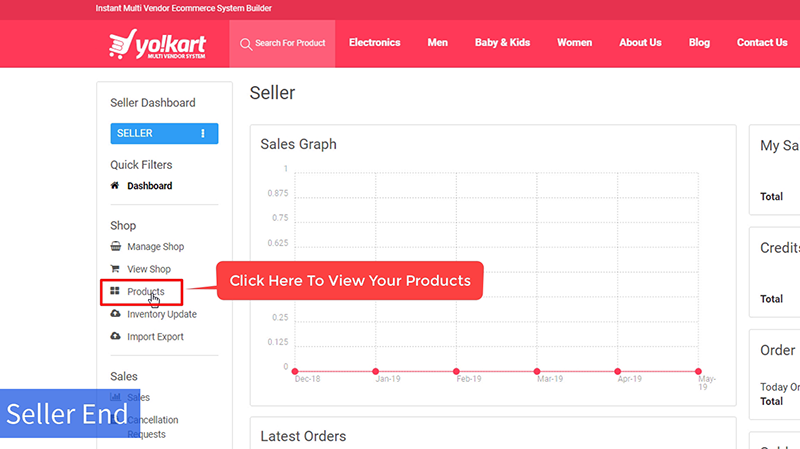 Log in as a YoKart Seller and click on Products under Shop on left.
Step 2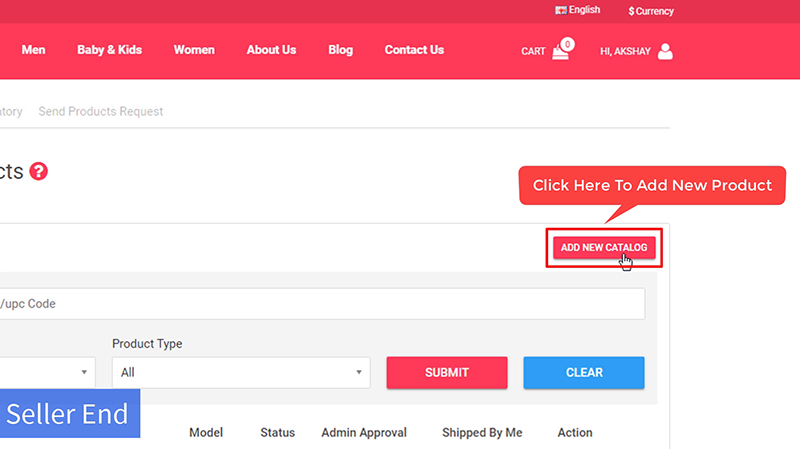 On the Marketplace Products screen, click on, Add New Catalog.
Step 3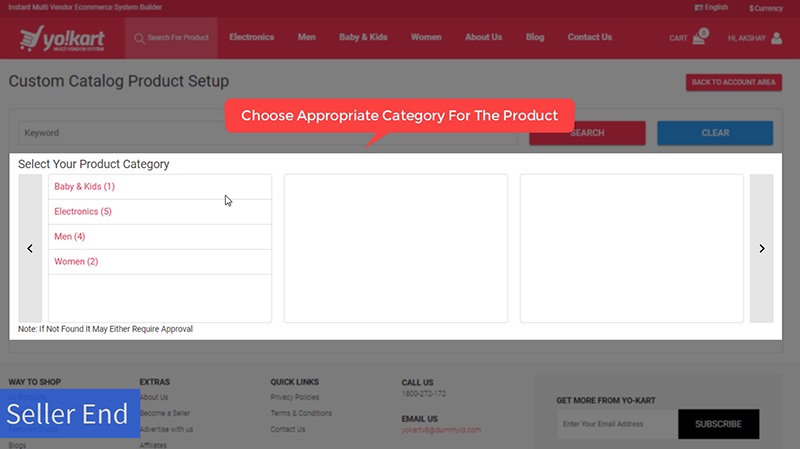 Here you can specify the product category. In this case, we will add an antivirus software.
Step 4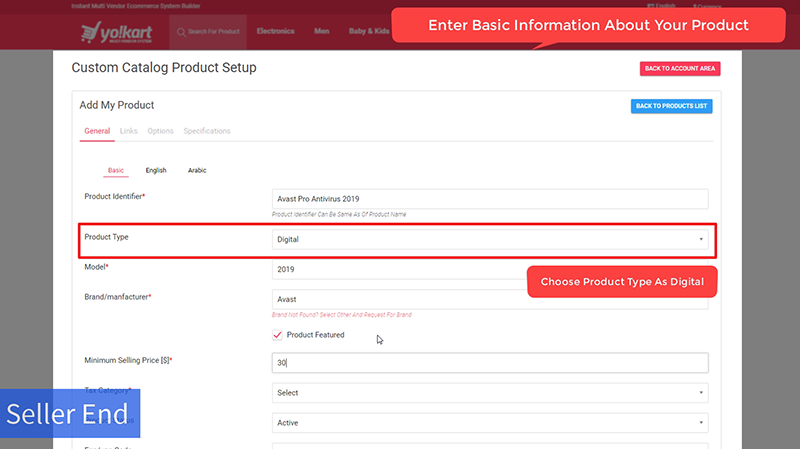 Once the category is selected, proceed to add the product information. It is important to select the Product Type as Digital. Also provide details like Product Identifier, Model, Brand, Minimum Selling Price, Tax Category, Dimensions, and more.
Step 5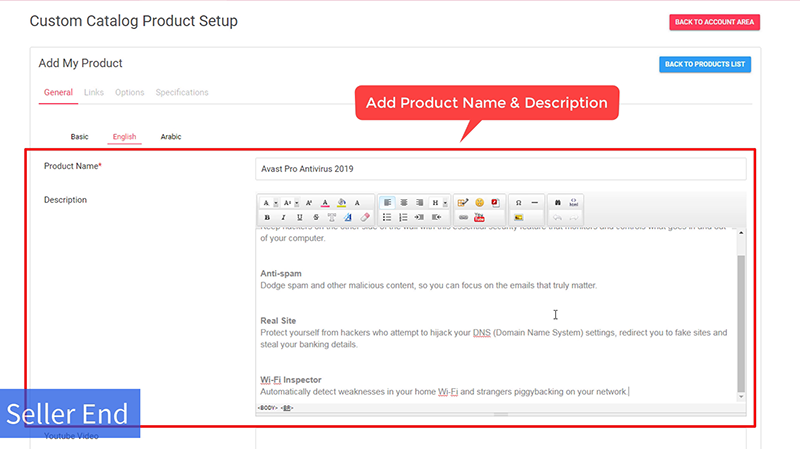 Add Product Name and Description in the next section.
Step 6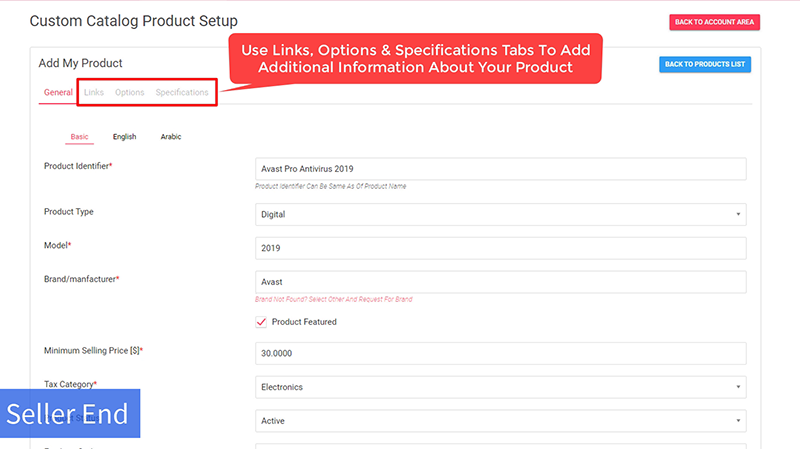 To elaborate more about your digital product, use additional tabs such as Links, Options, and specifications.
Step 7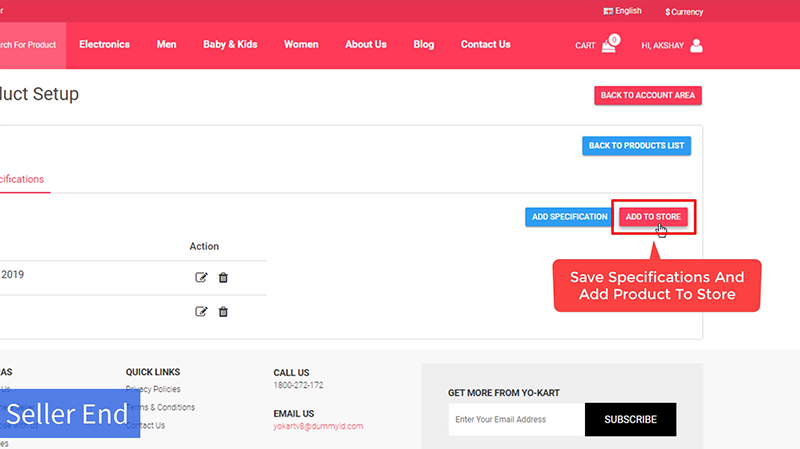 After you have successfully added product information, click on the Add to Store button.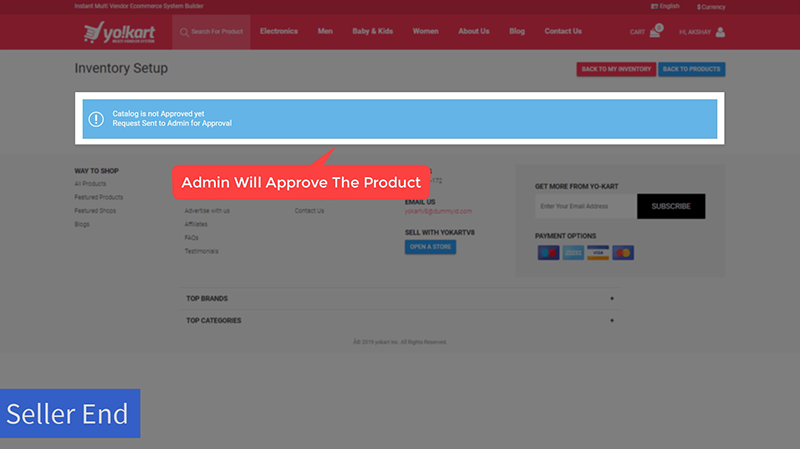 At this point, YoKart offers more control by putting checks in place. After you have added a product as a seller, the same has to be enabled by the admin.
Step 8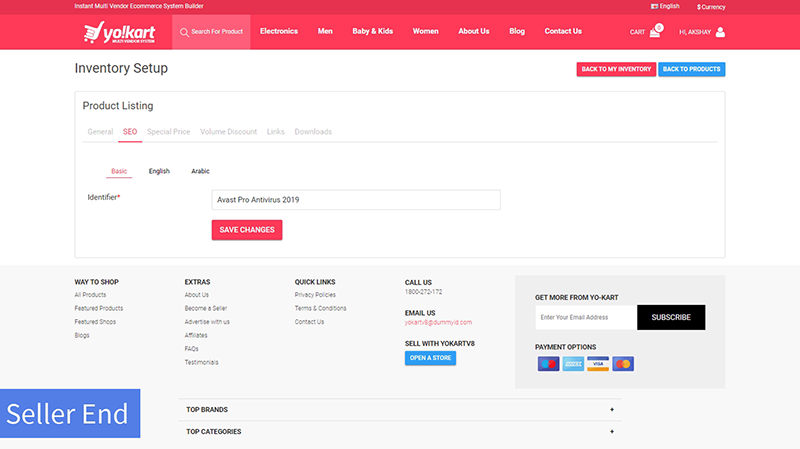 Once the admin has approved the product, proceed to enter complete information. YoKart also offers functionality to improve the ranking of ecommerce website in search results with Search Engine Optimization (SEO) tab.
Step 9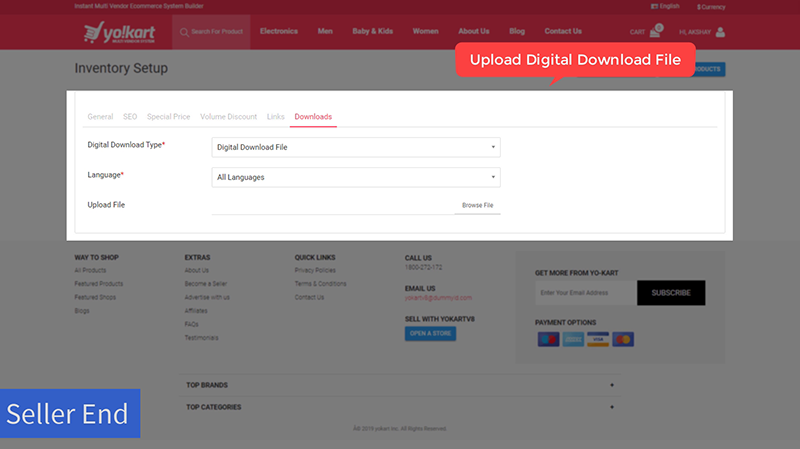 In the last tab, Downloads, upload the file and click Back to Products.
Step 10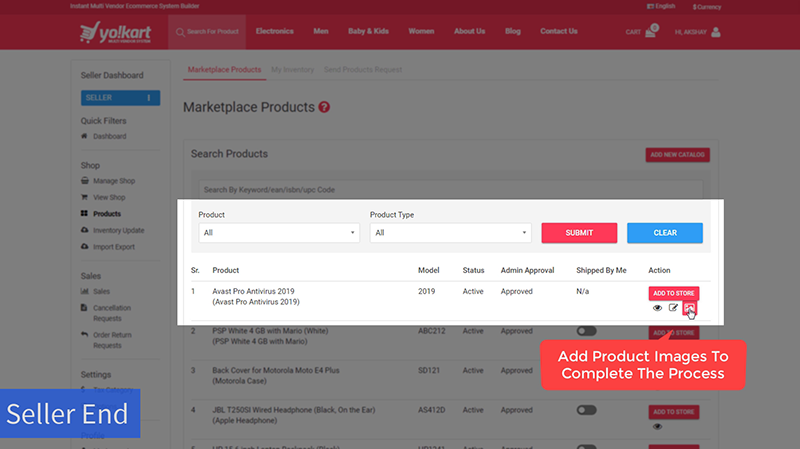 Now, you can see your recently uploaded product in the Marketplace Products list. To add product images, click on the third icon under Action column on the right.
How can Buyers Place the Order of Digital Products on Marketplace Powered by Yokart?
Step 1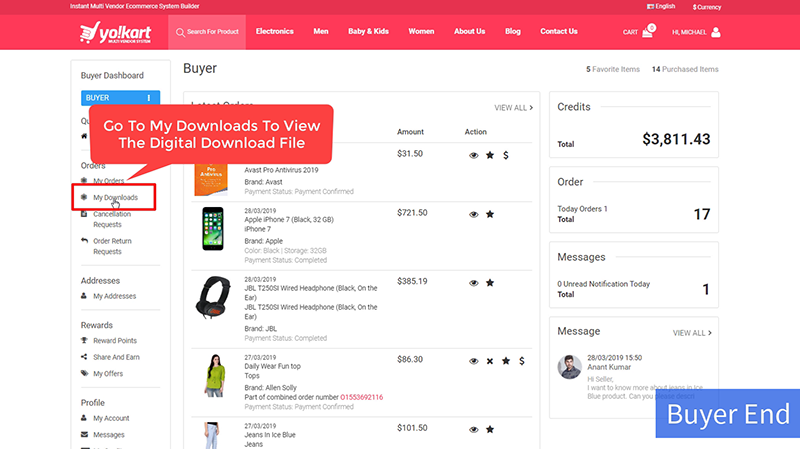 Login as YoKart Buyer and proceed to place an order for the preferred digital product. Now go to your dashboard and select My Downloads.
Step 2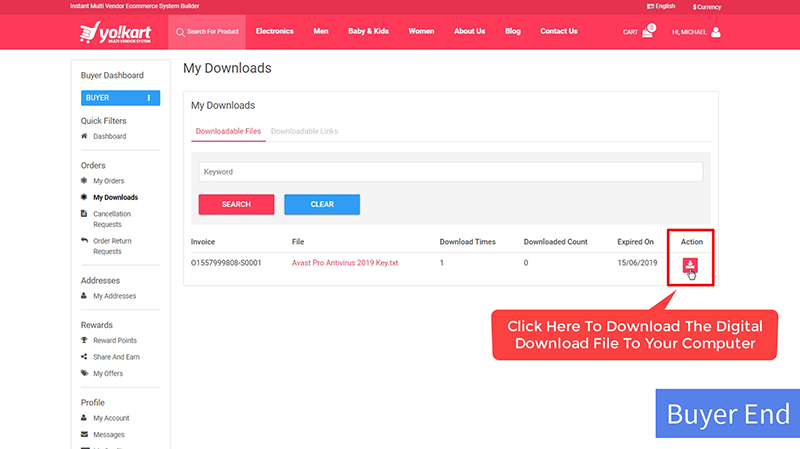 Under Actions column on the right, click on the download button to view the recently purchased digital product.
Want to Sell Digital Products Online?
Conclusion
Starting a new eCommerce website to sell digital products can be hard. With multi-vendor eCommerce solution like YoKart, you not only kick start your online business but can also customize it whenever required. YoKart comes with a plethora of options available for admin, vendors, and buyers.
For queries, please drop a comment below and one of our team members will answer it.