Updated On: 11th Nov'19
There was a time when hiring professionals for building an ecommerce marketplace from the ground up used to be a common practice. Needless to say, it meant that you'll need to have a complete department around it; the development, designing and then the internet marketing department.
Every time you need to integrate, edit or remove a feature, the site had to be put down for maintenance and once everything is done and tested thoroughly, only then you can again get it online.  Let's take a look at how much impact different tasks involved in building a multivendor marketplace and in particular an ecommerce marketplace from scratch make.
Before you enter ecommerce sector, you need to follow certain crucial steps that would be helpful in launching an online marketplace. Just think about it before you make a decision on how you want to build your website. Yes, hosting costs will always be there, no matter which path you choose, but that's not all about a multi-vendor ecommerce website, is it?
How many web development platforms have been rendered obsolete because of not upgrading to latest technologies? Products costs, design costs, the cost of hiring the personnel to carry the tasks out, we are not looking at just a team; this is a complete department we are looking at. A department where you'll need to build a complete hierarchy, imagine the costs.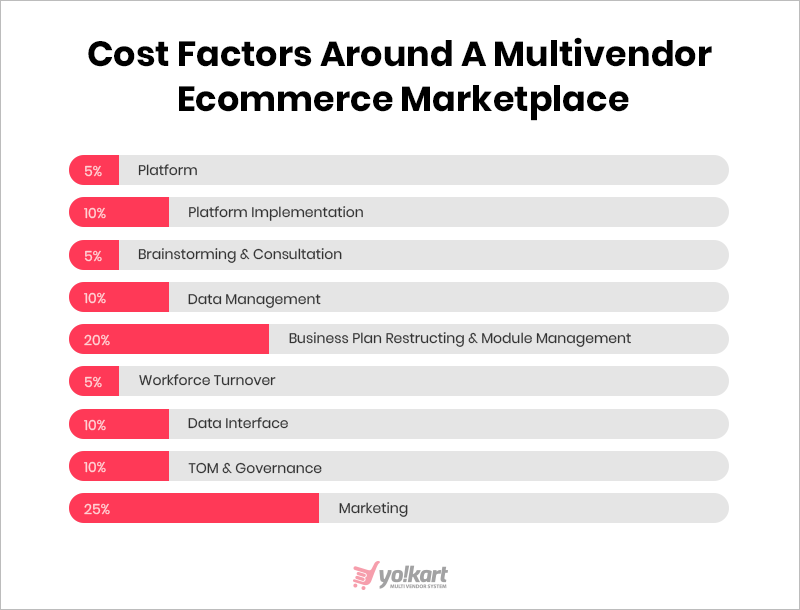 Various Cost Elements
A business starts incurring costs of a project before it actually begins taking a shape. There are various elements that contribute towards the project. Let's take a look at them.
Setup Costs:
Registering your company name and the website's domain name is one of the crucial aspects which define the overall setup cost. The fact of the matter is that these are not options, but prerequisites of building a brand and an ecommerce marketplace.
Platform Costs:
We all know that we need a platform to build a multivendor marketplace, so this cost is inevitable. Yes, you may want to opt for an open source platform that doesn't charge a single penny for a license, but it would lack features and you need to put in a lot of effort to customize it. Every time you need to add a feature, you'll be shedding out more money from your pocket.
And then there are some feature rich platforms that come at a hefty price. These platforms boast of features that you won't even need on your marketplace. Why would you spend a substantial amount of money on features that you're not going to use at all?
Logic says that you should invest in a good platform that lets you create a good ecommerce marketplace without worrying about future expenses.
Suggested Read: Important Factors to Consider When Selecting an eCommerce Platform
In addition, what must be noted is that 59% of smartphone users prefer buying from companies that have apps that let them make faster purchases. Considering this fact, you must invest in developing an app for your eCommerce venture, which can bring higher conversions.
Mobile apps are more advantageous for users as compared to mobile websites, whether it is in terms of offline performance, push notifications or loyalty programs. Once you decide to build an app for Android or iOS or both, the next step is to decide the right platform and features for your eCommerce app.
The cost of your mobile app will vary depending upon some other factors too such as developers' experience and the complexity of the app.
No doubt, developing an eCommerce mobile app will take a lot of your time and money, but it will be worth it in the long run. This can be attributed to mobile apps' potential to provide better user experience in all respects and deliver three folds higher conversion rates as compared to conversion rates from mobile websites. Also, app users tend to be more loyal to a brand and make repeat purchases from them.
Hosting Costs:
We all know that a website needs a hosting service where all its data is stored. No matter how awesome your web pages are, no end user will be able to see any of them if you don't get a web hosting service. And given the fact that we are talking about an eCommerce marketplace, we know shared hosting won't be good enough.
So you are left with two options: either choose a dedicated server or go for a cloud server. Cloud server normally costs less than a dedicated server, but dedicated server gives you a better uptime and more reliability.
However, you also need to understand that not every server is compatible with every platform. If hosting service provider you choose is not compatible with the platform on which your website is built, you may experience high downtime and eventually, you may end up spending more money on fixing things.
Design Costs:
Before your ecommerce website gets even the first page live, there's a major task that needs to be done: consulting an expert. That's because you have a vision, but putting it across easily is not possible all the time. To add to this cost, platform's versatility also plays an important role. Not all platforms are designed to give users and marketplace owners the same level of features and look and feel.
If your platform doesn't give you enough room to visualize and implement your vision, you'll need to either change your vision, or change the platform, and that means more expenses.
Implementation Costs:
It's one thing to have your website's design and layout ready, it's different to take this design and fill it up with all the relevant data and content. Your company's logo, the brands that you'll be featuring, everything brings along a cost as you start adding more and more pages to your multivendor marketplace website.
Maintenance Cost:
As with every business, an eCommerce venture also needs maintenance and that too of various sorts. The costs of including another brand on your store, or removing a vendor that is no longer your partner, the contracts, legal agreements, everything needs to be up-to-date to ensure a smooth running of the business.
And then there are technical aspects too. Software license, license renewal, software maintenance, adding, upgrading or removing a feature, everything incurs costs that many eCommerce business owners tend to overlook.
Workforce Costs:
This includes the cost of the personnel that takes care of your multivendor marketplace on daily basis. From keeping your website up and running, addition and editing of new and existing content to marketing and promotions, everything that revolves around an ecommerce website incurs a cost.
Marketing Costs:
Calculating a minimum or maximum cost of creating a buzz around your brand is quite toilsome. If you build a full-fledged marketing plan for your new venture, it might significantly add to your marketplace development cost, but it will certainly bring in increased traffic and expanded ROI.
While marketing incurs huge costs overall, you can save some bucks on creating brand awareness by working in advance on your social media channels to build a huge following. Incorporating marketing features into your website is another way out to cut on your marketing expenses.
One of the most common and cost-effective ways to spread the word out is to create compelling content and write blogs that attract your target audience, converting them into high-quality leads.
Besides, if budget is not an issue, investing in Google Ads is a wise choice. It may cost a little higher, but it increases the odds of gaining more conversions.
How does the Multi-Vendor Marketplace Platform, Yo!Kart help?
You can easily minimize costs on various factors when you choose to create an ecommerce marketplace using a pre-built and authentic multi-vendor marketplace platform like Yo!Kart.
First of all, it has been designed and developed keeping start-ups in mind. This makes it easy for anyone to scale their marketplace as per their requirement. In addition to it, YoKart can be easily customized as per the requirement. Overall YoKart happens to be a comprehensive eCommerce marketplace software for eCommerce businesses who want to have a multi-vendor setup.
Let's take a look at some of YoKart's features that can transform your eCommerce game big time:
As a matter of fact, YoKart is an all-inclusive marketplace software that not only removed the hassle of developing a marketplace from scratch but also comes with avant-garde internet marketing features. It minimizes different cost implications of a multi-vendor marketplace and does not put a hole in your pocket. It is a complete and well-built package, which makes running an online ecommerce marketplace a walk in the park for entrepreneurs.
Launch a Multi-Vendor Marketplace With A World-Class, Cost-Effective eCommerce Platform