A multi-vendor ecommerce marketplace holds a lot of potential in terms of revenue for a business owner. When Amazon was first introduced in 1995, nobody could expect the emergence of more such companies like Amazon, Etsy, eBay, AliExpress, Barnes & Noble, and many more. The market demand has pushed such marketplaces resulting in their global expansion.
The industry has seen a notable shift over the years with the majority of entrepreneurs moving from their online stores to multi-vendor marketplaces. In comparison to single ecommerce stores, a multi-vendor marketplace helps in retaining up to 89% of the customers. According to a survey, sales through multi-vendor marketplaces will account to almost thrice as compared to online stores by 2021.
For ecommerce entrepreneurs, the multi-vendor marketplace option is cost-efficient as it allows them to sell a wide range of products to a larger audience without maintaining an inventory. The operations on such a platform go hand-in-hand as sellers give way to more customers and growing number of customers demand more sellers. For the owner, it's a complete win-win, as they can focus on accelerating their business growth and not be worried about losing the business at any given time.
What does Yo!Kart have for sellers?
By choosing Yo!Kart to build your marketplace, you provide thousands of sellers with the opportunity to sign up for an individual vendor account on your website. In return, they earn more revenue as you work towards establishing your multi-vendor ecommerce marketplace.
Take a look at the following additional benefits:
A seller can create their own store with a personalized logo, banner, and custom navigational tabs.
They can provide buyers with the option to select their shop as favorite, share it on social media, or send them direct messages.
They can declare wholesale or retail price for the products as per their choice.
They can easily analyze the sales reports and product performance report.
Sellers can easily manage their inventory via the sellers' console.
There is absolutely no need to invest in a brick-and-mortar shop when one is selling online.
Sellers can add custom catalog on the website.
Yo!Kart focuses on conversion-focused development of your website. Therefore, sellers can convert more visitors into buyers.
Sellers have the freedom to promote their shop or products.
Sellers can leverage the import/export feature of Yo!Kart to upload and edit the file that contains product information, and import it to apply the changes. This helps save time and manage the store better. Also, admin can import data for them from the backend.
Yo!Kart provides vendors with an easy payout system.
The seller can manage and customize tax rates for products as required. Yo!Kart has separate tax categories, which allow sellers to just enter the tax percentage and article cost is adjusted accordingly.
Yo!Kart offers mobile app for sellers, which is fast and conversion-optimized, which allows sellers to respond to each user quickly, keep track of all orders, and increase conversions.
How does Yo!Kart benefit buyers?
78% of users prefer accessing a store via a mobile app over a mobile site. Consumers are free to choose from the wide range of offerings according to their needs and demands. It's a lot more convenient to buy everything from one place, rather than moving from store to store to fulfill different requirements.
Here are additional benefits for buyers:
Due to a lot of competition among vendors within the store, users get an option to buy products at reduced prices.
Users are provided with an option to buy products based on smart recommendations, which brings ease in their buying journey.
Users have the option to provide product reviews and ratings, which helps differentiate your product page from others' and generate trust among new customers.
Yo!Kart provides a buyer with the option to share a unique URL and earn reward points.
Buyers can directly communicate with vendors via messaging, in case of any query or complaint.
Yo!kart's responsive layout ensures users a seamless experience across different devices, including desktop, mobile, and tablet.
The multi-vendor marketplace system is also available in terms of an easy-to-operate app, which eases the lives of buyers on the go.
Various color theme options allow for providing a customized experience to users based on their nature or on the types of products.
In case they are not satisfied with the purchase, buyers have the choice to return their orders following a simple process.
Yo!Kart has a streamlined checkout process which impacts users' buying behavior and leads to increased conversions.
Admin can introduce special birthday discounts or rewards to encourage further buying.
Yo!Kart has amazing built-in product page features—including zoom feature—which enhance potential buyers' experience, positively impacting their purchasing decision.
The easy-to-use Yo!Kart app available for buyers helps them make purchases on-the-go and enable them to remain up-to-date with new offers at all times.
Here is what a Yo!Kart's customer said: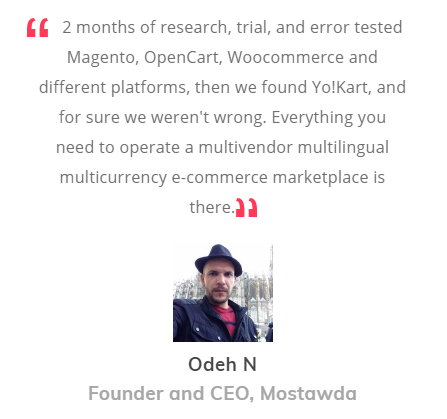 Now let's see what the Yo!Kart multi-vendor eCommerce platform holds for business owners or entrepreneurs:
While there are a lot for sellers and buyers who gain from the multi-vendor marketplace solution, Yo!Kart, you can reap several benefits. First of all, you don't have to worry about creating or selling products. The real value here lies not in promoting the products but in owning the marketplace itself and thinking of creative ways to improve awareness and generating traffic.
What's more?
By making a one-time investment, the admin can enjoy a life-time license of Yo!Kart.
With a flexible payment approach, you can make the payment for the platform in milestones. Simply select a package that meets your requirements, make a nominal upfront payment and pay the remaining amount in parts.
The entire Yo!Kart development team is available and can help you customize your marketplace as per your requirements.
Yo!Kart provides you with multiple options to make money, such as commissions, subscriptions and advertisements. You also have the option to include affiliate model to multiply your revenue.
As an entrepreneur, you have the flexibility to choose commission costs for each purchase made on the vendor's products.
It's up to you to fix the commission cost, keep it customizable as per the product type or category it falls in, or charge a percentage of the selling price.
Yo!Kart has a multi-currency feature, which indicates that you can target both domestic and global customers.
Social media sharing option allows you to stay in touch with the customers and gain potential customers too.
Go global and expand your business at any time with minimal effort.
Easily manage the vendor subscription packages from the backend.
Managing the discount coupons from the backend is simple.
Admin can manage all users from buyers to sellers and from affiliates to advertisers, from the backend.
Admin can track the recent activities of buyers such as a product added to cart or cancellation request.
Yo!Kart comes with a multi-layer security feature to protect both customers' data and your store. This allows you to focus solely on other business operations and growth.
Offer multiple payment options to buyers, such as wallet, credit/debit card, cash on delivery, and transfer to the bank.
Automate tasks like order & shipment management, and shipping rate retrieval with ShipStation API integrated with Yo!Kart by default. You can manage the cart with shipping API integration of your choice.
Admin can view date-wise sales reports of vendors, including order details.
Leverage marketing features such as PPC advertisements, affiliate module, promotional banners, social media sharing, and blog integration with the website.
Admin has an option to keep a backup of their database to avoid last-minute hassle of downloading the data when required.
Manage and alter SEO settings (like page title, meta tags, social media integration, schema optimization, and micro meta tags) for your website at any time.
Yo!Kart charges you zero transaction fee after the one-time licensing fee.
Entrepreneurs looking to build an eCommerce marketplace like eBay, Etsy or Amazon should look no further than Yo!Kart – the perfect multi-vendor eCommerce marketplace solution that lets you start a conversion-focused multi-vendor eCommerce marketplace.
The platform is trusted by 1000+ businesses across the globe for launching a multi-vendor eCommerce marketplace, owing to its amazing features, scalability, flexible technology, cost-efficiency and free 12 month technical support for any bugs. Besides, using Yo!Kart, you can launch an ecommerce marketplace in any industry such as the ones listed below, and more:
Sports
Jewelry
Digital Products
Electronics
Furniture
Apparel
Together, this contributes to its sublimity and helps you launch a thriving marketplace without burning a hole in your pocket.
Don't let User Experience of your website affect conversion
Yo!Kart follows a transparent approach and keeps you notified of all updates. Therefore, it enables you to keep your complete focus on your business operations and growth. It also saves you time and money, facilitating the development of a website that has a user-friendly interface and advanced functionalities. Startups looking to reap the most benefits at affordable costs, especially, can leverage the platform.