B2B sector offers a sea of opportunities for aspiring entrepreneurs. It is a growing sector which is why there are high chances to disrupt or leave a mark by launching a marketplace of your niche. A few years ago, brick and mortar outlets were the only way of carrying out business activities. Fast forward to the present, most businesses have an online presence. Companies like Amazon, Alibaba, and eBay have taken huge strides in the eCommerce arena. Their success has set a perfect example for aspiring entrepreneurs wanting to take their business online. 
Given an awful lot of buzz surrounding it, it's easy to think that the eCommerce industry revolves around the B2C (Business to Customer) segment. Yet, it's the B2B (Business to Business) segment that controls the major share of eCommerce and where transactions take place at a much larger scale. According to statista, The global B2B eCommerce market valuing US$12.2 trillion in 2019 is over 6 times that of the B2C market.
It's quite evident in the tech sphere. An apt example is Google's Pixel smartphones. Although the Pixel receives Google's branding, much of its hardware is sourced and manufactured by brands like HTC and LG. This symbiotic B2B relation between Google pixel and HTC/LG benefiting both businesses. 
Different Types of B2B Business Models
B2B eCommerce is complex and it's only fair to categorize it under different business models. Following are the three different types of B2B models:
a) Supplier- Oriented Model (eDistribution)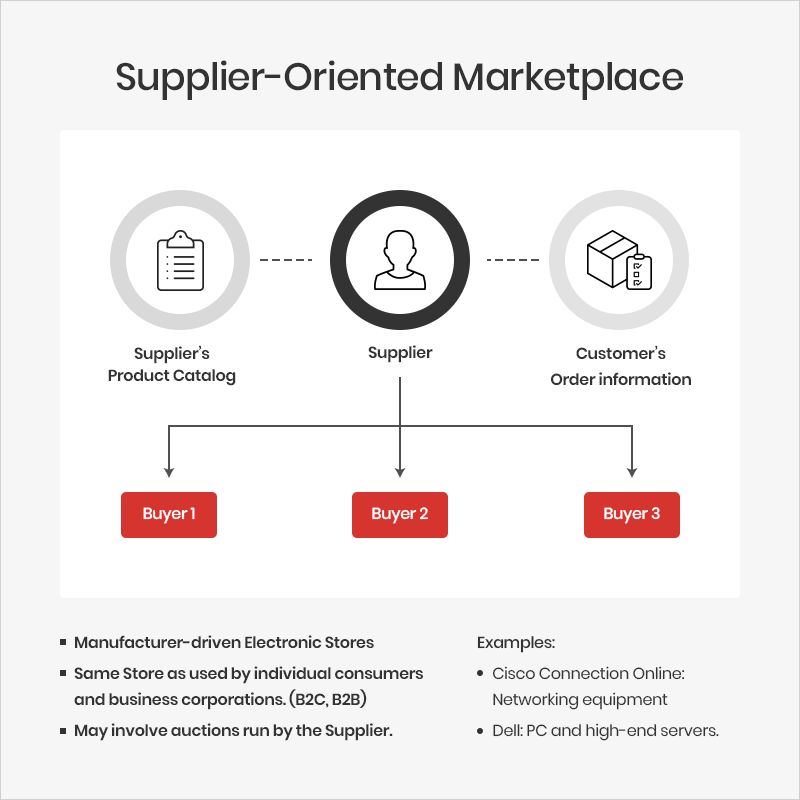 A supplier oriented model is a model wherein a number of suppliers set-up an online marketplace to establish an efficient channel to sell to a large number of businesses. The supplier has the prerogative to set his/her own price based on the needs of the buyers. Suppliers are usually searchable by the products or services they offer.  The loyalty of businesses and goodwill in the market is crucial to have success in this business model. 
Cisco is a fine example of the supplier-oriented B2B model. Cisco first launched its website in 1994. By 1998 there was heavy traffic on the website, one million views per month. The popularity was due to check on their orders, technical assistance or download software. In the same year, Cisco stated that launching its online applications saved them US$363 million per annum.
The company owns an online marketplace named Cisco Connection Online. In 1997, it sold US$1 million worth of network (routers and switches) products to a wide range of businesses.
B) Buyer Oriented Model (eProcurement)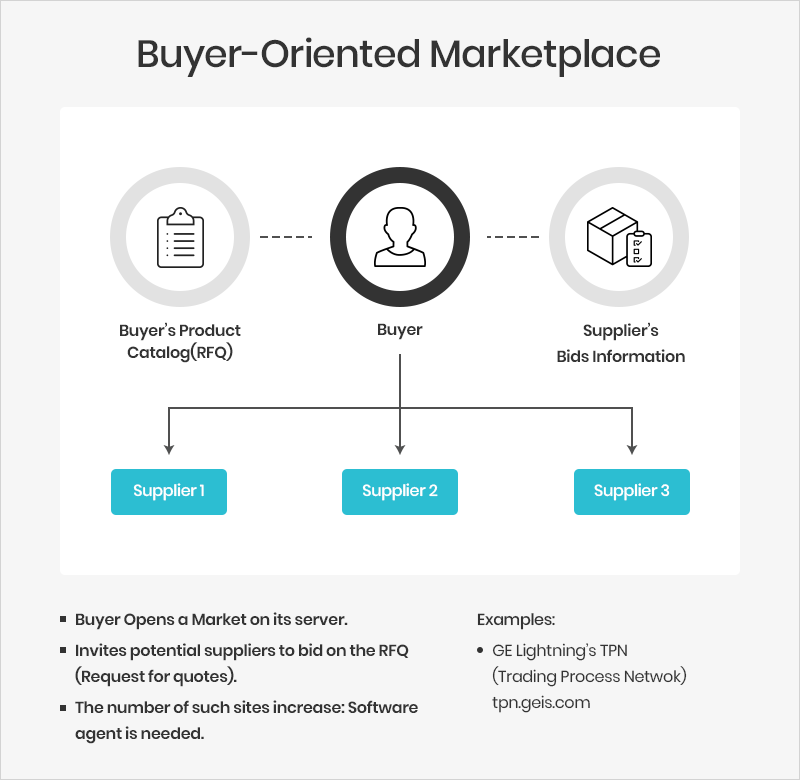 A buyer-oriented model revolves around the demands of individual buyers. This business model is most popular among big corporations with greater purchasing power and high volume purchases. The buying business sets up an online portal to accept quotations from various different sellers. The quotes start to flow in and after careful analysis, the buyer can decide which seller to transact with. That way, this model allows buyers to bring down their administrative costs and also get the best price from the suppliers. 
GE's electronic bidding site, known as GE TPN Post acts as a buyer-oriented marketplace. To use this site, the buyers need to pay a nominal fee. Post that they can share their project requirements on the website. Suppliers who can meet the requirements start making bids for the project. Once there are plenty of bids to choose from, buyers can go ahead and decide which one gives them the best bang for their buck. 
In addition to bringing buyers and sellers close to each other, this model allows both parties to expand their network, build partnerships and eventually strike more profitable deals than otherwise possible. To build a highly versatile website, the business would need 3rd party integrations. Be careful about the solution you are choosing to build your b2b ecommerce website.
C)  Intermediary-Oriented Marketplace (eExchange)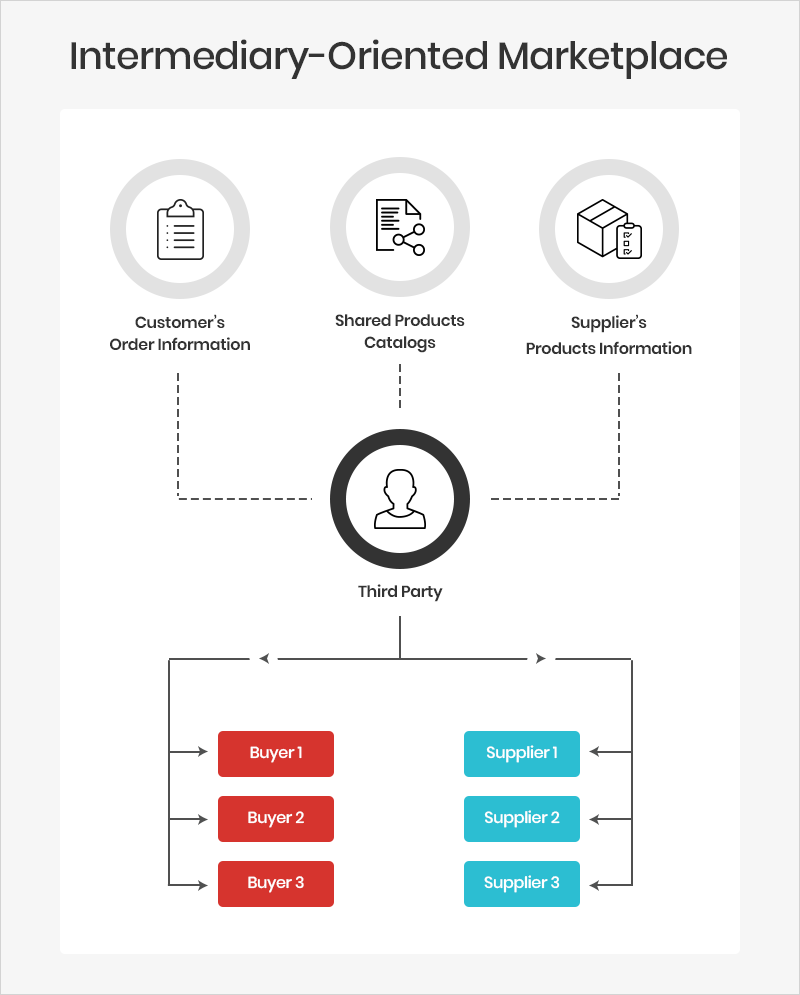 An intermediary oriented model consists of marketplaces that allow buyers and sellers to communicate and transact with each other. Marketplace owners maintain a log of buyers and sellers and the chief aim is to earn profit from such associations. Also understanding the top practices for b2b ecommerce is important. 
The prototypical example of an intermediary oriented marketplace is the eCommerce behemoth Alibaba. The company was founded in 1999 as a B2B portal to connect Chinese manufacturers with overseas buyers. The magic moment happened in 2012 when two of Alibaba's portals recorded $170 billion in sales. In 2015 it created a new record by racking up sales and profits far greater than all US retailers, including Walmart, Amazon, and eBay combined.
Which Model is Best For Your Business?
Each model is designed to address some very specific needs of B2B businesses. The buyer-oriented model allows buyers to set up their own website, invite bids and get the best price for whatever products/services they're looking for.
Contrariwise, a supplier oriented multi-vendor marketplace allows suppliers to establish an effective sales channel to a large number of buyers, thereby increasing their visibility and expanding their business reach. 
An intermediary oriented marketplace is somewhere in between with a large number of buyers and sellers. The owners of this model earn profit from successful transactions. 
So it's clear that each model is designed with a purpose. Instead of wondering which marketplace would reap the maximum profit to my business, the question business owners need to consider is what type of role they're willing to play. Once they've identified that role, the choice of the business model wouldn't feel so difficult.
Yo!Kart is trusted by Startups and B2B Billion-Dollar Enterprises