The eCommerce industry has been growing at a fast pace ever since its inception and even during the pandemic it saw a huge jump in adoption. To keep up with changing eCommerce shopping trends and driven by our mission to continuously evolve, we have worked round the clock to release this new version. Yo!Kart V9.3 introduces an abundance of new features and enhancements to enable a personalized shopping experience, automate the fulfillment process, and increase the performance of your marketplace.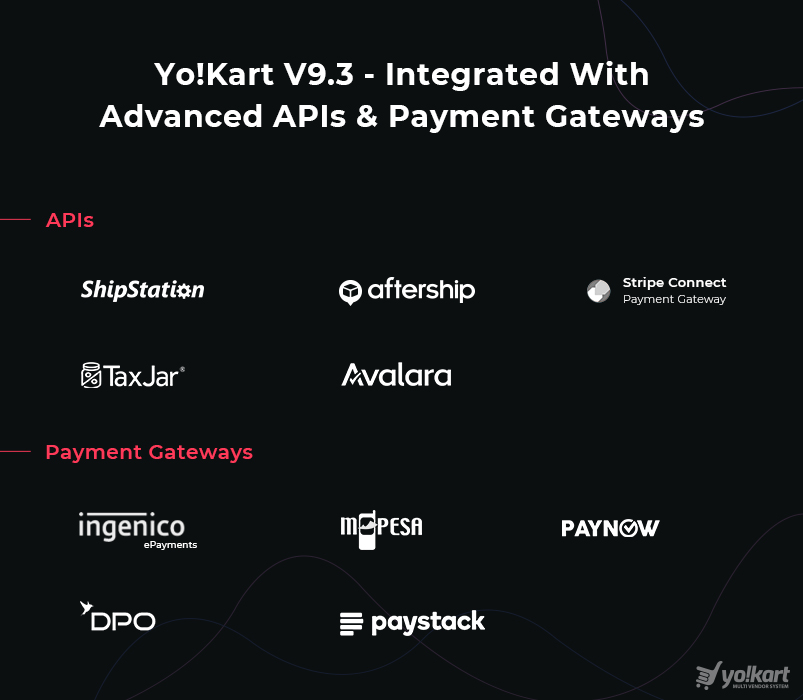 New Features & Functionalities
Every entrepreneur's first priority is to capture the market; automating business operations and streamlining the process comes later. In Yo!Kart V9.3, our development team focused on adding features/functionalities to automate payouts, taxes, shipping management and streamline the work for marketplace business owners.
ShipStation API – One of the biggest pain points of the admin/seller is to manage the logistics and post-order process. Though the shipment is managed by third-party vendors; the logistics support flow is a difficult task to manage for the admin. To make the process easy for sellers as well as admin, ShipStation Shipping API has been integrated into the Yo!Kart system allowing eCommerce marketplace website to:
Fetch live rates from shipping carriers configured
Create shipping labels & generate tracking numbers for orders from shipping carriers configured
Create shipping orders from shipping carriers configured
AfterShip Tracking API – Another woe for an eCommerce marketplace owner is to provide tracking information to the end-users. Consumer trends have changed and people like to stay updated about the whereabouts of their order. Your eCommerce marketplace must be equipped to provide tracking information to the customers. AfterShip Tracking API is now integrated with Yo!Kart, which will allow admin & buyers to:
Track orders with shipping orders created outside ShipStation API. Admin will have to add tracking numbers manually and share tracking URLs.
Map ShipStation carriers to AfterShip carriers, in order to track shipping orders generated via ShipStation.
If ShipStation API is not enabled then the admin can add tracking numbers along with the shipping carrier to track shipments.
Stripe Connect for Split Payments – For an online marketplace owner, managing the payment process manually such as withdrawal requests, seller payouts, & refunds is a time & effort consuming task especially if you are operating globally. To make online payments & seller payouts facile, Stripe Connect is integrated with Yo!Kart multi-vendor platform. Stripe connect allows an online marketplace to:
Automatically create customers' profiles at stripe accounts along with saving their cards. Cards for a user can be managed from the Saved card section on the buyer dashboard.  
Split the charged order amount in real-time between multiple sellers and admin.  
Refund the amount to the buyer and create reverse charges for sellers & admin in-case of refund requests
If discount coupons or reward points are used, then the system will generate a new transaction from the admin's account to credit sellers in equal proportions. These transactions will be reversed in case of a refund/cancellation in addition to the original order transaction.  
*If the admin chooses Stripe Connect as the preferred payment gateway, wallet & other payment gateways will be automatically disabled. 
Tax Management API – TaxJar API/ Avalara API – If your eCommerce marketplace is catering to the global audience or multi regions, then assigning taxes to different states according to their tax rules and then assigning products to the tax bracket is strenuous. TaxJar API and Avalara API are essential integration for global business owners. With pre-integration of TaxJar & Avalara APIs, Yo!Kart is now capable of:
Real-time tax rates are fetched based on categories imported and assigned to products.
Nexus is not handled in the API and shall be an SDNEL customization for clients.
*Through API the process is automated, we do have a manual tax module integrated into the system.
Location services – Personalization has become the first priority to attract customers, entrepreneurs have been struggling to provide personalization with the features integrated into Yo!Kart. With these location services, the admin can ensure personalization by:
Manageable Geo-Location setting for the admin to turn on/off this setting.
Set the product listing & search on the platform based on the following
– List/Search products by delivery address
– List/Search products by radius in kilometers
– List/Search products based on pickup/current location
Products that are not available for a location will have a tag displaying "Not available for your location". Add to cart functionality will not be available for products that are not available at a location.
Pickup – BOPIS (Buy Online & Pick in store) became a popular way of receiving online orders during the pandemic when essential products were bought online. We understood the growing trends and evolved our solution to reach market demand. Following functionalities are incorporated into Yo!Kart:
Admin can define their fulfillment method (Ship only, pickup only, both) in the settings module.
The seller can define their fulfillment method (Ship only, pickup only, both) in the settings module.
Admin/Seller can define multiple pickup addresses and time slots
*With Yo!kart platform, you can enable your customers to pay at the store for pickup orders
Invoicing Module – One reason why the majority of the population did not prefer shopping online was because of the transparency of the transaction involved. Invoicing provides transparency to the customers about the order they have placed. Invoicing modules are especially important for b2b eCommerce marketplaces. Yo!Kart is integrated with the Invoicing module which has:
New seller tax invoice module with manageable
– Invoice number
– Management to display tax categories on the invoice
– Management to add mandatory government information on invoices
Engaging Checkout Experience – The checkout process has to be seamless to reduce the number of abandoned carts. The checkout must be optimized according to the user's journey. Our team has analyzed the online shopping behavior trends to get a hold of the perfect checkout module that will minimize the abandoned cart rate. Yo!Kart has added these additional features to the checkout module:
New cart page for buyers to select the fulfillment method between 'Ship' & 'Pickup'
Buyers can also add items to the 'Save for later' list. These items will always stay in the cart and will be available for checkout. Buyers will have to be a registered user to use this functionality.
The system shall show errors/warnings on products based on their fulfillment method. Buyers can resolve these warnings or continue the checkout process.
All payment gateways that do not require a redirection are now accessed in the checkout module rather than navigating to a new page.
A new order confirmation page with order details.
Payment Gateway Integrations – Yo!Kart in its endeavor to reach global entrepreneurs has integrated 3 new payment gateways to serve clients from the Democratic Republic of Congo (DRC), Egypt, Ghana, Kenya, Lesotho, Mozambique, and Tanzania. Yo!Kart is now pre-integrated with mPesa, Paynow & DPO payment gateways along with other 17 payment gateways.
Get a First-hand experience of the new features of Yo!Kart V9.3
Enhancements
Even though the team has added new features/modules to automate the processes, the earlier manual processes like the tax modules and shipping modules are still available in the system. We have enhanced the existing features to make them upgraded according to the trends. 
SEO Enhancements 
New module for Image alt tags optimization
Schema code management  
Upgraded URL rewriting with canonical & 301 redirects 
Added Google Webmaster verification process in the admin panel
Added Bing Webmaster verification process in the admin panel
URL rewriting based on the website's language 
Tax Module Enhancements 
New enhanced tax module that can support single vs combined tax structures.  
Taxes can be defined based on locations.
The seller cannot edit tax but can view tax profiles/rates in the tax category section on the dashboard and add a new product form.
General Enhancements 
Added PayPal payment gateway to support pay by PayPal account or card 
Updated Stripe payment gateway for 2 factor authentications to support EU countries 
Seller/Admin can add Category from the product form 
Seller/Admin can add the brand from the product form 
Append language code to slug setting  
Fixed product without option and adding an option with inventory 
Hot Jar integration
Setting to manage product price is inclusive or exclusive of tax 
Import-export sheet updates 
PHP 7.4 compatibility 
Security & Performance Enhancements 
S3 bucket compatibility 
CDN compatibility 
Security Headers for clickjacking, XSS, and MIME types. 
SQL query optimization 
UI/UX Related Enhancements

 
Manageability to use a mega menu or a hamburger menu on the navigation section on the homepage.  
Manageability between left & top display for search/listing filters
Sellers are by default redirected to the inventory management page when clicking on the products menu in the dashboard. 
Admin catalog & seller products have been split between two separate tabs
Advanced Search Module
Manageable setting to choose between regular or advanced search module
Advanced search module will display the following 
Related products with the associated categories
Related brands according to the search string 
Related categories according to the search string   
Search history 
The system will redirect to the brand page if the search string matches a brand. 
Conclusion
2020 has been the year for transformation in consumer behavior and trends, due to the pandemic, people have adopted digital much faster than predicted. We are dedicated to providing the best thus incorporating the changes to our system for automation. With Yo!Kart V9.3,  we are looking forward to more success for our clients. 
In case you have a feature upgrade suggestion for us to include in YoKart, feel free to mention that in the comment section below.