The one thing that business owners must keep a check on every day is – how their business in doing.
This aspect becomes paramount for online marketplace owners, since managing the business & incorporating growth strategies for it is their primary job function.
Traditionally, analyzing business performance had been a daunting task, since every aspect of it required manual work. But now, with the advent of online analytics tools, it has become a rather effortless job. Yet, when looking for ecommerce platform, most entrepreneurs still don't pay heed on its analytics features.
In current dynamics, analytics must be an integral part of your ecommerce marketplace, as it gives you very clear insights on what's working for your business and what's not. Statistical reports, on which analytics is primarily based on, must be carefully examined when considering the analytics part of an ecommerce platform.
To help entrepreneurs attain valuable knowledge on the subject, in this post, we have covered the importance of statistical reports and the types of reports one must ensure in an online marketplace.
Why are statistical reports so crucial?
Let's say, your ecommerce marketplace caters to a wide array of products categories – electronics, home décor, apparels, and so on. At the end of the month, how would you know how your store is performing and what new strategies you should implement to increase sales & grow business? For that, you would require the following data:
Total sales for the given period
Number of new user registrations
Top products (the once which are bringing you most traffic, signups, & revenue)
Top & worst product categories, and so on
This is where statistical reports come into play to provide you the needed data in a seamless manner. Analytical reports offer a holistic view of your marketplace's performance& gives clearer insights on the way forward. In fact, without this data, you are just like a driver of a car without headlights, driving in a stormy night.
Below are some proven advantages of incorporating statistical reports in your marketplace:
Know What's Working & What's Not – For early stage marketplaces, or small-to-medium sized online store owners, the resources are always limited. This means that the time and burn rate of your marketplace is highly crucial and any lack of information related to the working of your marketplace can result in mismanagement& unpredictable losses.
Knowledge Is Power – There is a golden rule in startup ecosystem that every bit of information is vital. Having access to statistical information from different areas of your marketplace allows you in altering the business strategy and take well-informed decisions to maximize the profit; or minimize the losses.
Gateway to Higher Conversions – Ecommerce startups do not grow into behemoths overnight. Carefully analyzing such reports allows you to build a foundation towards better customer relationship, which ultimately helps in higher conversions & more sales.
Now that we have understood the importance of analytical reports for ecommerce marketplaces, let's take a look at different types of reports that must be there in an ecommerce platform to provide you the maximum support.
Types of Reports useful for an ecommerce marketplace
Sales Report
Naturally, number of sales is one of the most crucial aspects that mirrors how good or bad your marketplace is performing. Besides the sales figures, the Sales Report must also include the corresponding data associated with those sales, such as:
Number of orders
Unit Quantity
Order Net Value
Taxes & Shipping charges
Net Sales Earning
Refunded order & amount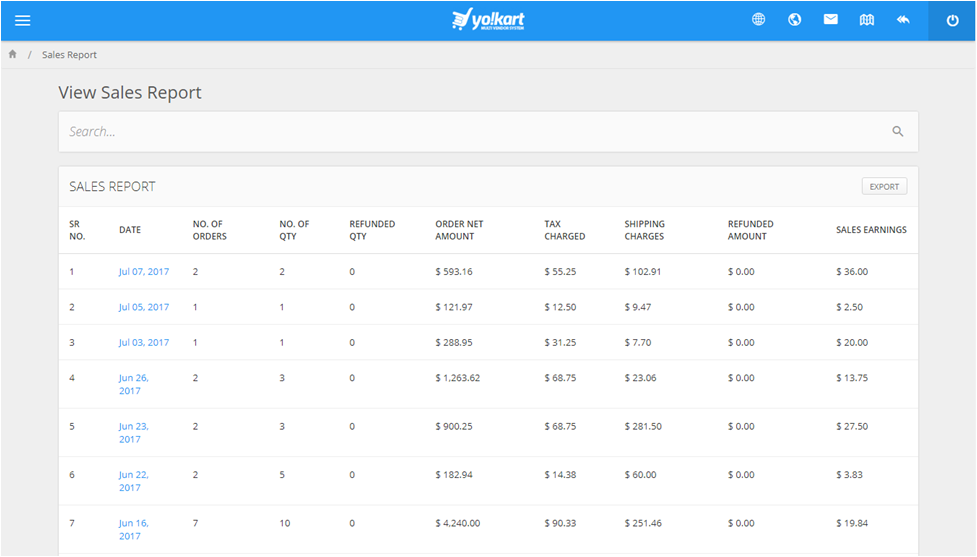 Purpose:
All these figures paint a precise picture as to how you online marketplace is doing sales wise, and which areas needs improvements to maximize the earnings. For example, if shipping for a particular product category is too much, or if a product is being repeatedly returned & refunded; your business must take some steps to resolve these issues.
Users Report
This area would comprise the data related to registered users' activities. If your marketplace is based on a P2P (peer-to-peer, where buyer can also be a seller) model like eBay, then it is also logical to include both type of users (sellers & buyers) in the User Report to have a holistic view of your user base. The key areas that should be covered in the Users Report are:
Number of items bought and orders placed by the user (as a buyer)
Number of items sold and orders received by the user (as a seller)
The total amount of purchases and sales done by a user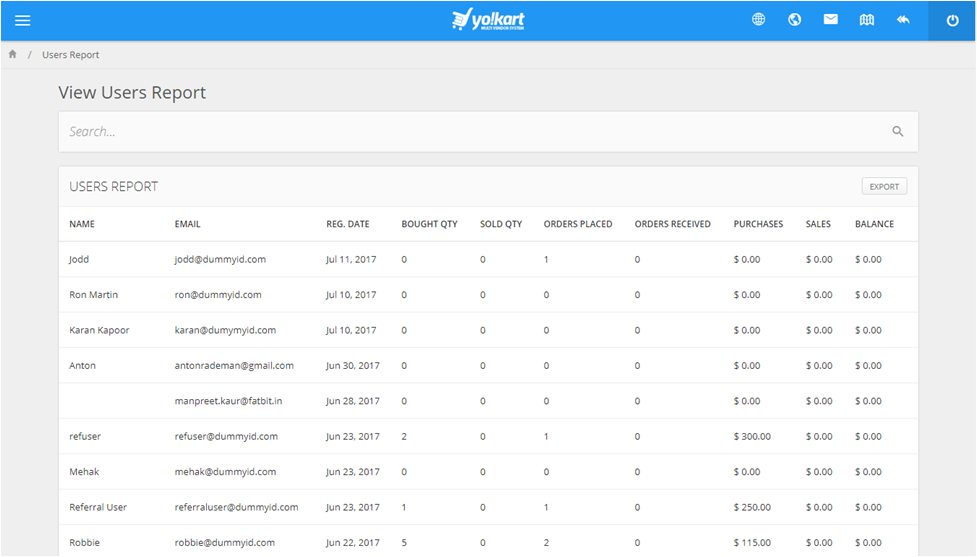 Purpose:
This report offers crucial insight as to how each user has contributed towards your marketplace. Using this, as a marketplace owner, you can easily target certain users for more productivity. For example, you can offer extra discounts to most loyal customers; or set lower commission rates for best performing sellers to encourage them and others to do better.
Products Report
An ecommerce marketplace is driven by the products it houses on its portal. So, it is crucial to have an in-depth report/data on the products that have been listed on the marketplace. The Products Report must include the following data:
Name & price of the product
Breakdown of price (product value, taxes, & shipping cost)
Total number of orders for the product
Quantity of given product sold
Commission given for the product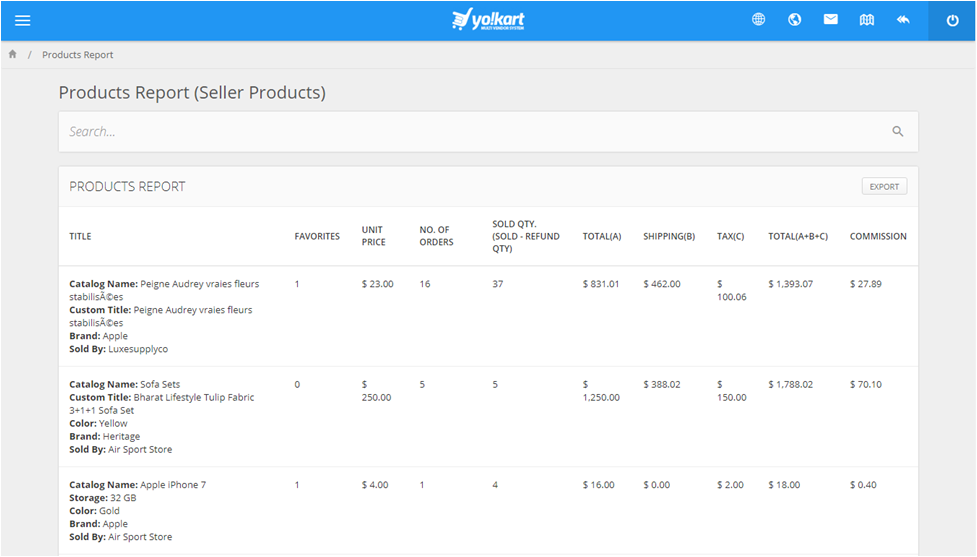 Purpose:
Products Report is the key ingredient that assists you in maintaining the balance between the supply & demand. Maintaining the inventory of products by their demand becomes quite efficient with such kind of report data. Apart from that, it also provides you with the insights on what new products you should introduce to increase revenue for your marketplace.
Shops Report
If you are working with an eBay like business model (P2P), then the first two reports are sufficient to do the job for your store management. However, if you are going for an Amazon or Flipkart type business (B2C), then you would need reports on another key entity – shop or individual seller's storefront. The parameters to analyze a shop's performance are:
Shop Name
Owner's/Seller's details (name, email, etc.)
Number of items in the shop
Quantity of items sold
Total sales revenue
Commission cut
Reviews and rating of the shop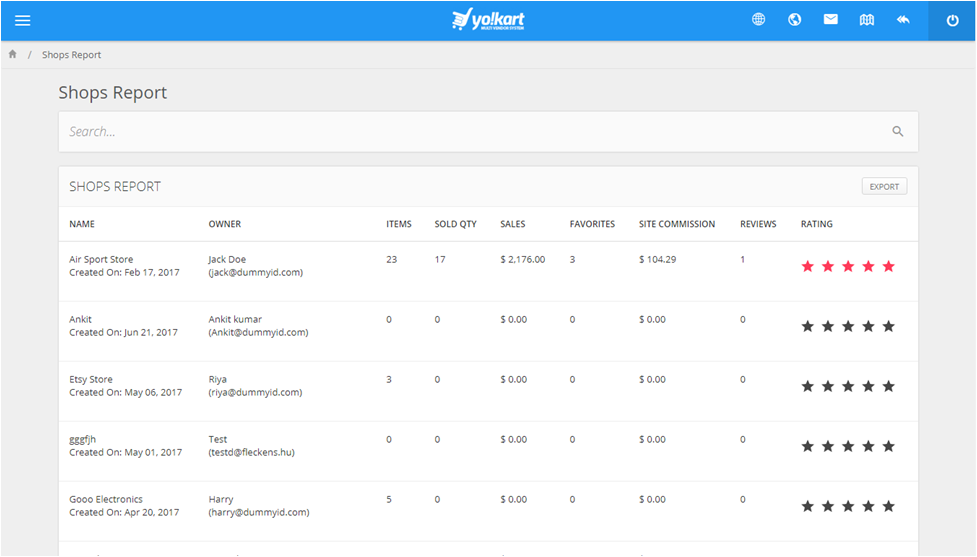 Purpose:
As clearly visible in the screenshot above, this report will give you a crystal clear picture on which seller is bringing you how much business. Based on this data, you can implement performance-based commission rates (as mentioned earlier) to encourage sellers to do better. To low performing sellers, you can offer on-site promotion program to increase their sales by getting featured as a premium seller.
Commission Report
The basic revenue model for ecommerce marketplaces is based on commission earned on every sale. As a marketplace owner, you need to stay informed on how much commission you are earning from each store. The key elements of commission report include:
Seller details
Sales value
Commission amount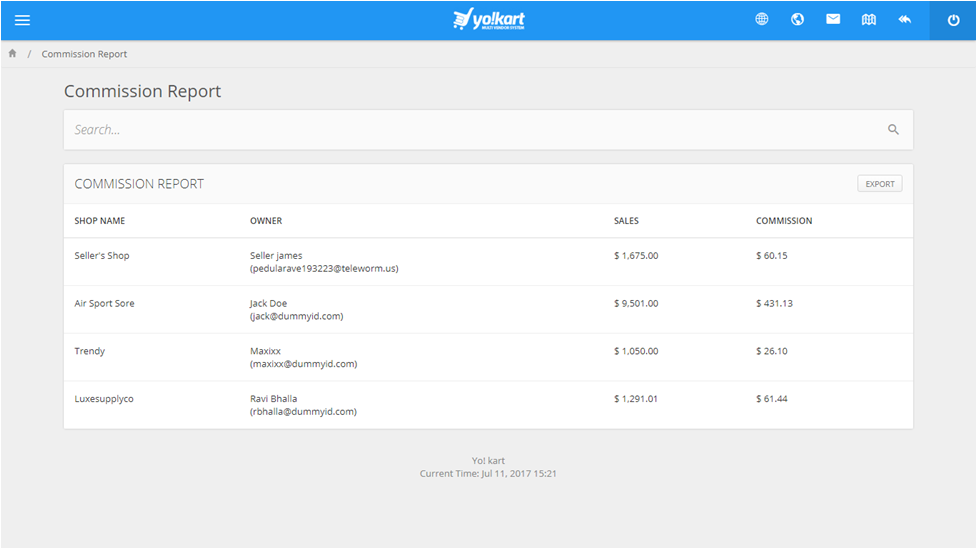 Purpose:
When implementing a product-based, category-based, or performance-based commission rate for sellers, commission report can be a valuable resource to ensure that your marketplace is generating the optimum profit despite cutting less commission for certain (top selling) products, categories & (top performing)sellers.
Related Read: Demystifying the Ecommerce Pricing Model: Commission Vs Subscription (link to be added after the post is published)
Affiliate Report
For a growing ecommerce marketplace, affiliates act as a vital part of the overall jigsaw. They help in increasing user base and revenue of your marketplace. Having an affiliate program is recommended for any type of online business. But it is also important to keep a track of how each and every affiliate is doing. Key elements of affiliate report include:
Affiliate partner details (Name, email)
Total balance in the affiliate account
Total Revenue earned by the affiliate
Number of signups & order revenue generated by the affiliate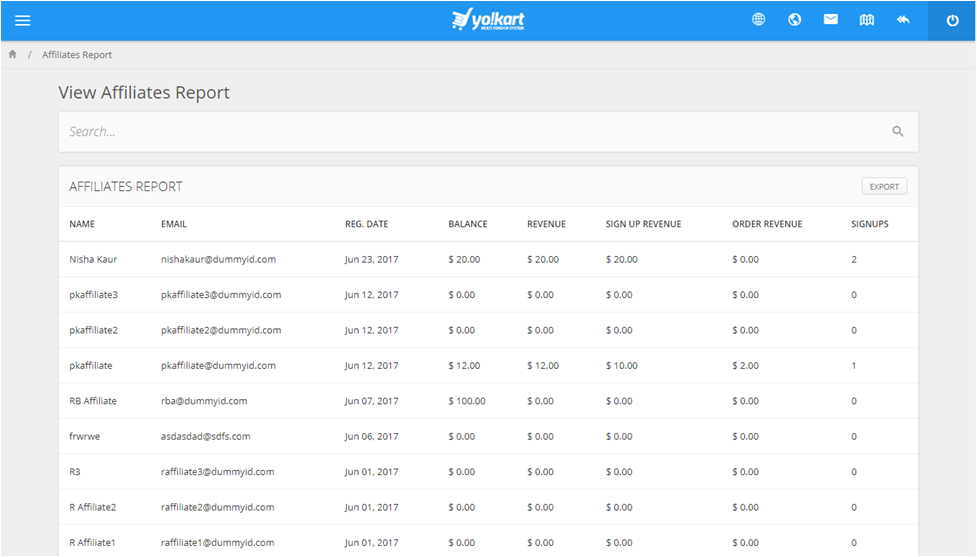 Purpose:
The primary purpose of the affiliate report is record keeping – how much business each affiliate is bringing you. Besides that, like in the case of sellers, you can also set performance-based commission rate for affiliates. In that sense, affiliate report can be very helpful. Firstly, in segregating the affiliates by performance; secondly, in analyzing that you are not losing too much money by lowering the commission rates.
YoKart Comes with an inbuilt affiliate module to streamline your business growth
Top Products Report
All ecommerce marketplace ownersneed to know the top performing assets of their marketplace. This allows them to promote those products across their website, as well as on 3rd party platforms to get more sales. In this regard, Top Products Report becomes a valuable asset. The report should also include following details &product metrics:
Sold quantity
Shop/Seller details
Brand
Color/size/ and other key specifications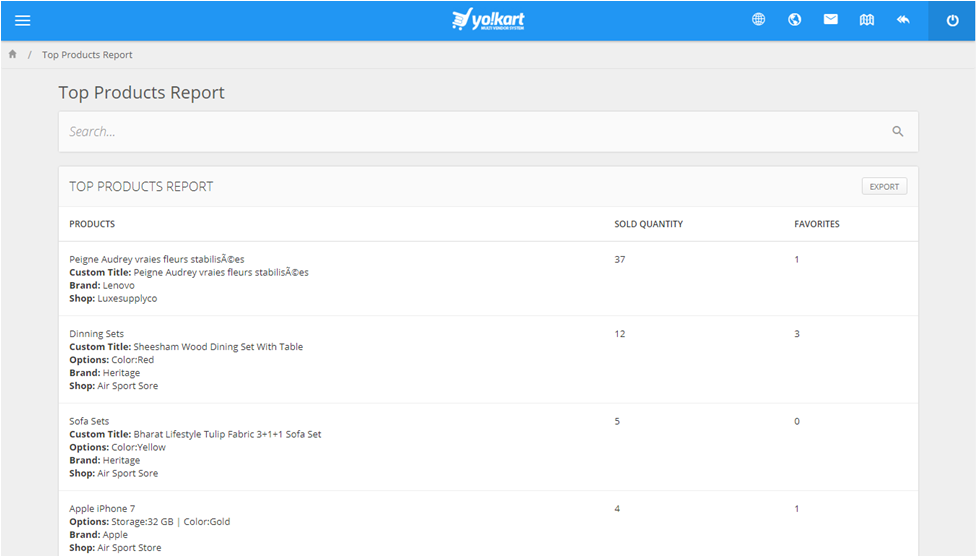 Purpose:
As just mentioned, top products are valuable assets for promotional campaigns – whether it is on 3rd party platforms, social media, or on the website. Besides that, this report also allows marketplace owners to focus on the inventory of the products customers want most to fulfill the demand in an ideal manner.
Top Categories Report
If yours is not a niche-based marketplace and you offer a multitude of product categories, then besides Top Products Report, you also need a Top Categories Report. The report will primarily comprise a category-wise data of items sold &how many customers have put them into their wish-list. Apart from that, adding a field for revenue generated from each category would also be a logical choice.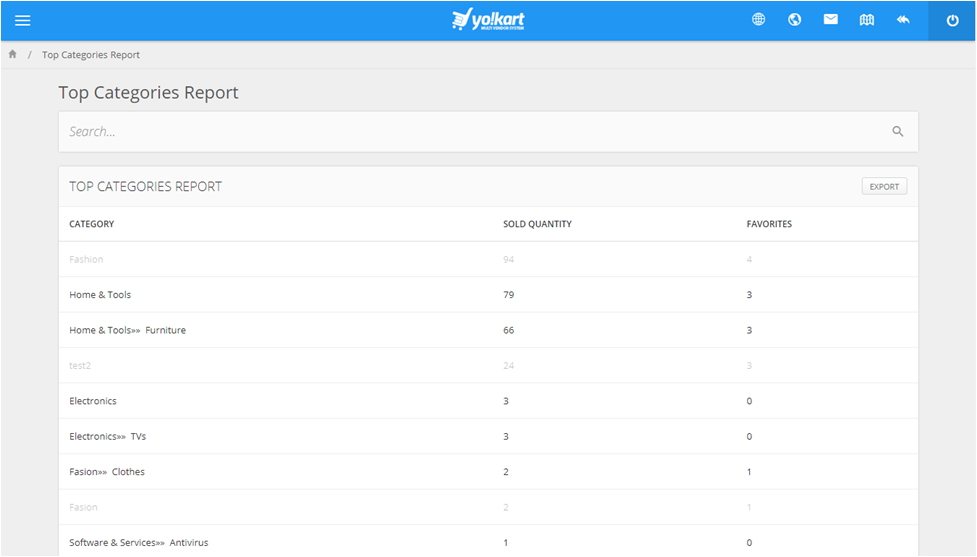 Purpose:
The purpose of this report would be similar to that of Top Products Report. For the sake of example, if people are buying smartphones in large quantity from your marketplace, then it would be ideal to alter your strategy and put the focus on marketing this category.
Apart from these, there can be similar reports on low performing products/categories. Overall the main aim of having these reports is that marketplace owners stay on top of things. That's the reason why big names like eBay, Amazon, and Etsy rely on such reports to continuously grow their marketplace.
Conclusion
For an entrepreneur looking to launch an ecommerce marketplace, it is important to choose a solution that offers such statistical reports. As already discussed, it is all about understanding what is working and what is not for your marketplace. Knowledge is power and is the driving force behind the growth of any online business.
And as evident in the screenshots listed featured in this post, YoKart is a perfect option in that sense. Unlike other ecommerce platforms, it offers inbuilt analytical data & statistical reports system for a seamless management & growth of your online venture.
Check out the analytical reporting prowess of Yo!Kart