While traditional marketplaces typically allow only commercial activities like buying and selling of products/services, social marketplaces are a bit different. Apart from selling and buying items, social marketplaces enable both consumers and vendors to communicate with one another and each other. Although a social media giant, Facebook allows brands to advertise, interact, and sell their products/services on a large scale. Moreover, with the introduction of Facebook Shops as a virtual marketplace for small businesses, the social giant is gaining more grounds amid the pandemic.
In 2018, nearly 33% of retailers in North America conducted business through social commerce up from a mere 17% in 2017, according to Statista. With the potential scale and business opportunities available on these marketplaces, year-on-year social commerce adoption is bound to improve even further.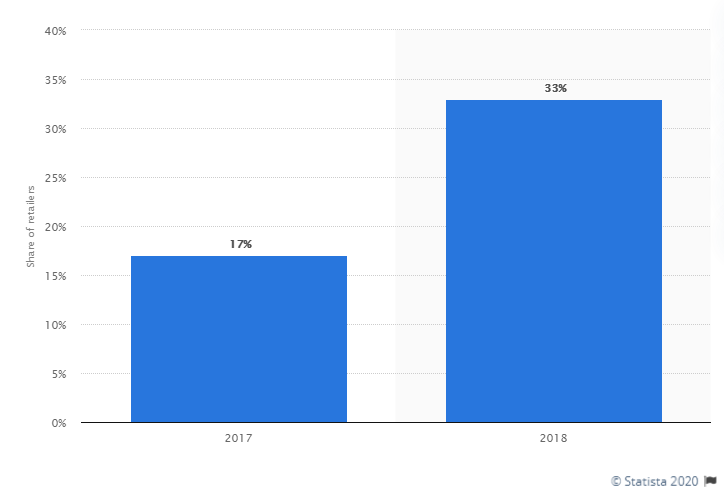 From open communities (with transparent communication), social interaction tools (like chat, newsfeed, comments) to user-generated content (UGC), the social commerce marketplace introduces several benefits that drive users in large numbers. As both retailers and consumers prefer such an environment, investing in a social marketplace can be a great business idea with potential growth opportunities.
Prominent Types Of Social Commerce Marketplace 
There are several unique social commerce marketplaces gaining traction globally. Let's take a look at some of the most prominent types of social marketplaces here:
Influencer Marketing Platform
Connecting brands and agencies to content creators on YouTube and other new social media channels, influencer marketing platforms enable branded content to reach the targeted audience. Famebit (now renamed BrandConnect), for instance, is a popular example of such platforms that allow influencers to find paid sponsorships with ease. Other similar examples include Grapevine and Reelio. 
With the YouTube community ever-growing and new channels emerging rapidly, businesses are always on the lookout for popular creators to endorse their brand to reach an already engaged audience. In 2018, the global influencer marketing platform market was evaluated at nearly $137 million. And, with the current growth rate, the market is expected to surpass $370 million by 2027, according to Statista.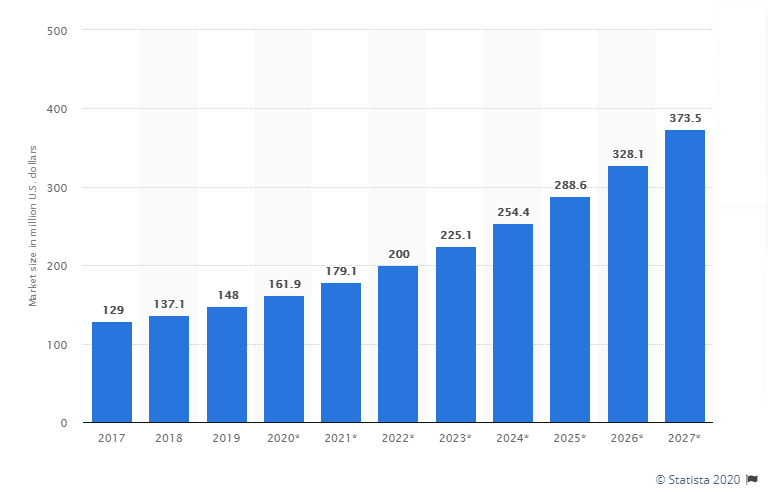 Strict lockdowns and quarantine orders amid the pandemic have resulted in a sharp increase in social media consumption globally. As users spend more time on social media channels, investing in an influencer marketing platform can be a great business idea with long-term benefits.
Marketplace For Used/Second-Hand Items
Online communities with human interaction fostering a personal connection are reshaping today's retail landscape. With seamless, trusted transactions in a dynamic ecosystem, the social commerce marketplace is driving high engagement globally. From Vinted to Poshmark, there are several popular social commerce marketplaces to sell, buy, or swap used clothes and accessories with ease. 
Through resale and social shopping at scale, brands like Poshmark are creating a more sustainable future for retailers and consumers alike. According to Poshmark's 2020 social commerce report, nearly 58% of consumers are more comfortable purchasing an item directly from a social media platform instead of the company's website. Moreover, around 76% of all Poshmark users consider the resale value of an item before purchase, showcasing their love for resale. 
In a social commerce marketplace, anyone can be a retailer, influencer, or a brand. With secondhand items dominating the shopper's closet (as shown below), the social commerce marketplace has become the go-to destination to sell/buy used clothes and accessories.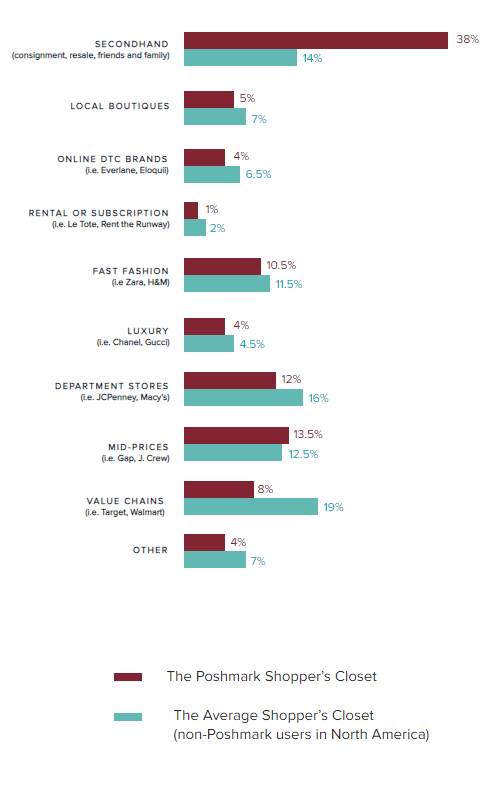 The social commerce marketplace for the online fashion industry is another prominent category with greater potential. While retail giants like Amazon have consistently struggled to crack the fashion industry, social media platforms like Facebook have flirted with a buy button with limited success. This is because they either added the element of social or element of commerce only as an afterthought. Personal connection and discovery – the two prominent aspects of fashion and lifestyle were missing altogether. 
Success in a social commerce marketplace requires new thinking and to become a top consideration in the online fashion and lifestyle industry, a powerful community-driven social commerce marketplace is essential. Amid COVID-19, as the use of digital platforms accelerate, it is believed that the opportunities thus created will persevere albeit companies are ready to embrace innovation.
With marketplaces like Poshmark connecting millions of people to sell/buy items or the introduction of Instagram Shops, the fashion marketplace is slowly but steadily changing for good. 
Going Dutch – a term that predominantly indicates an individual participating in a paid activity covers his/her own expenses. A common phrase used in Europe and other Western countries, Going dutch enables users to crowdfund experiences. It is an excellent marketplace idea rightly adopted by Let's Dutch with "Share the fun, split the cost" tagline. 
The marketplace allows you to either host an experience or search/join an experience as a guest. Hosting an experience generally includes listing the event or service you are offering and the cost per person for the particular experience. For guests, they can search for the desired experiences, explore available spaces, and send a request for space. The host can either accept or decline requests as he/she fits best. It is truly transparent and enables the guest to view/communicate with the host as well as everyone attending before they book. Social marketplaces like these are springing into action connecting strangers together with affordable experiences for all.
Second-Opinion Marketplace
Ladies love a second-opinion on "how they look" or "if the dress is okay with the occasion" or "what should work best with the particular top." Often they have plenty of choices but no one to ask for advice. With this idea in mind, a new social marketplace is born that allows users to share their picture (or series of pictures) and ask the trusted community a series of questions to get an insight. Such marketplaces establish transparent communication between users, brands and the community. 
Go Try It On, now defunct, followed a similar business model with its smartphone application. It allowed users to upload pictures of themselves in an outfit and get opinions of their friends, families or trusted community members in real-time. As marketplaces like these gain traction, it is the right time to invest.
Launch a niche-specific social commerce marketplace with Yo!Kart
Factors responsible for the steady growth of the social marketplace
Combining social media features to an eCommerce marketplace is a perfect recipe to drive users in large numbers. But there are several key factors that are crucial for steady marketplace growth. Let's discuss a few here:
Social commerce marketplaces usually have a large open community of regular buyers actively engaged on the platform with sellers and other buyers. As brands push for better engagement with consumers and stronger online presence, the social commerce marketplace is the perfect platform to grow. It enables businesses to truly engage, interact, and reply to the consumer queries building a stronger bond. 
Direct open communication with consumers is the biggest benefit a social commerce marketplace provides to an e-business.
Unlike traditional eCommerce, the social commerce marketplace enables users to buy, sell, or swap used clothes and accessories online. People can resell items from their closet (like on Poshmark) and buyers can get the desired items at a relatively less price. The economically feasible marketplace combined with an actively engaged community offers steady growth.
Nearly 90% of shoppers believe that UGC influences their buying decision, while around 63% of shoppers consider that UGC creates a more authentic shopping experience. Strengthening the social commerce marketplace, UGC is an effective tool to sell and resell items for users and brands alike. Shoppers today are more sophisticated and marketers need to offer more than just discounts or free shipping to attract customers. The social commerce marketplace with its diverse open community and UGC allows better promotion and opportunities for growth.
Social elements like private messaging, newsfeed section, chatting, comment, and more in a marketplace create an engaging network for users and brands. For instance, Poshmark with its real-time social shopping experience allows users to buy, sell, or swap used clothes at the comfort of their home. The social experience enables people to easily connect and shop from the closets of other fashion lovers. 
Specific Features & Functionality of a social commerce Marketplace
A reliable social marketplace offers a simplified seller registration process, large product inventory, personalized store domain, and the ability to manage banner image, product, and information displayed on the shop page. These seller-friendly solutions are ideal and necessary for a social commerce marketplace to become successful.
Another substantial feature to promote and improve visibility for a seller. Banner advertisements empower sellers to market their products more effectively and increase sales in the marketplace. With homepage banners and additional spaces for the seller to run paid campaigns, banner advertisements prove to be an invaluable asset for steady marketplace growth.
Complex functionality combined with weakly designed pages spells disaster for a social commerce marketplace. An engaging community-driven network does not need that. Here, the majority of sellers are not brands/agencies reselling items from their closet. They need an intuitive product page that is easy to understand and use. Vinted, for instance, is a prime example of social commerce marketplaces with intuitive product pages for sellers to list items and sell with ease.
The social commerce marketplace with robust search functionality enables buyers to find the desired items within milli-seconds. For instance, Elastic Search – a document-oriented database designed to store and retrieve structured/unstructured data fetches required search query within 10 ms. The social commerce marketplace pre-integrated with Elastic Search provides robust search functionality.
Another crucial feature for a social commerce marketplace to survive and thrive is the availability of multiple payment options like debit/credit cards, payment gateways, e-wallets, cash-on-delivery, and more. From Amazon to Poshmark, all successful marketplaces accept multiple payment methods to enable users to pay from their preferred mode of payment. 
Multi-Store Functionality 
Unlike social media platforms, the primary objective of a social commerce marketplace is to sell products and generate more revenue. This is possible only with a multi-vendor or multi-store functionality. Social commerce marketplaces enable sellers or brands to manage their own individual shops while the admin can focus on marketplace growth. This is a key feature to run a successful marketplace.
Feature-rich platform to empower a Poshmark-like marketplace
Conclusion 
Starting a social commerce marketplace like Poshmark or Vinted can be a bit challenging and overwhelming without an expert solution. Choose Yo!Kart – a robust multi-vendor eCommerce platform to start a social commerce marketplace without hassle. The platform is highly scalable, customizable, and empowered with all eCommerce features essential to start a niche-specific social commerce marketplace.