Technology has paved the way for a more direct relationship between customers and brands. One such technology trend which is transforming brand-customer relationship is messaging apps. They are helping brands provide better and more personalized customer experience.
According to a study by Business Insider, messaging apps receive 20 percent more monthly active users than social networks. Due to this, many companies prefer messaging apps as a platform to share information on their new or upcoming products and provide a personalized customer service experience.
Floral and gourmet foods gift retailer and distribution company, 1-800-Flowers, reported a 70 % increase in new customers after using conversational commerce (ecommerce via chat) on Facebook Messenger.
The ecommerce sphere is filled with such examples. To understand the impact of messaging apps on shopping experience, we conducted a research. In this blog post, we would like to share our research. To give you an overview, we found following areas deeply influenced by messaging apps:
Gain Extensive Information on Each Buyer Persona
Brands are facing the toughest time with engagement given their constant need to attract consumers and drive revenue. Just having a customer is not enough; a brand needs to know the customer and continually improve buyer personas. From what kind of products a customer likes to where he/she lives, it covers everything.
A Swedish multinational clothing-retail company, H&M, is using KiK to enable consumers to interact with the brand and get answers to carefully-planned questions. The answers provide enough data to build or improve buyer personas and execute a better marketing campaign in the future.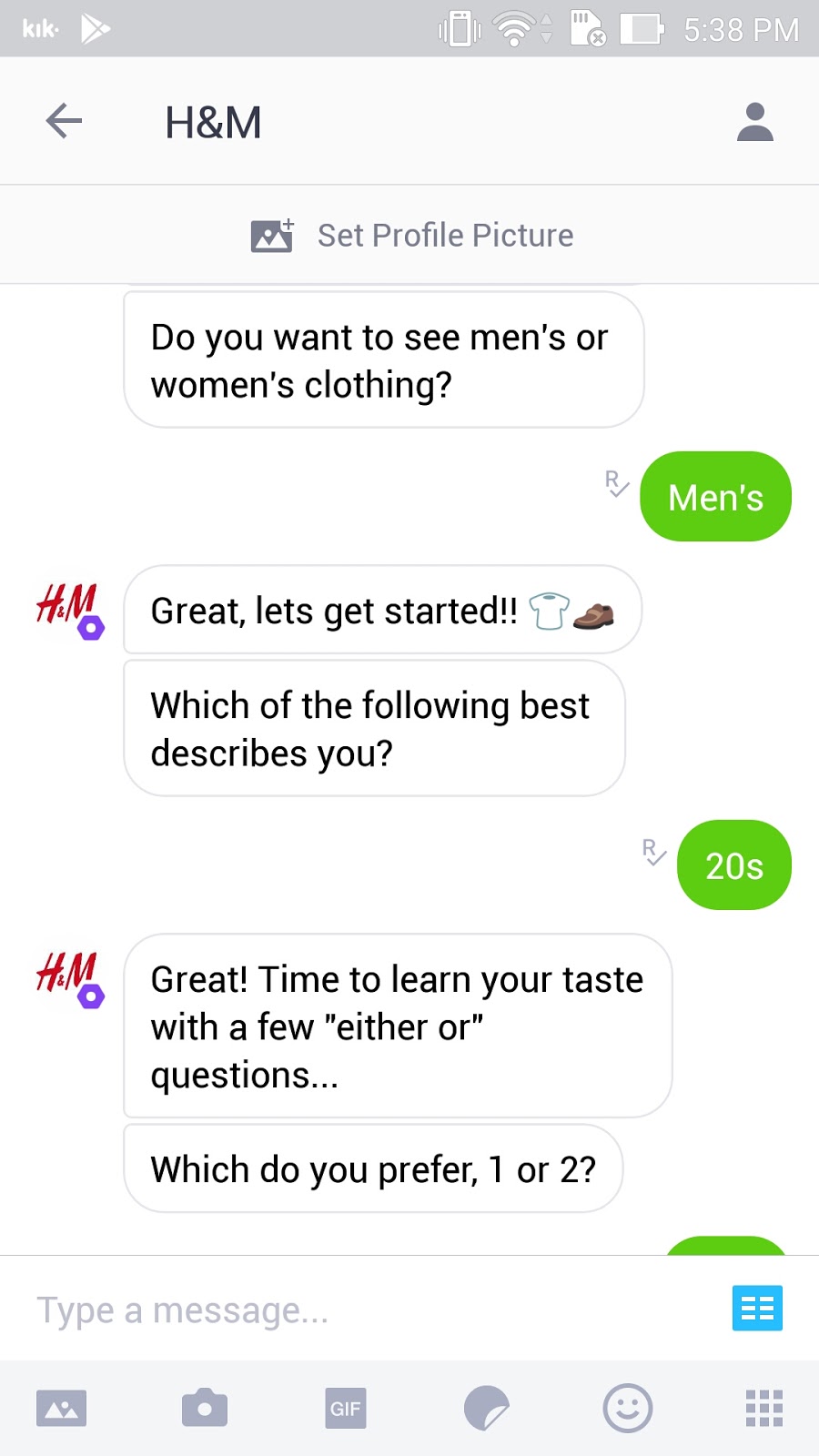 H&M KiK Chatbot
Bottom Line
A research from NewVoiceMedia revealed that an estimated $62 billion is lost by U.S. businesses each year because of bad customer experiences. Using messaging apps, you can gain insight and constantly improve buyer personas to show products that are relevant.
Provide Conversational Support for Potential Customers
In an attempt to combine user-generated content, messaging capabilities, and artificial intelligence; An American travel and restaurant website company, TripAdvisor, launched a chatbot on Facebook Messenger that provides an instant recommendation for hotels, flights, and restaurants. Once the user has received answers to his/her questions, the chatbot redirects the user to official website for final booking decision.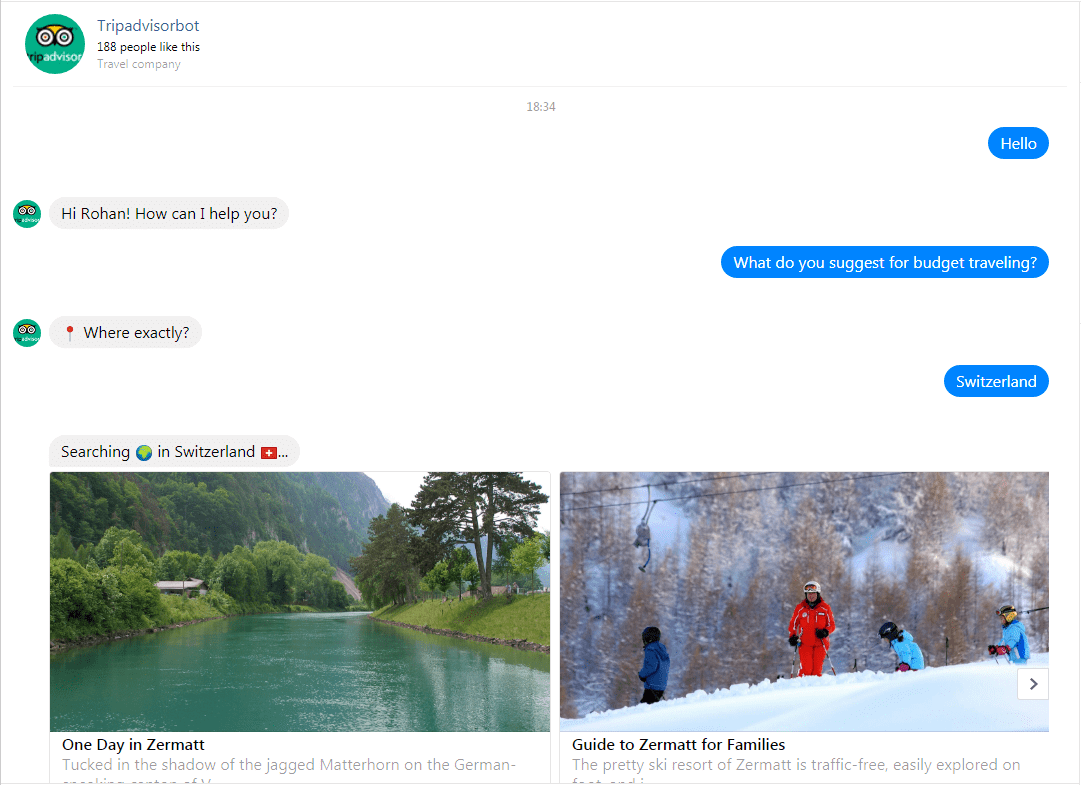 TripAdvisor Facebook Messenger Chatbot
Bottom Line
Brands are using messaging apps to serve their customers at all times. The main thing is, whether to handle customer queries or drive sales, two-way communication is critical and TripAdvisor chatbot provides the same with ease.
Offer Products that Makes Sense to a Specific Potential Customer
Retailers are looking for ways to redefine and personalize the shopping experience. In 2016, the Chinese ecommerce company, AliBaba, launched an application called Buy+.
Through this application, potential consumers get a chance to browse items in a virtual mall as if they were walking through a brick and mortar store. After selecting an item, the user can place an order there and then.
In another example, a subsidiary of Amazon, Whole Foods Market, launched a Facebook Messenger Chatbot that let potential consumers find recipes and related ingredients. According to the customers of Whole Foods Market, shopping became much more entertaining due to this application.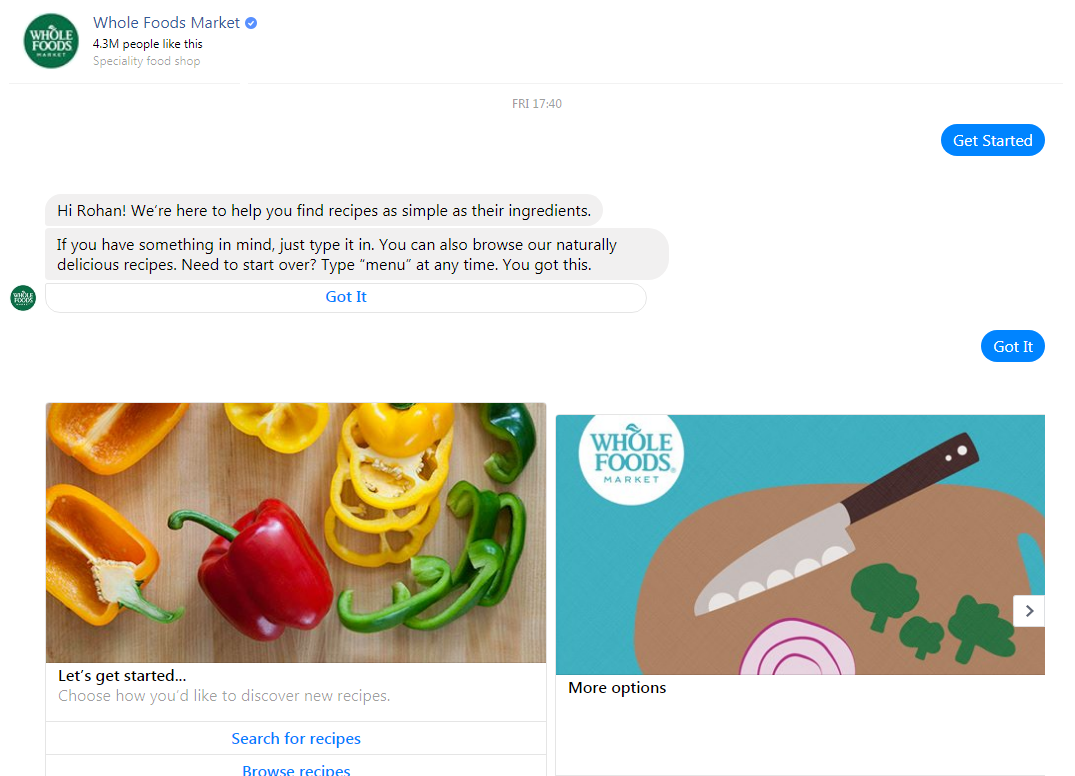 Whole Foods Market Facebook Messenger Chatbot
Bottom Line
It's better to say that we are living in expectation economy, where brands try to enhance the shopping experience. Messaging apps are one such way that can bring personalization in the equation.
Keep Agility and User-Friendliness at Forefront with Yo!Kart
Conclusion
Messaging apps are helping brands perform better throughout the sales funnel. The role of a messaging app is not limited to just sales. Once the sale is done, they can assist a customer is he/she has additional queries related to product or it's usage, giving an excellent post-sales experience.