E-commerce websites can have thousands of products listed on them. A category/subcategory based navigation is a good way to browse through such a large product catalogue. But it too falls short sometimes; especially, when the customer wants to find a product quickly. A search feature becomes a handy tool in this context to help customers proceed with the order in a quick fashion.
There's no doubt that like many other aspects of an ecommerce website, search feature also has a direct impact on the bounce rate, conversion, and other key performance metrics. More specifically, a good search feature helps increase the sales by minimizing time & effort spent by customers on their purchases.
Therefore, ecommerce businesses must strive to produce the best possible experience through the search feature. To help them achieve the same, here we have covered in detail – how every aspect of the search feature should be implemented.
Let's begin with the search bar itself.
Search Bar & Tool
The search bar is the start point of a product search journey. But usually, it remains a neglected piece of the conversion puzzle. The search bar helps in taking the customers to the desired product. So, not having it on your ecommerce store is a really bad move. But equally bad is making people look for it.
Usually, the design and layout of pagesconsume a considerable amount of time &creativity. As a result, the search bar is often left with a tiny icon in one corner of the page, which is often hard to notice.
The search bar must stand out on your e-commerce website; therefore, should be placed in a prominent place & made distinguishable by implementing right mix of color & contrast scheme.
Besides making the search bar easily visible, you also need to work upon areas that make it more user-friendly. These key areas are:
Displaying the keyword types (search query)user can search with
Embedding the auto-complete functionality to make search more seamless (especially, when the user is unsure of the spelling)
Including an extra input filed for product category (as a dropdown list); so that the search tool produces more precise results

Filters & Sorting Options
The search result page plays a crucial role in deciding whether a customer will proceed with the order or bounce to another website. This page should be planned keeping in mind the needs and preferences of the audience you are targeting.
Often enough, search result pages produce many results. Instead of making customers to scroll through these results, your store should offer features to customize the search further to land to the specific product they are looking for in quicker fashion. Here are some actionable points:
Offer search results filters based on brand, size, preference, color, price, etc.,to streamline the product discovery process on your store
Allow customers to sort results based on their preferences (such as low price to high), so they don't have to browse much to arrive at the product of their choice.
You can also implement filters for special categories like best-selling products, new arrivals, featured products, etc., to create more engagement.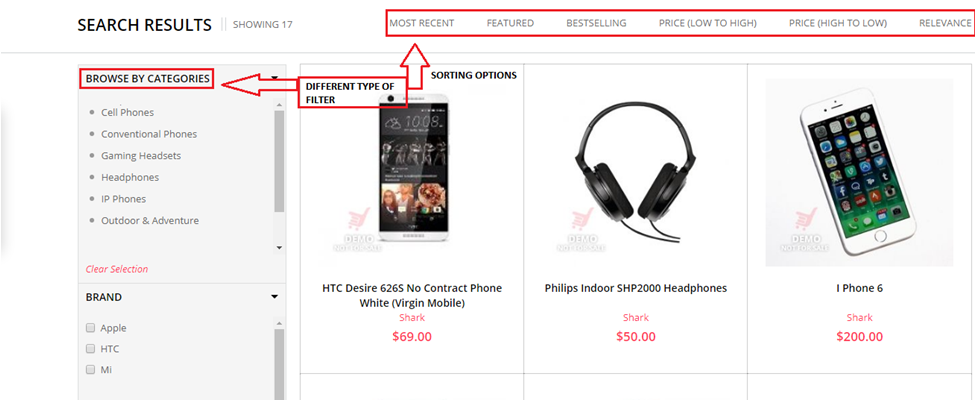 Offering such customization options as per your customers' taste can be greatly helpful in your business's growth.
Suggested Read: 5 Easy Tips to Run Your Ecommerce Store Successfully
UI/UX Design Aspect
The success mantra to stay on top of the competition of e-commerce website lies in innovation and tactfulness, the key of which isits UX design.  Enhancing the UI /UX of the e-commerce website helps in leaving a lasting impression on your potential customers and in converting them to loyal ones.
It goes without saying, when planning or re-planning the UI/UX of your ecommerce website, you need to follow the design trends & standards to make your store good to look & easy to use. Additionally, to further enhance the user experience, you can work upon the following areas:
Provide options like breadcrumbs, multiple product images, option to add to favorite/add to wish list for later purchase (these features assist in product discovery& recognition)
Instead of implementing an infinite scroll to make your search result pages bottomless, divide results into multiple pages; or better, show results in chunks, with a 'Load More' option after every result set
You can also provide customers the option to change the layout of the search results as per their preference

Poor user experience is one of the major reasons behind shopping cart abandonment. Therefore, it is necessary that that you pay heed on enhancing the user experience of your ecommerce store, especially, when it is associated with the search feature.
Product Detailson Result Page
When a customer is making the final decision about which product to choose from the list on search result page, they require little heads up regarding the product. Adding some details about the product on the search result page greatly helps customers in making the purchase decision, without necessarily visiting the product page.
On the search result page, every product is placed in a product cell where basic information about it can be easily displayed. You can put following product details & options on the listed results:
Price, rating, available discount, shipping cost/ time estimation
Versions (colors & sizes) available, seller's name, price offered by other sellers (in case of marketplace)
'Add to Cart' button – so that the customer can directly add the product to the cart and complete the checkout process

By and large, ecommerce businesses must continuously strive to enhance the customer experience for a seamless business growth. While it is important to put efforts in bringing more and more traffic to your site, it is equally important to provide visitors an easy way to reach the product they want to buy.
When a visitor on your website easily finds the desired product, it leads to satisfied shopping experience. In the long term, it also helps in creating a loyal customer base by persuading customers to come back to your store for their future purchases. Ultimately, this is all an ecommerce business hope for.
Is there any other search feature element for ecommerce website which can contribute towards better conversion? If you think so, mention that in the comment section below. We love to head from our readers.
YoKart offers optimized search feature to assure ecommerce stores better conversion