Testimonials and reviews are a contributing factor behind the success of an ecommerce website. According to the Invesp, 90 percent of consumers read an online review before visiting any business.
Both positive and negative feedbacks are important and help an entrepreneur improve the credibility of his/her ecommerce website and helps a potential buyer make a purchase decision.
To help ecommerce entrepreneurs use customer testimonials and product reviews appropriately, we have compiled a list of few points. Without further ado, go through the following information that will help you improve conversions.
Customer Testimonials
Testimonial Format

While text-based testimonial is commonly used, a video testimonial leaves a lasting impact on website visitors as one can see and hear existing customers talking about the experience they had with your ecommerce store.
If you own an ecommerce marketplace, consider publishing video testimonials of vendors who benefited after partnering with you. Similarly, if you sell products, you can publish video testimonials of your long-term customers.
The length of the video testimonial can be around 60 – 90 seconds.
Testimonial Placement
As a thumb rule, it is important that a testimonial is not the first thing that a website visitor sees on the homepage. Initially, let him/her understand what your brand is all about followed by most sold products.
Depending on the type of ecommerce website (single store or marketplace) you own, place video testimonials accordingly. For instance, if you own an ecommerce marketplace, place vendor testimonials on the vendor sign up page.
On the other hand, if you own an online store or ecommerce marketplace, you can place a video testimonial from buyers on the product page.
Also Read: Key Homepage Elements of Ecommerce Website
Product Reviews
User-Generated Content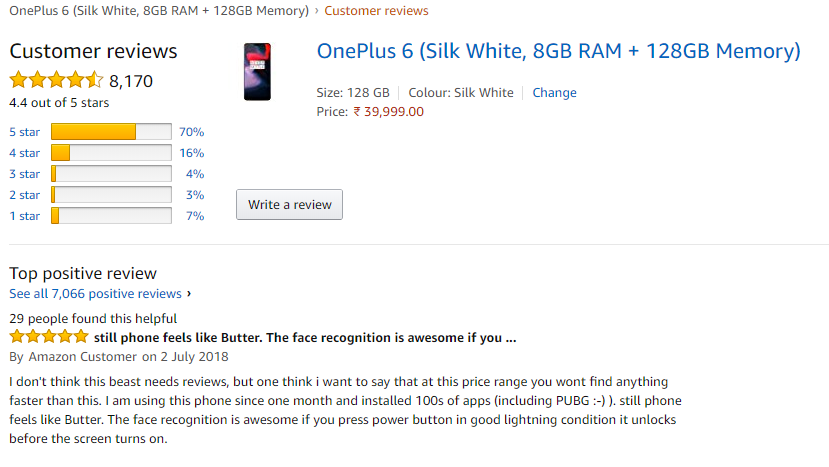 A typical product page on an online store or ecommerce marketplace has information such as rating, description, shipping, etc. With lack of product related keywords in the content, achieving a better rank in search engine results page becomes difficult.
Another problem is the lack of fresh content. When a buyer adds a review, the search engine crawler notices the fresh content which helps to improve the rank of the product page.
Few ecommerce store owners prefer a separate page to show product reviews. To improve the rank of the product page, consider integrating a reviews section on the product page which can further help other potential buyers make an informed decision.
Negative Reviews

According to research by Reputation Advocate, 80 percent of customers changed their purchase decision after reading a negative product review. While such reviews make a brand less reliable, as a business owner, it is important to know why a buyer left a negative review.
It is important to address the problem, due to which a negative review was left, within a matter of days. For instance, if a negative review was left due to a fault in the delivered product, you can provide information on product replacement guidelines. Replying such reviews will show other potential buyers that you provide better post-sales experience and such a service may eventually reflect in improved sales figures.
Different ways to Gather Reviews

The journey to collect reviews start right after an order has been placed. Depending on the ecommerce solution you are using, following review collection methods are available:
Review can be left from the product page itself
Notification can be shown after the buyer logs into the account
Asking the review via email
Most buyers may not leave a review unless you ask them to do so. You can start an email campaign and request buyers to share their feedback by leaving a review.
It is difficult for buyers to take the time out of their busy schedule and leave a review. Unless they are getting something out it this activity, it will be difficult for you to compel them. Consider giving an incentive such as a discount on next purchase to make them leave a review.
Also Read: Ecommerce Email Marketing Tips – Examples and Ideas
Conclusion
With the help of testimonials and reviews, you can improve the reputation of your ecommerce marketplace or online store. Monitor reviews regularly and make relevant changes to products or processes due to which buyers leave a negative review. With above-mentioned actionable tips, you can make reviews and testimonials work for you and not against you.
Facing an issue related to ecommerce? Share it with us by leaving a comment below.