Selling furniture online requires the coordination of a complicated network of systems involving sellers, e-retailers, warehouses, delivery people, and more.
Challenges in this ecommerce niche (particularly in the area of delivery) remain unsolved and entrepreneurs are skeptical about this vertical market.
According to a report by Statista, global revenue of online furniture and appliances was US$233 billion in 2017 and is expected to increase to US$408.4 billion by 2022.
For growth in this niche, you need to educate yourself on the challenges and find feasible solutions.
In this blog post, we would like to share different delivery challenges faced by entrepreneurs globally, who are selling furniture online or thinking about starting an online shop to sell furniture.
Operating Model of Ecommerce Furniture Logistics
Depending upon the nature of products and operations, retailers have been opting for viable operating models. When it comes to the online furniture industry, the following models are more widespread:
Marketplace Model – Delivery Fulfilled By Seller
All the quality checks and packaging of furniture is carried out by the seller. The seller maintains inventory in his/her warehouse and when a buyer places an order, the product is shipped directly to the customer.
Marketplace Model – Shared Warehouse
In this model, inventory is kept at e-retailer's warehouse. Once an order is placed, the delivery process is initiated by the e-retailer and the product is delivered at the customer's doorstep. Quality checks, packaging, labeling, shipment, all are carried out by the e-retailer.
Note – In a shared warehouse, the e-retailer may also charge extra for rental space in his/her warehouse.
Challenges in Ecommerce Furniture Delivery
Shipping Cost
Using a real-time shipping calculator can help you win the trust of your customers. It shows that you aren't inflating your quoted shipping fees or raising your item prices to cover the charges.
This strategy doesn't have the same persuasion power as free shipping does but it's an easy way to make sure that you're not draining shipping costs out your ears, and that your customers are getting the best deal possible.
This is also a good option to use for heavy or oversized shipments that you simply cannot or do not want to allow to ship out under a free shipping promotion.
Quality
Customers, after receiving the ordered furniture, may feel that it doesn't have that quality they expected and may want to return it. In the furniture industry, quality is more than a set of abstract standards. It should be instilled in all the stages of the supply chain to minimize return or exchange option.
Return Policy Issues
Proactive management of addressing product quality issues is crucial to meet challenges and optimize supply chain performance. You can offer furniture inspection services at every stage of the supply chain; from in-transit furniture quality control to the final shipment. Following are some of the areas of quality control inspection:
Visual Inspection

On-site tests (load test, strength test, etc.)

Packaging Inspection
Reverse Supply Chain Logistics Challenge
Furniture companies which successfully incorporate reverse logistics process enjoy a more efficient and easily manageable supply chain. Running your products through the reverse supply chain helps you get the maximum value out of it.
Practices you can use for Efficient Reverse Supply Chain Logistics:
Maintain Efficient Flow of Customer Returned Products
Create a reverse logistics flow chart with standard operating procedures:
Approve the product return request and details should be entered immediately in the management system.

Return manager decides what type of action is to be taken – the product will be sent to a different buyer, return to the vendor for repair, scrap, and more.
Return Disposition in Warehouse or Distribution Center
Proper placement of return in the warehouse is very important.
Create a separate section and move return goods to this section.

Assign stock keeping unit (SKU) to the returned product.

Try to sell these goods earlier than others by offering discounts.
Plan to Recycle
Never allow cardboard, pallets, and styrofoam to stack up. Use machines to bind cardboard and compress foam as the byproducts can be sold.
Last Mile Problem
Home delivery is the toughest part of the supply chain for the furniture industry. The final leg of delivery sometimes involves multiple stops which leads to inefficiency. The main factors contributing to the inefficiency are summarized as follows:
Unconsolidated Deliveries

High Delivery Failure Rate

Low Utilization of Logistic Resources

Opacity

Cost

Friction
Solving the Last Mile Delivery Challenges
Establish Close Proximity to Customers
Increase the number of distribution centers in the area. By doing this, you can reduce both the delivery and return times.
Customer Expectations and Communication
Nowadays, customers are expecting instant gratification. Streamlined and timely deliveries would help in developing a healthy image of a company. Further, timely notification on dispatch, in between, and on the delivery of the product leaves a positive effect on customer's psychology.
It's important to incorporate route planning software into the management system to optimize route efficiency. By computing variables such as delivery windows, location proximity, driver availability, traffic conditions, weight capacity, and local regulators helps in completing most deliveries in the minimum or least amount of time.
Role of Artificial Intelligence (AI)
It provides contextual intelligence which helps in reducing operational costs.

Intelligence robotic sorting in the warehouse.

AI-powered visual inspection.

Enhances supply chain productivity.

Enhances demand forecasting accuracy.

Factory rescheduling and production planning.
Demand for White Glove Services in the Online Furniture Industry
There is no doubt that consumers need a convenient service when it comes to the delivery of the products. The expectations arise when the product is heavy or bulkier. These expectations give rise to the white glove service where customers not only need a product delivered but also want it to be installed or set up.
White glove delivery offers a better delivery service for products that cannot be easily dropped off at the doorsteps (furniture, expensive electronics, refrigerators, and other household appliances).
Need for White Glove Delivery Services in the Furniture Industry
Moving furniture is time-consuming and difficult.

It could get damaged while the installation process.
4 Furniture Companies with White Glove Delivery Service
Crate & Barrel
Euromarket Designs, Inc. with a trade name of Crate & Barrel is a retail chain that specializes in furniture, home accessories, and housewares. It has more than 105 retail stores in the US and Canada. It's White Glove Service constitutes of two workers providing placement of the furniture and removal of all packaging.
Wayfair
It is an American ecommerce company that sells home goods in 5 different countries. The White Glove Services include:
Bringing the furniture inside the home and places it in the room.

Assemble it and remove the packaging material.
Ethan Allen
It is an America furniture chain operating in regions such as Canada, Europe, Middle East, Asia, and the US. The company's White Glove service also known as Premier In-Home delivery service provides a team that inspects each item and then does the final assembling.
Ashley Furniture Home Store
The US-based store chain sells Ashley Furniture products in 800 locations worldwide. It offers In-Home delivery (White Glove Service) where the team places the furniture in the room.
3 Case Studies about Improved Reverse Logistics
How does a Moroccan Furniture Company Implement Reverse Supply Chain Practices?
A Moroccan furniture company which is also operating in countries such as Burkina Faso, Congo, Angola, and Mauritania has achieved a superior level of the reverse supply chain by implementing a RSC model.
Reverse supply chain's initiatives taken by the company:
Return products have to be repaired and resold.

Return products that are in good condition are dismantled, remanufactured and resold at 100% price.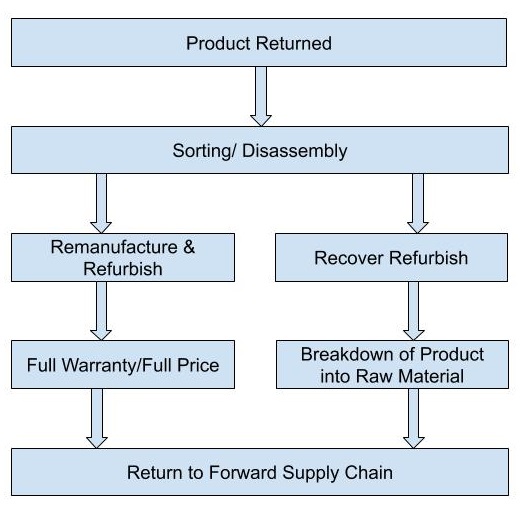 How Sweden Furniture Industries Achieved Efficient Logistics For Circular Furniture Flows?
The aim of the case study was to examine the situation of the Swedish furniture manufacturers, identify their logistics problems in remanufacturing, refurbishing, reselling, and giving them a proposed solution.
Many Sweden furniture companies are moving towards a more sustainable furniture flow to reduce waste. In order to achieve that, they are testing the feasibility of implementing circular flow by collecting returned products and repairing it to reuse.
Reverse Supply Chain Management Practices in Turkey
The aim of the paper was to study the state of reverse supply chain management (RSCM) in several Turkish industries (including furniture).
Verdict:
There should be more interaction between the forward and reverse supply chain.

The notion of the closed-loop supply chain should be taken into consideration.

Sustainability plays an important role in existing or future reverse supply chain operating plans in the furniture industry.
Startup-Friendly Multivendor Ecommerce Platform
Conclusion
E-retailers have yet to solve the challenge of shipping bulky products such as furniture. Companies that want to achieve an unshakable foothold in the online furniture industry should think carefully about their supply chain as well as last mile delivery process to provide the best service.