From fashion to furniture, from kitchen to home décor, all niche based marketplaces are garnering huge attention globally. Having realized the potential of this subject focused business model, many new entrepreneurs too are coming forward. All of them set off on a journey to mark their territory in a particular niche before someone else does. Seeing a lot of broad spectrum marketplaces emerging frequently, we decided to divulge few facts pertinent to niche online businesses. So if you too think that tapping a niche market is the need of hour, you will get practical insights into the making of a furniture, fashion, and kids focused marketplace in this post.
YoKart, as you all know is a dedicated solution to build marketplaces. Having garnered a good repute in this industry we receive several requests (in general) related to various startup plans every day. Most of them are looking for a reliable solution to build a multi-vendor store. In past 2 years, our sales team noticed a momentous shift from general ecommerce from mass market to niche. YoKart's Portfolio demonstrates this shift clearly.
Viewing all the developments that made niche more popular we decided to share a few examples of niche marketplaces and their unique marketplace-requirements. We've covered three of most innovative and unique segments to let you know how each niche has unique feature requirements and how you can manage the cost of such multi-vendor stores by defining their requirements properly (well in advance).
Let's begin with Wildrobe (Fashion: the most popular industry)
Fashion is a ripe market. Finding specific segment in this vast market is easier so we are seeing a variety of fashion ecommerce businesses these days. Wildrobe is one of those unique fashion startups that cater to certain segment of fashion market. The basic idea behind Wildrobe is to help people reinvent their wardrobe by selling clothes they don't need any more to people who want to adapt to a particular style. It's more like sharing clothes with friends; the only difference is here you are not sharing, but selling clothes you don't need.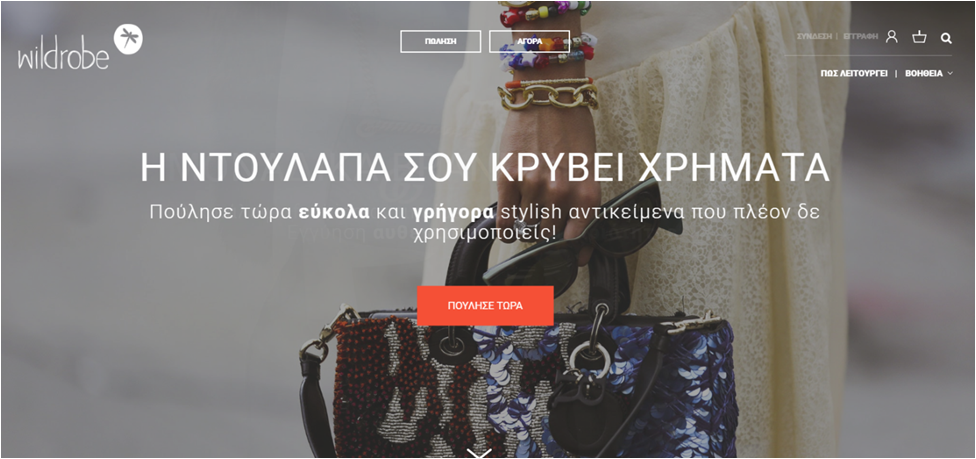 Uniqueness of Business Model
The Wildrobe you see today is a fashion based marketplace where sellers can sell new and used clothes. The concept of selling used clothes is economical, environment friendly and innovative. It's an effective way of clearing a wardrobe full of clothes that you don't wear anymore, but don't want to throw because they are in good condition and are too good to be given away.
Exclusive website features of a niche fashion marketplace
Wildrobe has adopted a different kind of selling mind map process to help people make a good purchase decision.On their website, each item on the catalog is inspected for its quality and condition. A well-thought and highly detailed selling process was implemented to help Wildrobe in carrying out their operations seamlessly.
Their website features a fully customized design created by YoKart team. They gave us a PSD to give an idea of their taste and we customized it from the viewpoint of modern day fashion shopper.  Using YoKart's basic structure design, we integrated a customized theme to Wildrobe platform.
Takeaways for entrepreneurs who look forward to target fashion niche
Fashion is a niche that needs absolutely no introduction, and this is one industry that has always witnessed an exponentially increasing audience. Fashion based marketplaces are a different story altogether. Many virtual stores come and go. What you must know is that the problem never lies with the website; it's the underlying idea and the vision of the entrepreneur, or the lack of it that kills a business.
What we learned from Wildrobe is that business owners don't always need to know how to do something, but they must be sure of what they want to do. That's all we expect from our clients who look for premium handling to accomplish their goals.
Give us a brief about your upcoming ecommerce store and we'll tell you the best solution for it
When working with Wildrobe the first thing we noticed was their well-laid business plan. They knew clearly what they wanted to do on their website and how they wanted their website to look like.
Our majority of time was spent in designing the sales map process because what Wildrobe does is entirely different from a lot of other conventional marketplaces. The end result is one of the most famous fashion based marketplaces of Greece.
Next up: Artisan Born (Online Furniture: Transforming office and home space)
Online furniture is a niche that came into the mainstream in recent times. Not many people were tapping this market thinking buyers would like to buy their furniture the old fashioned way. But this particular industry was in for a surprise when online shoppers started looking for furniture on various marketplaces.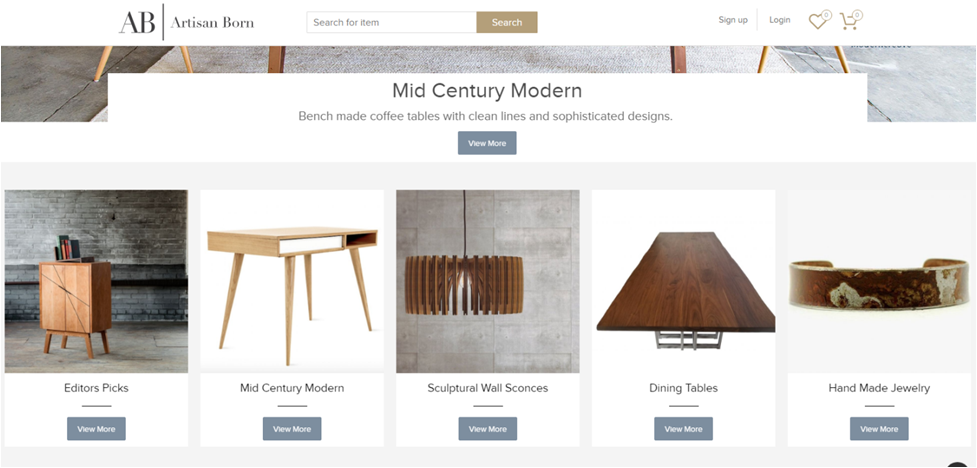 Eventually, marketplace owners realized this shift and started including the "Furniture" category in their catalog, until someone came with the idea of dedicating a marketplace exclusively for furniture, and thus came a new niche, online furniture marketplace. We got the opportunity to work with one such startup when Artisan Born approached YoKart to build their marketplace. We instantly fell in love with their name.
The Business model
Artisan Born comes across as an amazing idea, and we are glad we are a part of this project. It connects craftsmen with buyers.
About Artisan's Website
Have a look at Artisan Born, from pixel perfect ratio to category based search; everything on this online furniture marketplace is spot on. When it comes to furniture design, their attention to detail is definitely praiseworthy.
YoKart team created this marketplace from scratch. Besides the foreseeable features, we added a customized design to mark their unique brand presence and a multi-vendor module to enable multiple designers, sellers and craftsmen to sell their handmade furniture.
Takeaways for entrepreneurs who look forward to target furniture market
Artisan Born is live and selling all sorts of handmade furniture but the enhancements are still on. There's lot to learn from this niche startup if you have an eye on this market. They're still enhancing the marketplace and have already created huge engagement on their social profiles, especially Instagram. You can check their Instagram page, which has more than 96K followers as of now. Their profile shows they are really good at what they do- bringing craftsmen and buyers at one place.
And now, TigerParrot (Kids: the most versatile niche in market)
Many marketplaces have been setup for kids and their moms. The reason is simple; kids need a lot of stuff quite frequently. They grow fast, their clothes and shoe size change, and they need different kind of toys as they grow. This is one niche that attracts a lot of attention. It has a huge market; tables for kids, clothes for kids, shoes, gifts ideas, toys, electronic gadgets and a lot more! Opportunities are gamut; you just need to tap it the right way.
So when YoKart was approached by TigerParrot for their marketplace project, we knew this one is going to be great fun.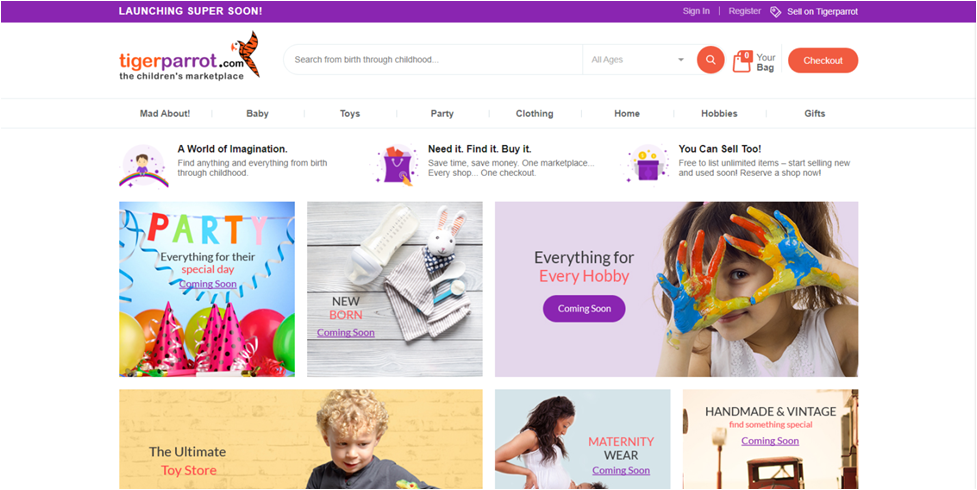 The Business Model
TigerParrot offers a blend of fashion, gifts, toys and a lot of other amazing goodies focused on kids and mothers (maternity wear and comfy clothes). A glance at the homepage shows the variety of stuff these guys have to offer in a typical marketplace style.
About TigerParrot's Website
TigerParrot's goal while launching their business was to create a marketplace that could attract huge  attention. Our team created the site from scratch as per the unique business goals stated by them. The most important features of this marketplace are:
-Unforgettable Shopping Experience: A pleasing design and great user experience through easy navigation and functionality ensures repeat visits.
-Secure payment options: Security and ease of use were the top priorities of TigerParrot so the choice of payment gateway was not easy. We chose Stripe connect after various discussions (and consent of their teams) over it.
-Commissions settings: Another objective was to save them the hassle of waiting for the seller to release the commission so we automated commission process. Now the commission directly goes to admin's account.
Takeaways for future startups
It begins with knowing the niche you want to focus on. There are plentiful of niche startup ideas to begin with. Once you know what you want to do, you must also know how far you want to go. After that it's the responsibility of your technology partner to help you with the right kind of tools and features to get you going.
The Gist
Niche based marketplaces are garnering a well-deserved attention from business owners. With more customers looking for marketplaces where their typical needs can be met, "niche" is giving the "broad spectrum" marketplaces a tough competition. We recommend aspiring entrepreneurs to consider targeting a niche for their ecommerce venture. It will take a lot of research and initial homework, and the efforts are going to pay off, you just need the right kind of platform.
Our Clients Love us for all The Right Reasons