It has been repeatedly said that Yo!Kart multivendor system is a startup friendly ecommerce platform built after an extensive market research. And Yo!Kart's admin dashboard is a fine specimen that proves the above statement. The admin dashboard has all the key elements that keep the admin well-informed on how the store is performing. Let's check out these important elements featured on Yo!Kart admin dashboard.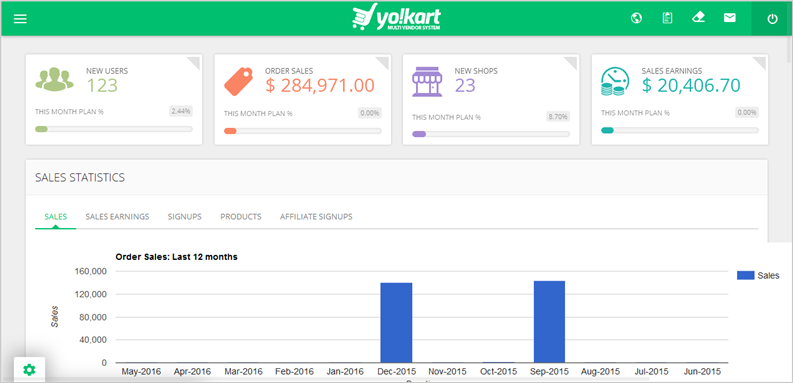 New Users
The New Users quick view tab in the upper part of the page informs admin about all registered users with the store (buyers & vendors), along with how many new users have registered in past one month. Admin can also see a detailed summary of users.
Order Sales
Like the user tab, Order Sales quick view tab also informs admin about the total orders placed on the store with number of past month's order, along with the option to view the summary.
New Shops (Storefront)
The New Shops tab features the total number of vendors registered with the marketplace. The tab also displays the number of shops registered in past month. Admin can also view the shops' summary.
Sales Earnings
The Sales quick view tab features the total revenue made by the store, revenue made in past one month, along with the option to view sales summary.
Sales Statistics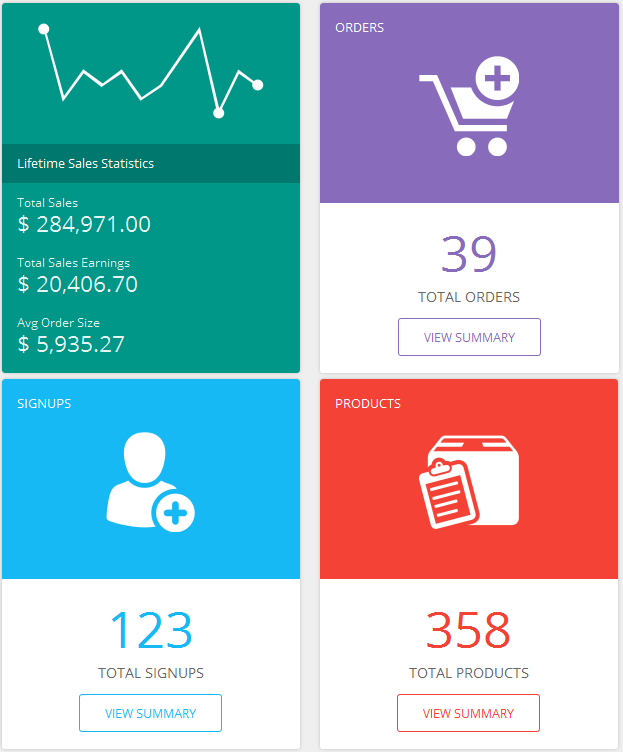 This section graphically displays the monthly sales stats. Apart from sales stats, admin can also view past 12 months' stats related to revenue generated, user signups, products sold, and affiliate signups.
Recent Orders
Below the Sales stats, admin dashboard features the summary of recent orders along with payment status, value, & customer Id. Admin is also provided the option to view details of recently placed orders.
Withdrawal Requests

Click to enlarge
This section displays the credit withdrawal requests made by vendors and affiliates. Admin reviews each request and proceed with it accordingly.
Sales Stats Summary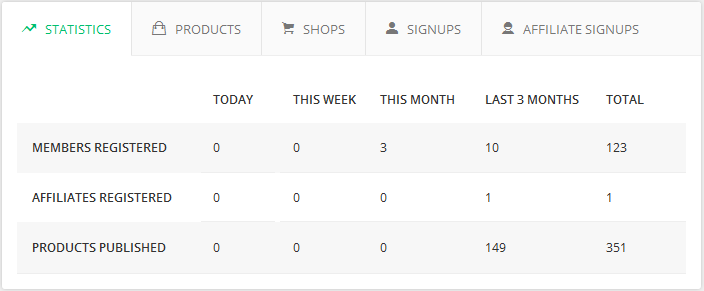 At the bottom of the Admin dashboard, users can view the data summary of graphs featured in the Sales Statistics section.
Admin area of Yo!Kart multivendor system is rich with features to simplify the ecommerce marketplace management.
Check out all the Features of Yo!Kart Admin Demo