Gift cards are a unique present for all occasions and not just the holiday season. From millennials to adults, gift cards are widely given and appreciated among people of all ages.
From a customer perspective, choosing the right gifts for family and friends can be quite challenging especially with a plethora of options available these days. A gift card seems to be the ideal solution for a last-minute present. Consider this, according to a survey by Gift Card Granny on 2000 US consumers in 2020, nearly 87% of respondents confirmed they purchased a digital gift card. This affirms the popularity of gift cards among customers.
For entrepreneurs and SMBs, gift cards provide endless opportunities to boost sales and raise brand awareness among potential customers. But are they equally effective for eCommerce businesses? Let's find this out through a series of questions!
Table of Content:
Are Gift Cards Still Popular These Days?
Like anything else, gift cards have some advantages and disadvantages which make them perfect presents for one and not so ideal for others.
However, before diving further into these detailed assessments, let's consider the benefit of gift cards from a business perspective.
For sure, gift cards have significant potential to drive incredible growth, increase customer loyalty, and further expand brand awareness.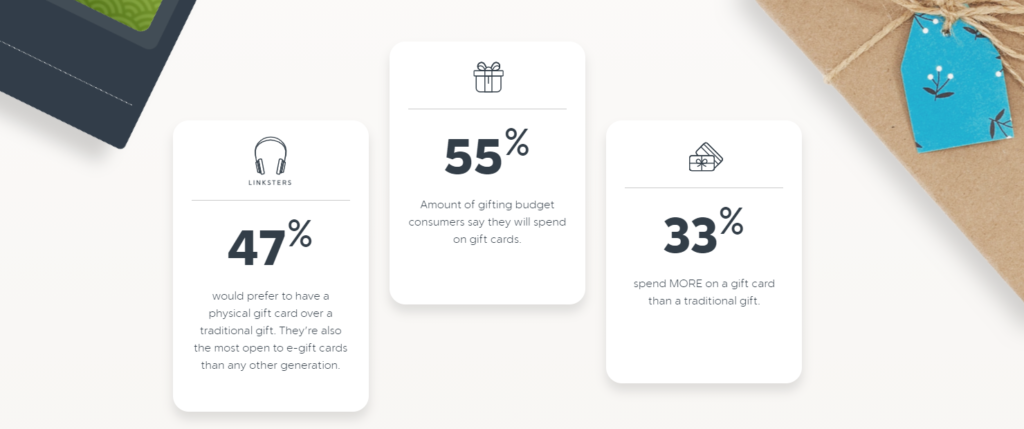 Look at the following gift card statistics to see the popularity of gift cards among modern consumers:
33% of customers spend more on a gift card than a traditional gift
Consumers admit to spending 55% of gifting budget on gift cards
The average shopper spent around $213 on gift cards in 2019, and this number is expected to go up by more than 10% this year
80% of consumers said that they received a digital or physical gift card as a holiday present
Almost 3 out of 5 consumers plan to spend more than their gift card value. And more than half of that group (52%) tend to spend as much as $30 more (Blackhawk Network)
77% of Candian shoppers tend to buy at least one gift card during holiday seasons.
Advantages Of Gift Cards For eCommerce Business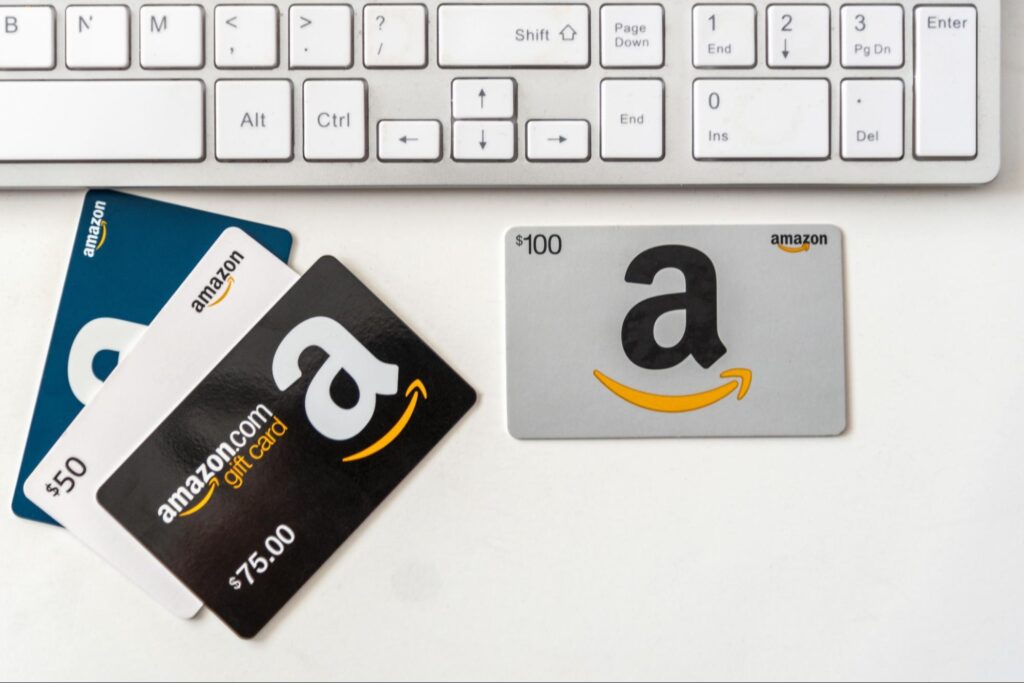 In whatever aspect, the gift card still remains in popularity and an influence among users. As a result, eCommerce businesses witness regular changes with this gifting trend. With a probable gift card marketing strategy, companies can:
Grow sales. Unlike coupons or discounts, Gift cards keep customers coming back to use the card's full value without decreasing the selling price of the brand's products. As most gift cards are used over several purchases, there is a chance for e-stores to upsell additional products
Boost sales during the holiday season. Increase your business revenue by offering beautiful gift cards for customers searching for a perfect last-minute present
Expand brand awareness. From a physical store to a website, gift cards can be sold and used everywhere, increasing the potential reach. A physical gift card with a business logo engraved offers free brand exposure every time the card is used.
Build customer loyalty. Gift cards can be incorporated into the brand's loyalty program to entice customers to come back and make multiple purchases
Why Do Modern Customers Refer To Gift Cards?
Card Recipients Get The Freedom To Pick Their Favorite Presents
The primary reason for the popularity of gift cards is their flexibility. In other words, gift card recipients can freely choose whatever they want to purchase in their favorite brand.
As card buyers, you are relieved of the pressure to find the right gifts for your family and friends, especially when you don't have any knowledge of what the recipient would love.
Gift cards can be used to show your appreciation or love for the recipient, whether it's your best friend or coworker.
In a nutshell, most people are happy when receiving gift cards because:
It provides the freedom to purchase their favorite present with little or no additional cost
Gift card buyers don't have to worry about giving something the recipients already have
Recipients are able to use the gift cards whenever they please
Gift cards can be used to either shop online or at a local store
The recipient can purchase more items or expensive stuff by shopping with gift cards during sales
A Last-minute Present When Run Out Of Gift Idea
Ever been in a situation when you do not have enough time to find and prepare a proper gift for the special ones? In such circumstances, a gift card can be your lifesaver.
The most significant thing is that you can buy gift cards from major brands online.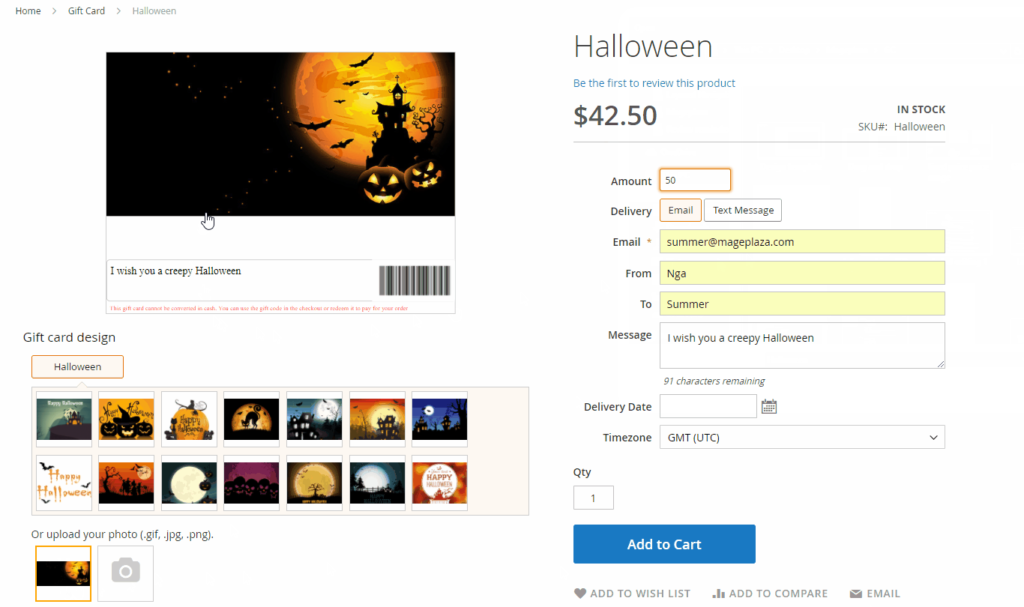 Reasons for calling gift cards the last-minute present are:
Many retailers allow their customers to buy gift cards online
As card purchasers, you can personalize the given card with an image and message
Customers can request the store to send gift cards to the recipient via email or SMS. However, they must confirm the same with the store first.
Therefore, if you are a last-minute shopper, get online to purchase a gift card. You can buy and send a digital gift card at any time, even during the holiday season when most stores are closed.
Extremely Convenient And Time-saving
Imagine, you have to buy gifts for many people with whom you might not be too close. So, giving gift cards as a present is much more comfortable. Why?
It prevents unnecessary arguments over which kind of present others might want and whether they already have it or not
Customers can buy and send gift cards directly to their recipients home address before or during the holidays
Gift card recipients can either visit a local store or the eCommerce website to purchase their favorite item
For special occasions such as Christmas, purchasing gifts for family and friends is unavoidable. So, it is best to purchase a gift card from a branded store based on the recipient's interest. It won't take much time/effort and you can decide the value of your present by budgeting a specific amount for each gift card.
What Prevents Customers From Giving Gift Cards?
Lack The Spirit Of Actual Gifts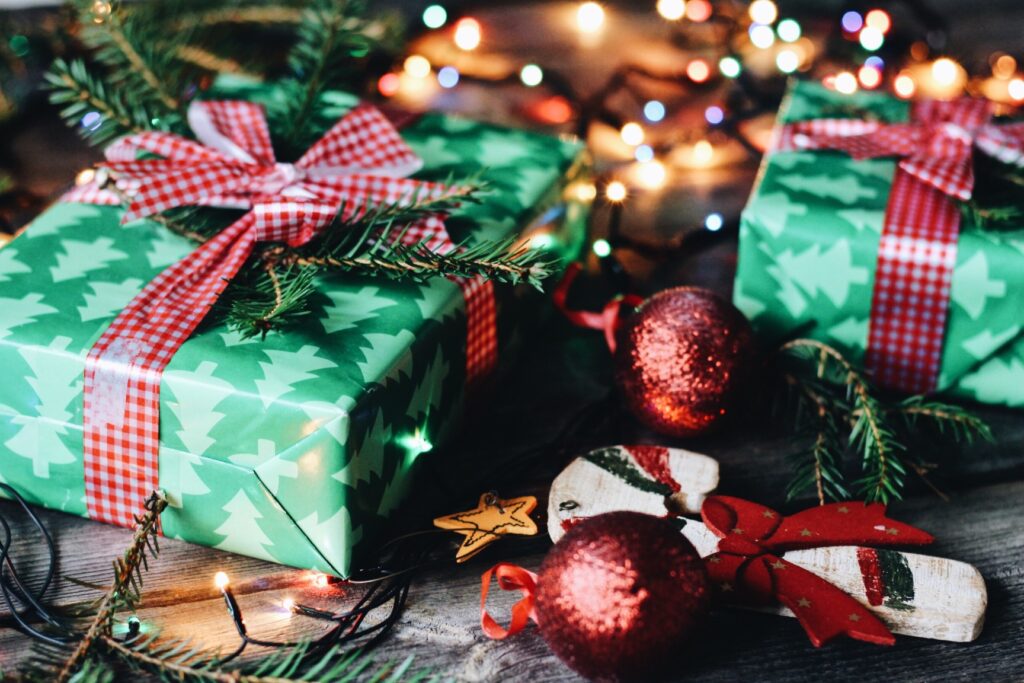 The convenience of giving gift cards is undeniable. However, gift cards can't deliver the same emotion and spirit as traditional gifts. Compared to pretty boxes covered in shiny paper and bows, gift cards seem less thoughtful especially to ones that enjoy the excitement of opening a surprise gift. A shopping card feels more like an inconsiderate decision.
Remember that gift cards, for sure, remove the guesswork of giving a gift, but might also indicate an absolute lack of enthusiasm on the giver's part.
Gift Cards Tie The Receivers To A Specific Store/ Brand
Before buying a gift card, you should define the type of cards offered by the gift card providers to eliminate any problems or misunderstandings in the future.
Basically, gift cards are of two types:
One with a MasterCard or Visa logo engraved. These cards can be used anywhere the card's host is accepted. These are called "open-loop" gift cards
And others that are provided by the brands and can only be purchased at individual retailers. These are called "closed-loop" gift cards
Unless you already know which store they frequently shop from, play it safe and send a Mastercard or Visa gift card.
Users Easily Forget To Use The Gift Card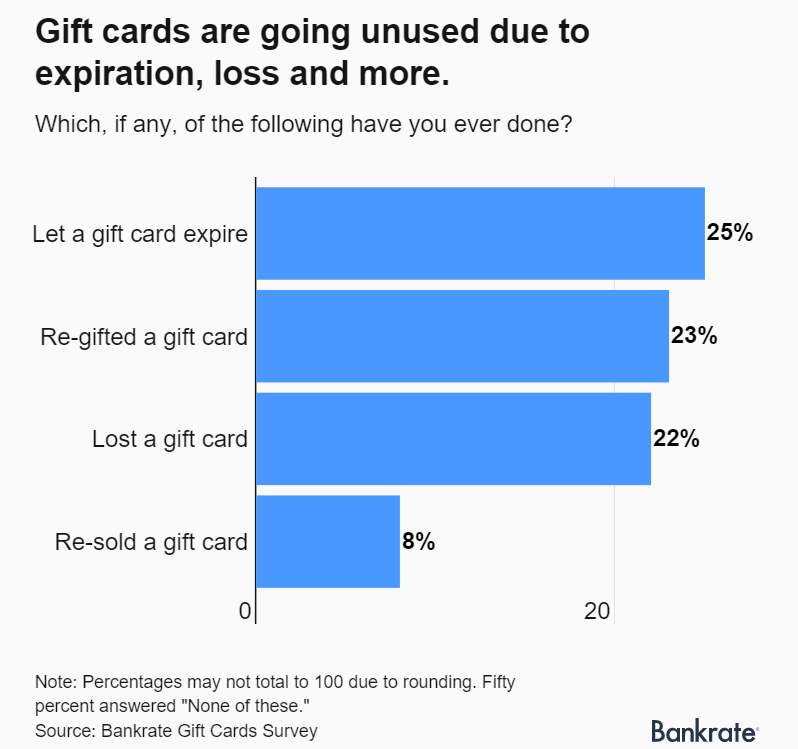 According to Bankrate Credit Cards:
25% of U.S adults have let their gift card expire
57% of consumers have kept an unused gift card or store credit for more than a year
Unlike an actual gift, people can easily forget about the gift cards taking up space in their wallets and miss out on their actual value.
At the same time, there are many reasons for the appearance of unused gift cards. Some are forgotten and left to expire while others get lost.
For eCommerce businesses, unused gift cards come with both advantages and disadvantages:
An unused gift card is equivalent to pure profit for the company as they got the money without selling products
On the other hand, brands lose a chance to upsell and gain more profit from potential consumers who own the gift cards
Not safe from fraud
Scammers are targeting shoppers who purchase gift cards. They run bots through the retailer's online system and search for any cards with a dynamic balance.
And once they successfully steal your gift cards' information, they will resell them over the internet at much lower rates. In other words, you can lose all the balance on your gift cards without knowing it.
Lacks Personalized Touch
Albeit a highly convenient present for users, a gift card showcases a real lack of effort especially when the giver doesn't even follow basic gift etiquettes. This makes the present seem less meaningful than actual gifts and is unappreciated by the receiver.
Though lots of people love getting gift cards, some perceive them as a thoughtless gift. They might think you don't even want to waste time picking out an actual gift.
Tips To Make Gift Card "A Powerful Growth Engine"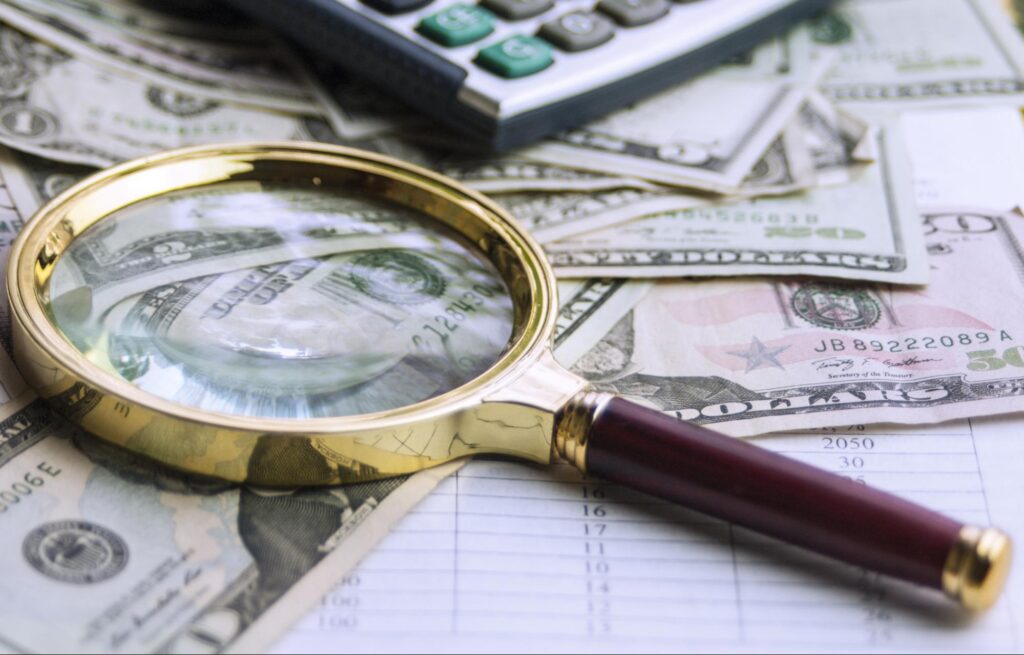 As an eCommerce merchant, you can turn lackluster gift cards into profit using these tips below:
Allow customers to customize the design of their gift cards as much as possible. For instance, let them change the card's background color or image or leave a personal message on the gift certificates, etc
Remind gift card users about the validity of their card to make sure they will use it before the expiration date
Facilitate the gift card creation process in your storefront
Describe how the gift cards can be used in your store with different versions such as plastic, digital, or paper
Consider using gift cards as a reward for employees and customers. You can get the most out of gift cards by using them as a part of your loyalty program
Since gift cards don't sell themselves, you need to incorporate probable sale strategies to increase gift card sales.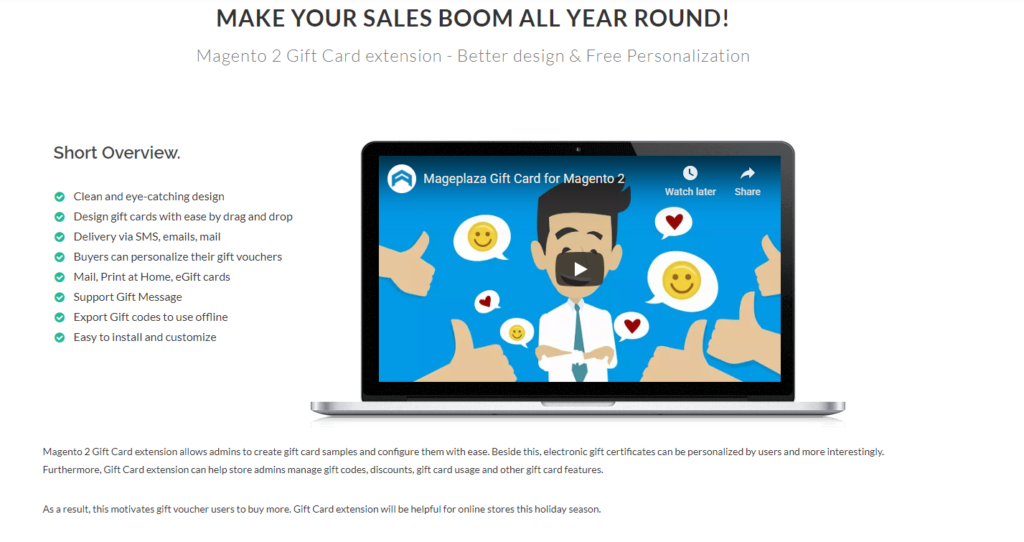 Finally, to start a potential and cost-effective program, the first step you need to take is to select a probable gift card system. Try integrating a gift card extension into your store to perform different activities related to gift cards. This will help:
Buyers easily create and personalize gift cards on your eCommerce website. Also, they can use the gift card to purchase on your online store.
Ecommerce merchants can manage the information of the gift card (expiration date, activate status, transaction history, etc.) purchased online by customers via a tracking system
Moving Forward With Gift Cards!
Don't hesitate to launch a gift card program for your eCommerce store and get the most out of this additional strategy to boost sales during holiday sessions. Save yourself the trouble and just go for a Gift Card system.
It will help you facilitate the management process and run your gift card program smoothly on the website.