UAE is the leader in the eCommerce among all the GCC states. According to the Middle East B2C eCommerce market 2018 report by yStats, UAE's overall eCommerce sales are expected to reach $20 billion by 2020. The UAE Ministry of Economy further estimates that eCommerce makes up 10 percent of the total sales in the UAE.
Official sources claim that 90% of the UAE population has access to the internet and own a mobile phone which is vital for the growth of eCommerce in the region. Amazon, the global eCommerce giant certainly saw the massive potential in the UAE market when it acquired Souq, the largest domestic online merchant in March 2017.
To repeat the success of Souq in UAE, entrepreneurs have to develop a personalized ecommerce marketplace strategy, understand the strategic advantage of a market-ready solution, and explore how an efficient ecommerce workflow actually looks like. Continue reading this blog post to learn more.
Essentials of an Online Marketplace Strategy for UAE
Starting an eCommerce marketplace in the UAE is a major undertaking and must be pursued with due care. Following are the important points to consider as part of your online marketplace strategy:
Products you Want to Sell
The top-selling products in online sales in the UAE include customer electronics, fashion accessories, cosmetics, women's apparel, and perfumes. Online shoppers consider price, customer service and ease of use as the most attractive features of eCommerce.
Licensing Procedure
The licensing procedure for business setup is very straightforward. Business owners are free to choose what type of legal entity they wish to commence their business viz. free zone or non-free zone.
Operating from a free-zone company has its perks such as 0% income tax, 0% corporate tax, 100% repatriation of profit, 100% business ownership with marginal custom duties, and more. These benefits easily make UAE a prime destination to run an eCommerce business.
There are plenty of free-zones all over UAE where you could set-up your eCommerce business. All the licensing procedures will rest with the respective free-zone authority that you wish to register with.
However, if you prefer to set-up your business in a non-free zone, then the licensing procedure is carried out with the Department of Economic Development (DED).
Ecommerce Website Development
It's essential to have a stable website with an engaging user design and user experience. Building a website involves a series of steps. First, you must choose and register a domain name. A domain name is usually the same that you use to register your company. Care must be taken to ensure the domain name is unique, easy to memorize, and searched by the users.
To make your ecommerce marketplace more accessible, the website content should be readable in UAE-specific local languages along with right-to-left (RTL) design-flip.
Payment gateway integration – Payment gateway integration is a major part of setting up an online business. There are myriads of online payment gateway vendors present in the market. Two key factors that should determine the choice of a payment gateway are – transaction rate and stability.
Stability is a measure of how well a payment gateway withstands load during peak traffic. Greater stability results in a higher success rate of overall transactions on the website. Most payment gateways offer commercial contracts where billing is done on a transactional basis.
To accept payments online, we recommend two popular and reliable payment gateways. The first recommended payment gateway is PayFort, which is from Amazon, which acquired Souq in 2017. The second recommendation for payment gateway in UAE is PayTabs.
Logistics, Support, and Delivery – Logistics is the backbone of any eCommerce business. In the UAE region, you could either partner with a third-party logistics (3PLs) service or offer your logistics service. Based on how much cost your business can incur on logistics will help you determine which option suits you better.
Backend supply chain management is an essential part to sustain the growth of your ecommerce business. To offer this capability to sellers, consider integrating your ecommerce marketplace with Aramex and SMSA.
Improve Market-Readiness with an Off-the-shelf Platform
Given an endless count of activities that an eCommerce business entails, many people struggle to know where to start. From linking bank accounts and accepting from an array of payment methods to handling complaints from buyers, eCommerce can strike as a complex undertaking.
But that's where ready-made online marketplace platforms come to the rescue. A typical readymade online marketplace platform offers a wide range of features that are essential to run an eCommerce business.
Most notably, sellers willing to trade with you get a separate dashboard. Similarly, customers can leave feedback and rate the seller based on the purchased product's quality. Also, every vendor gets his/her own seller-area which shows products they have to offer.
A readymade eCommerce marketplace platform also provides sellers with sales reports, stats, and analytical data to quantify their store's financial performance. Furthermore, sellers and buyers are provided with a communication medium to interact and discuss their concerns with each other.
On the whole, starting an eCommerce business with a readymade solution allows you to save substantial time compared to custom software development.
When talking about readymade eCommerce solutions, it's hard not to mention Yo!Kart – an industry-leading eCommerce marketplace platform used by startups, SMBs, and billion dollar entities. Within a short span of time, it's become the preferred multi-vendor solution for a wide spectrum of verticals such as:
Grocery 

Fashion 

Furniture 

Hardware 

Electronics 

Jewelry 

Apparel 

Sports

Online Ecommerce Marketplace Workflow
An efficient ecommerce workflow can save hundreds of hours by simplifying the process for vendors as well as buyers. To understand the workflow of an online marketplace, consider the following which is adopted from Yo!Kart: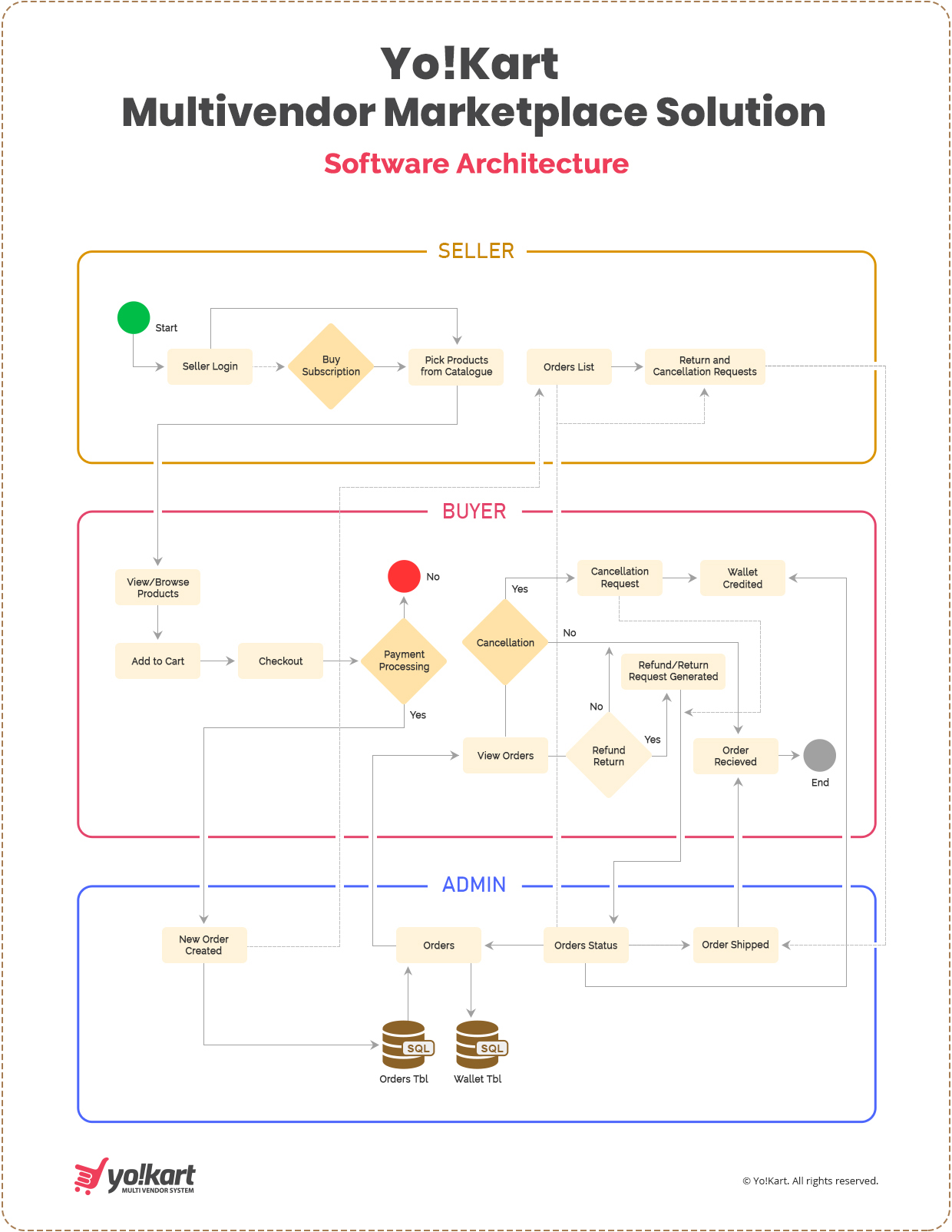 Click to Enlarge 
Conclusion
Building a UAE-specific ecommerce strategy is the first step towards winning the customer wallet share. But there is more to the strategy and a lot depends on whether you want to proceed with custom software or a market-ready multi-vendor solution like Yo!Kart. Carefully consider the vertical you want to operate by following the "measure twice and build once" approach.
UAE is Showing Huge Potential for Growth in Ecommerce. Claim your Space today with Yo!Kart.